Courses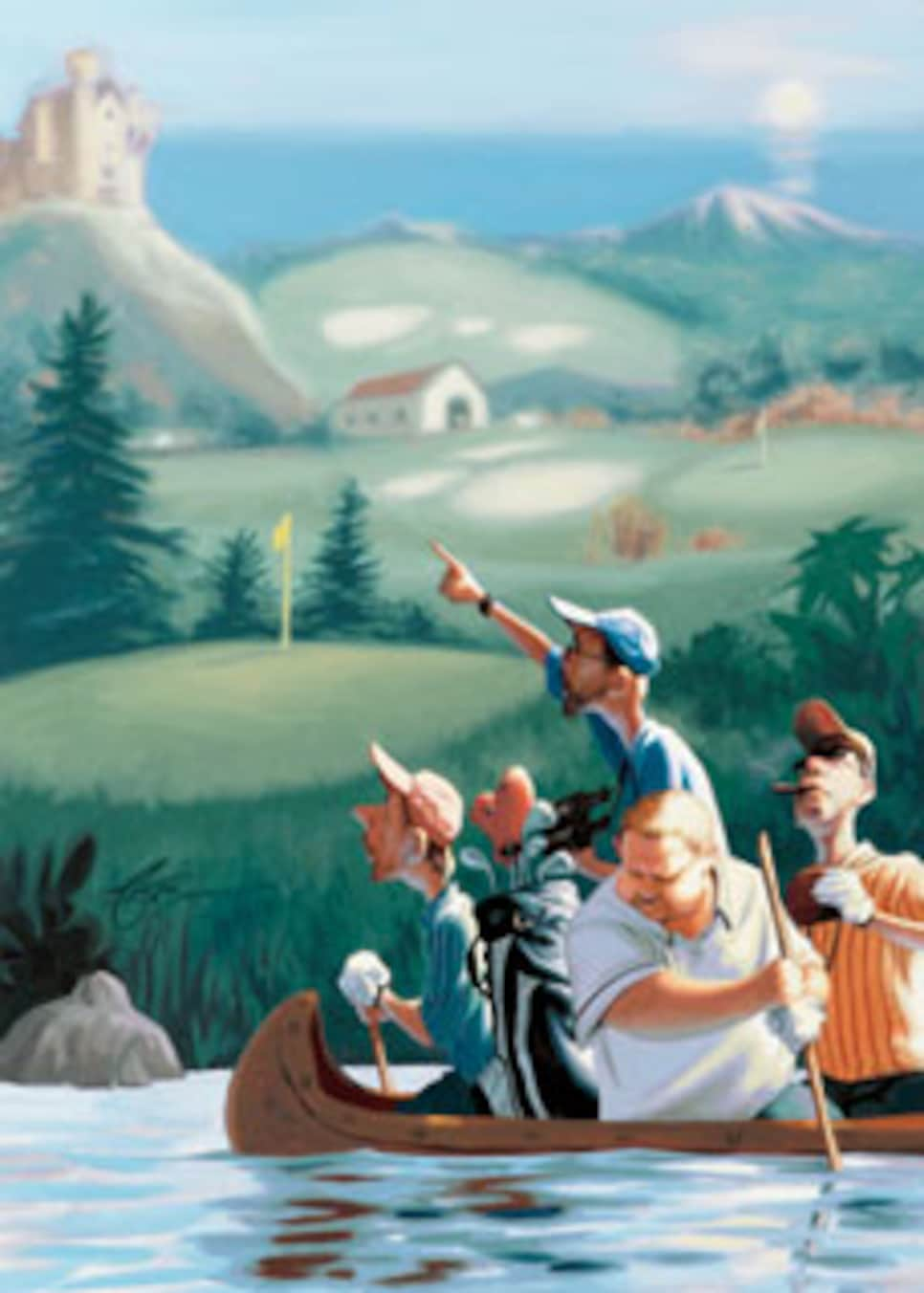 I've walked Alabama's Robert Trent Jones Golf Trail, sampled Louisiana's Audubon Golf Trail, and even explored the Lewis Clark Golf Trail in North Dakota.
Each was worth the effort, offering good and sometimes great golf.
Golf trails—marketing alliances uniting courses that would otherwise be competitors—are perfect for a restless golfer like me. I don't want to play the same resort course three or four times. I want to keep moving, to see what fairways lie beyond the next horizon. (As Golf Digest's architecture editor, I've played more than 1,000 courses over the past two decades.) On top of that, the best trails offer package deals and accommodations.
But they aren't perfect. Some can be too confining, like the Finger Lakes Golf Trail in New York, which offers just four courses. Others are too indiscriminate, like the I-95 Golf Trail, boasting 2,000 courses within 100 miles of Interstate 95 from Maine to Florida. And every golf trail, because it is prepackaged, eliminates the element of surprise, the thrill of discovery, the spontaneity of genuine choice.
So the idea was to blaze my own golf trail, using the recommendations of real golfers from Golf Digest's latest Best Places to Play. As the game's most comprehensive guide, it was the perfect starting point, especially now that the course listings are organized by major city instead of just alphabetically.
I decided to make my way through the central highlands of Florida, the state's hill country of horse ranches and cattle farms. That's the real Florida, the inland one—far removed, I thought, from plastic pink flamingos and the purple hairdos who plant them (although I would soon discover there's no escaping either in a state where, despite being a senior citizen myself, an awful lot of residents call me "young fella.") I took out a road atlas and plotted a general course. I would start somewhere around Tampa and wander northeast to Jacksonville, taking five days to play five courses. This section of Florida is full of
destinations, like Westin Innisbrook, World Woods, El Diablo and TPC at Sawgrass. I'd played all those fabulous layouts. I wanted new adventures, so I targeted the second tier of courses, those withandratings. With plenty of those across the state, I browsed readers' comments in Best Places to Play to help decide my route. I also scanned the range of green fees, figuring I'd try a beer-and-pretzels budget, then splurge on one champagne round at the end.
Because any trail should include more than just golf, I vowed to do some impromptu off-road exploration. I wound up intersecting with several bits of military history, so I call this my Military Trail, one far different from the highway of the same name running from Boca Raton to North Palm Beach. The only thing my trail would have in common with golf on that glittery gold coast is that, like everywhere in Florida, carts are mandatory.
I started my journey in Weeki Wachee, north of St. Petersburg on coastal Highway 19 where, according to billboards, mermaids have been swimming their tails off since 1947. Alas, it was January and shows were closed for the season, despite the fact that the water remains a balmy 72 degrees year-round. I was crushed, and concluded there was no point looking for a pyramid of water-skiers either.
I headed back up Highway 19 for my first round, at The Dunes Golfers Club, now carrying
from Golf Digest readers. Designed by Arthur Hills, it opened in 1988 as Seville Golf Country Club. As a proposed bedroom community to Tampa-St. Pete 45 miles south, Seville's real-estate component never really took off, although the recent completion of the Suncoast Parkway, a tollway direct from Tampa, could change that. Still, the club has undergone financial hardships, different owners and the name change. Today, the hard times are reflected mainly in its rudimentary clubhouse, which is mostly just a screened-in porch.
I joined another walk-on, Bob from New York City, a guy my age down to visit his retired father. The starter had us, as a twosome, follow a foursome of middle-age couples. On the par-5 first hole, we both hit our second shots to within wedges of the green, then waited for the group ahead to putt out. As they replaced the flag, I was astonished to see Bob hit right into them, nearly beaning one of the wives. Her husband started running toward us, screaming so loudly that the starter zoomed down from the first tee to see if he'd have to break up a fight.
"Sorry," Bob shouted back, "I thought you'd walk off the back of the green."
"Our carts are at the front of the green, you nitwit!" the guy replied, or words to that effect.
During the commotion, my only thought was, Great. There goes any chance of them letting us play through. They didn't.
Which was OK, actually, because it gave me time to absorb the exceptional course design. The Dunes flows naturally across pine-covered sand dunes, with only teaspoons of earth moved to form knobs and bunkers. The greens emerge subtly from the landscape, several backdropped by hillside sand scars and blowouts, some of them bomb craters (the site was a World War II practice range for pilots). Instead of traditional rough, there's pine straw scattered over a sandy base, as you'd find in North Carolina, and it didn't take long for me to conclude that The Dunes is Florida's version of Pinehurst No. 2.
? Well, the tees are badly in need of leveling, the carts seemed ancient, and there is that clubhouse. But the course design alone deserves at least one more star from readers in Best Places to Play.
My next stop was due east of Brooksville, at Sherman Hills Golf Club, whose
rating also seems a bit low. This 18 is a low-budget microcosm of the 36 holes offered at World Woods on the other side of town. Sherman's front nine was artfully carved from pastureland, accented by long waste areas of native sand and huge landscaped mounds that screen out I-75 along the sixth and seventh holes. The back nine plays through several oak groves, with an umbrella-shape oak in the 11th fairway and several more specimens framing the 17th green. Sherman Hills finishes with a flourish, a 594-yard hole that plays over a man-made hill, then down to a peninsula green surrounded by a pond.
If there's a certain Fazio flair to some of the holes at Sherman Hills, it's because its designer, Ted McAnlis, once built courses for George and Tom Fazio, after McAnlis quit his job as a rocket engineer for NASA. Sad to say, McAnlis is no longer designing courses. He's in federal prison, convicted on multiple counts of income-tax evasion, the waste of a good deal of talent.
North of Sherman Hills, in the little town of Bushnell, I came upon tiny Dade Battlefield Historic State Park. It's the Little Big Horn of Florida, for on that site back in late December 1835, Seminole warriors ambushed a column of U.S. soldiers who had been sent to round them up and force them west to the Oklahoma Territories. (It took seven years before the Seminoles were finally captured and moved.) Every December since 1981, townspeople have re-enacted the massacre in an area just south of the battlefield, using rifles and uniforms that are far more authentic than the typical Civil War re-enactment, park ranger Chuck Wicks told me. They've even constructed a spectator mound to accommodate the crowd that watches the spectacle.
Driving along the back roads, through burgs like Okahumpka, it struck me that the federal government ran off the Seminoles to make room for what would eventually become the world's largest trailer park. OK, real-estate agents call them modular homes, but basically they're double-wides, permanent descendants of what tour books of the 1950s called "tin-can tourists." Mobile homes seem to be the most common abode in central Florida, tucked beneath ancient live oaks, cantilevered over sink-hole ponds, and lining fairways on residential golf courses from Brooksville to Leesburg to Lady Lake.
The fanciest operation I came upon was The Villages, an enormous retirement-home community that features 20 nine-hole executive courses that residents play for free and eight full-size courses available at nominal prices. In fairness, only The Villages' original golf developments, east of Highway 441, are strictly trailer park. The overflow west, developed over the past 15 years, features larger homes of sturdy cinder-block construction covered with stucco. That they mostly look alike causes me to lump them with the less-expensive alternative.
The Villages is clearly an aging baby boomer's golfing Valhalla. Golf carts are everywhere, the No. 1 mode of transportation, with special paths for them through each development. (There are even cart bridges across Highway 441.) Many parking stalls around the faux village square on Main Street are occupied by golf carts, some with bags of clubs still attached. Wandering Main Street, I found I had just missed witnessing history. The previous September, residents had assembled a five-mile-long parade of 3,391 golf carts to shatter the old Guinness parade record of 1,138 golf carts.
Some very good courses at The Villages are open to public play, but they don't like to publicize that. So instead, I played just east, in the town of Lady Lake, at
Harbor Hills Country Club, high on a hill overlooking Lake Griffin. It was designed by Clifton, Ezell and Clifton, the firm that did most of of The Villages' courses.
Harbor Hills is another surprisingly hilly Florida treat, with masterfully positioned bunkers, smallish greens with deceiving contours and a full range of forestry: palmettos, pines, oaks and slick-leafed magnolias. There are a couple of uphill, over-the-horizon tee shots, and several glorious downhill holes, particularly the 470-yard 10th, where a residential street runs through a tunnel beneath the forward tee boxes, so as not to interfere with golf. But there are out-of-bounds stakes on both sides of most holes, which made me wonder whether readers were overly generous with their
rating. I decided they weren't. The live piano brunch in the dining room of the mammoth colonial brick clubhouse and the peacocks wandering about the property obviously count for something.
One guy in my foursome at Harbor Hills, Bill, a retiree from Philadelphia, told me this tale: A few days earlier, he had been hitting balls next to an elderly couple on the driving range. Somehow, the husband swung and bashed the wife on her forehead. Blood started streaming down her face, so the husband offered her his handkerchief. When she said her face was swelling up, he retreated to the clubhouse and came back with a Styrofoam cup of ice. As she pressed the ice against her forehead, the husband went back to hitting balls. The guy obviously didn't want to waste a bucket of balls.
Bill from Philly swore he saw it with his own eyes. I'd like to believe him, but as he told me this story, he drove our cart right over his own golf ball, in the fairway.
There's little development, and no golf at all, in the long stretch of Ocala National Forest from Lady Lake up to Palatka, and even north from there along Highway 17. It's clear that there is still plenty of beautiful, undiscovered country in this heavily populated state, pine forests so dense that each sun ray seems individually filtered, cypress swamps enveloped in murky mists and vast savannahs that, upon closer inspection, turn out to be ancient sink holes.
Ravines Club and Lodge seems only slightly removed from such isolation, even though it's on the outermost fringes of sprawling Jacksonville. I found it to be one of the prettiest courses—indeed, one of the prettiest spots—in all of Florida. The golf was a trek along high bluffs above Black Creek, over deep ravines of its tributaries and through bits of semitropical jungle.
It was also a miserable experience. Fairways were sponges and greens were barren, the lack of turf masked by a heavy layer of sand top-dressing. Bunkers were badly eroded, some faces crumbled away to apparent mole-cricket assaults, other faces shored up with vertical landscape timbers in some misguided attempt to imitate Pete Dye architecture of 30 years ago.
Tee markers looked as if they hadn't been moved in a month. On the par-5 15th, I sneaked atop a ridge to play from an old abandoned back tee; it was the only tee with grass on the whole course.
The Ravines reminded me of a grand old antebellum mansion much in need of several coats of paint. That it rates
must be a tribute to its design, which I found to contain a number of sterling holes, like the 559-yard ninth, with its back-tee shot over a corner of tree-lined Black Creek, and the downhill, hourglass-shape, 487-yard 12th. Ron Garl, who routed the layout, and Mark McCumber, the tour player whose company constructed the course and freelanced many changes, used to argue about who was more responsible for the finished design. (Most have considered it a McCumber course. Who can forget McCumber yammering on about The Ravines after winning the 1985 Doral-Eastern Open, essentially turning his trophy presentation into an infomercial?)
After one final wiggly, bumpy putt across the patchy 18th green, I figured neither Garl nor McCumber would care to claim credit for a course in such deplorable shape.
I concluded my trail on the shoreline of the Atlantic, at the venerable Ponte Vedra Inn Club, and came upon one last bit of military history. In front of the inn is a sign noting that on a spot four miles down the beach, on June 17, 1942, four German spies came ashore and caught trains to Cincinnati and New York City, where they were to rendezvous with four more spies to sabotage unnamed targets. By August of that year they had been captured, tried and convicted, and six were executed. Justice moved a lot quicker in those days.
I arrived at the first tee of Ponte Vedra's grand Ocean Course just as Ladies' Day was commencing, but a threesome of Beau, June and Terry, each of whom had probably completed finishing school by the year I was born, let me join them. They were delightful company, filling me in on Ponte Vedra's history as we pressed the heels of a foursome of fastidious, foot-dragging men ahead of us. The Ocean Course is one of the country's earliest residential-development layouts, with most houses sensibly placed on the far side of lagoons, away from the action. It's home of one of America's earliest island greens, the 144-yard ninth, and Beau (who grew up on the course) reminded me that Ponte Vedra would have hosted the 1939 Ryder Cup Matches, except they were canceled when Great Britain declared war on Germany after the invasion of Poland, the start of World War II.
Thanks to a wonderful restoration of its original Herbert Strong design by architect Bobby Weed, who lives just minutes from the course, Ponte Vedra plays much like it probably did when it opened in 1932. Weed reclaimed old cross bunkers on some holes, retained quaint knobs in many fairways and re-established some terrifying bunkers, like the deep one across the face of the 182-yard 12th—the "round killer," as June called it. Ponte Vedra is just 6,811 yards from the back tees, but with the Atlantic winds howling at 20 knots or more, even pros would struggle to record a good score.
in Best Places to Play must be based largely on its price. I paid a rack rate well over $200, more than I'd paid in total on four other rounds. (I probably should have spent the previous night at the Inn, which isn't inexpensive but does offer golf packages.)
After my round, I ran into, of all people, Mark McCumber, who was walking off the island ninth. I told him I'd just played The Ravines, and he shook his head. He no longer has any ownership in the place, he said, and added that seeing the course in such shambles was like seeing a child gone bad.
McCumber then brightened. He'd just finished a new course in Macon, Ga., and hoped I'd get up there to play it. I told him I'd try my best. Later, I checked a road atlas. I could get there from Jacksonville by skirting the Okefenokee Swamp south of Waycross, then head west to Tifton, then north. Surely there are several good courses along that route. I thumbed through my Best Places to Play, yet another previously uncharted golf trail about to come to life.
Spectacular beauty binds this collection of Seattle-area courses, with snow-capped mountain ranges (the Cascades and the Olympics), forests and Puget Sound vying to distract you. Start with east-side courses Washington National Golf Club and The Golf Club at Newcastle, framed by pine and fir. Then head up the coast, including a stop at one of golf's great bargains,Kayak Point Golf Course, cut breathtakingly through a forest. And, finally, loop back down for rounds in Port Orchard (Trophy Lake Golf Casting) and the Olympic Peninsula (Port Ludlow Golf Club).
The Front Range of the Rockies is a mile high, the better to boom tee shots, but below the snowy peaks to the west, so it's playable from early spring well into fall. Pine-lined fairways in Colorado Springs and Castle Rock give way to gravity-defying red-rock formations towering above Arrowhead. At the north end are wind-swept layouts at__Riverdale__ and Buffalo Run, both just over the hill from Denver International Airport.
On any Northern Michigan golf trail, the problem isn't filling your itinerary with top courses. It's deciding which ones to leave off. From Bay Harbor on the far eastern edge of Lake Michigan to Lakewood Shores on the northern coast of Lake Huron, the top edge of Michigan's Lower Peninsula has styles for every taste. You're only limited by the relatively short playing season: early May to mid-October.
OK, so a couple of stops in New York's Adirondack Mountains make this not strictly a New England affair. This is not a geography quiz. It is, however, a test of your ability to focus on handiwork of architects like Donald Ross (The Sagamore) while taking in some of the most commanding views in the East: Lake George, The Berkshires and the Green Mountains. Consider this trail in August, when you can build in side trips to watch the ponies at Saratoga and summer stock in Williamstown.
You could fly to Myrtle Beach, but playing your way down by car is much more fun. Whether you opt for highways or back roads, the golf reflects the same diversity your destination has made famous. There's quirky (Royal New Kent) to go along with the linksy (Sea Scape and Bay Creek) and the toney (Fazio, Palmer, and Strantz).
It's the perfect adventure, provided you've got two weeks to kill—and why not, with an itinerary like this?
Course ratings are derived from the exclusive 5-star Golf Digest Places to Play scale. A single star represents "basic golf." Five stars indicates "golf at its absolute best." Golf Digest's Best Places to Play guide, based upon the ratings of tens of thousands of readers, is available for $24.95.
Very good. Tell a friend it's worth getting off the highway to play.
Outstanding. Plan your next vacation around it.
Superb. Golf at its absolute best. Pay any price to play at least once in your life.
The equivalent of one-half star.
If a course has no star rating, it means that the course did not receive a minimum of 10 ballots, either because it is very new or simply was not visited by a sufficient number of Golf Digest readers. If you've played one of these courses and would like to rate it, click here.