Equipment
Golf Tech: Checking your swing
Quick answers: Michael Bentley's K-Vest gives immediate feedback on what the body is doing right and wrong.
NOW SERVING NO. 1,000,001
Imagine trucking along on a lengthy road trip. You're hungry, your back's sore, but you don't know where to stop for food. Each exit might have exactly what you're hankering for, or might point you to a diner that shut down six months ago. This is why we love and trust franchise restaurants. The familiar letters and colors of their neon signs are beacons of standardized fare.
Joe Assell is doing for golfers what Ray Kroc, the founder of McDonald's, did for hungry travelers. Because in many ways, the first step to getting better at golf is just as uncertain as trying to find a decent meal in the middle of nowhere.
Hack teachers and clubfitters are out there, and they're tough to spot at first glance. Assell's company, GolfTEC, provides a user-friendly, standardized service for game improvement using modern technologies in instruction and clubfitting, and in July GolfTEC opened its 100th learning center. On July 10 the company taught its millionth lesson. A long way to go before Assell can claim "Over 99 Billion Served," but give the guy a break: He's only 35. GolfTEC's teaching system is founded on a database of 150 tour-pro swings, collected through a partnership with the former HealthSouth tour fitness trailer. Holding this as the model, a GolfTEC instructor can compare a golfer's swing on an indoor system using motion sensors synchronized with digital video. The golfer wears a vest that's wired to a computer, and the system beeps if the player strays from proper positions during the swing. It's instant feedback for teacher and player.
Ninety percent of GolfTEC instructors are affiliated with the PGA or LPGA, and all have to complete a two-week certification program. Students can keep the same instructor for an entire lesson program (packages start at $325 for five sessions). Web-savvy students can access video from their lessons online. And because the company is nationwide, students can keep training when they're on the road or if they move.
On the equipment side, GolfTEC can use information from a student's swing analysis to design and build a custom set of clubs from a leading manufacturer. "Other swing-analyzer companies sell one piece of technology," says Assell. "We provide the teaching and equipment, too. If we're McDonald's, then it's like everybody else is just selling grills."
Assell started out as an intern at Cherry Hills Country Club, learning the trade of club professional. Then in 1995 the entrepreneurial spirit hit, and he opened the first GolfTEC in Denver.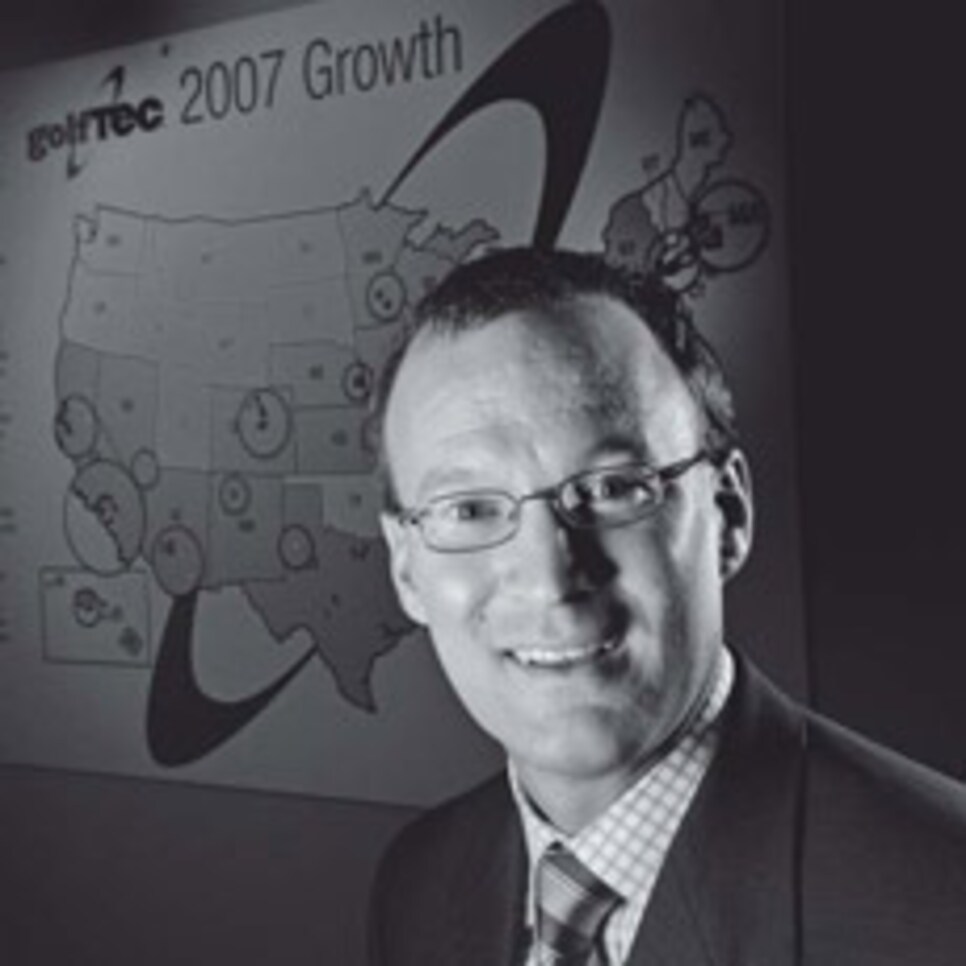 "Personal computers, e-mail, cell phones -- a whole wave of technology was swelling," Assell recalls. "I thought, Hey, let's apply this to golf." Bookings for that first location filled right away, and one year later the second GolfTEC opened, in Chicago. Assell projects a worldwide potential for more than 1,000 locations. If a GolfTEC pops up in your neighborhood, rest assured it will be good for your game, unlike, say, a greasy beef patty with fries.
ONE MAN'S QUEST TURNED GOLF'S GAIN
His swing looked silky on video, so the bright young man from Northern California skipped college and turned pro. The tours took him across Australia and Asia, but his results were lukewarm, and the prize money slim.
After three years Michael Bentley returned home, discouraged but not done. Reading the local paper one morning in 1987 he saw an interesting advertisement. Dr. Frank Jobe of the Los Angeles Centinela Hospital was seeking test subjects for a biomechanical research project on the golf swing. Whatever answers this Dr. Jobe was chasing, thought Bentley, he wanted them, too. There was something missing in his swing the human eye couldn't detect.
Bentley became a lab rat. When he wasn't at the course practicing, he was at the hospital -- recording swings, digitizing rolls of film, or simply absorbing the science-speak of doctors. Bentley's father, John, then a PGA professional, scoffed at the convoluted language his son learned to discuss the swing. But the son, who also grew up racing motorcycles, liked the idea of numerically measuring the forces of an engine. In this case, the engine being his swing. Bentley spent only one semester in college, but he has gained a knowledge of biomechanics enviable by any doctoral candidate. While training in Orlando, he volunteered at the Orthopaedics Research Lab, interacting with engineers, doctors and sports scientists.
In time Bentley uncovered his invisible flaw. A dysfunction in his right hip was shutting off the power of his gluteus muscles, making it difficult to time his swing consistently. However, it had taken hours of going blind looking at spreadsheet data to figure this out.
"What would've been better was immediate feedback when I was on the range," says Bentley. "That's why we built K-Vest."
The "we" is Bentley Kinetics, the company he founded in 2005. The K-Vest is its flagship product, a light and fairly noninvasive harness with sensors for the hips, shoulders and lead wrist, from which data can be detected on speed, angles, rotation and timing. The sensors transmit wirelessly to a screen and generate an animated figure of the golfer that moves in real time.
Using the K-Vest, an instructor can set up a laptop next to a student and program the swing area to be measured. For example, rotation of the hips. When the student swings in the correct position, the animated figure on the screen turns green and the computer emits a pleasing auditory tone. The moment the student over-rotates, the animation turns red and the tone ceases.
Bentley has abandoned his hopes of playing the tour. The pivotal moment came one day on the range at Bear Lakes Country Club in West Palm Beach.
"It wasn't that I was hitting it all that bad," says Bentley, "but I realized I was spending more time working on my friends' swings and having a better time doing it. My little apartment looked like a science lab. Brian Gay and Geoffrey Sisk [both made it to the PGA Tour] were always over, working on their swings." As for John Bentley, he's learned to accept the high-tech age of teaching. "Dad still can't turn on a VCR," says the son, "but he can see the benefit of giving lessons with the K-Vest."
The father might have to update his skills. In July, Michael Bentley founded another company, Kinetic Visions, to combine more technologies, including optics and electromagnetic fields, to explore the swing. The quest for learning continues.
Bad swing habits die hard, which is why sometimes a golfer needs a good slap in the face. Problem is, no teacher who expects to get paid ever does that. George Kelnhofer, a PGA professional of 41 years, has come up with the next-best thing, better in fact, because his invention doesn't leave a bruise. Kelnhofer has synchronized video, light-activated screen pixels and an automated tee so that when students make a swing error, the ball disappears under the mat before they can hit it. It's Pavlov meets Rube Goldberg.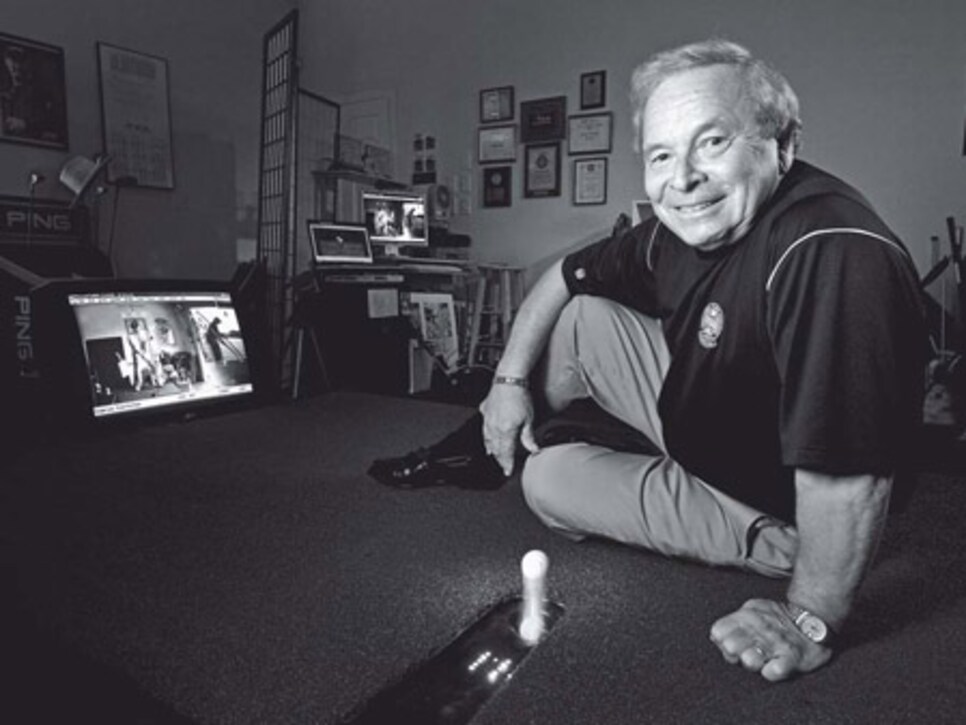 The light bulb popped on for Kelnhofer, now 68, during a sweltering afternoon at the Atlanta Golf Center in 1995. He was on the range, teaching the 26th consecutive lesson to a middle-handicapper who couldn't stop swinging across the line at the top. The man's inability to refrain from this specific fault despite a collective day's worth of instruction was staggering, mostly to his teacher. There had to be a better way to get through to him.
The nagging fault of that middle-handicapper was the seed that became Accelerized Golf, a teaching system based on Kelnhofer's magic mat. In short, an instructor can draw shapes on a special video screen to activate certain pixels. If the space of those pixels is violated during the swing by any part of the golfer's body or club, an electric signal activates the tee and ball to drop below the surface. Once these parameters, called Hotlines, are set on the screen, students can revisit the facility and hit balls without supervision. Well, at least students can swing at balls -- actually getting to hit them depends on how well they're swinging.
To negotiate the engineering, Kelnhofer called on Bud Bleckley, an inventor/scientist who used to take lessons from Kelnhofer's brother, Phil, also a teaching pro. At first the men decided to use laser beams to create the swing parameters, but they proved difficult to adjust and keep steady in the wind. Next they tried infrared beams, but they wouldn't work in bright sun. There were even bugs in the first iterations of the disappearing-ball mechanism.
"The driving range was always a mess of wires. It was hilarious, but all the members loved him," says Anne Cain, then a student of Kelnhofer's at the Atlanta Golf Center and now a teacher who runs her own golf academy in Amelia Island, Fla.
In time, golf pro and scientist got the apparatus fine-tuned. But the man who made Accelerized Golf a commercial success was Oswald Drawdy, an electrical engineer and former mini-tour player whose career highlight was playing in the 1993 U.S. Open at Baltusrol.
"I provided the glue between George's golf mind and Bud's technician mind," says Drawdy.
With his game to back him up, Drawdy convinced business partners to fund the development of Accelerized Golf, whose technology is being used at 14 locations in five states.
Kelnhofer doesn't know the whereabouts of that middle-handicapper who couldn't stop swinging across the line. Perhaps the man will resurface to reap the benefits of the biofeedback technology he inspired, and most likely still needs.