Equipment
Golftec expanding instruction franchise with more facilities, to become "largest component club-fitting provider"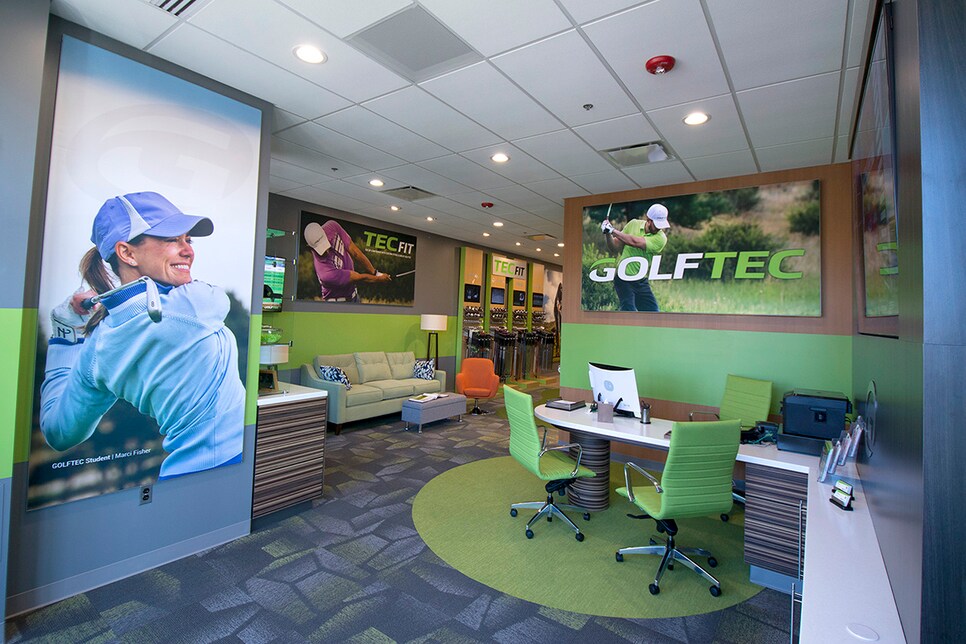 Golftec, the franchise golf instruction center business that's produced more than 7 million lessons at nearly 200 worldwide locations since it was founded in 1995, isn't just holding steady in an uncertain golf business environment. On the contrary, they see first-hand just the opposite and are announcing plans for an overall expansion and major increase in its custom club fitting business.
According to Golftec co-founder and CEO Joe Assell, the move will involve a partnership with True Spec, a custom fitting franchise with 13 worldwide locations and a mobile-fitting center. The partnership will provide Golftec centers with a component club fitting capability, including a broader array of manufacturer heads and shafts than previously available at Golftec facilities.
The expanded fitting initiative is part of an overall Golftec upgrade taking place this year. That effort includes 30 new facilities opening in the first half of this year, with plans for 20 new openings on a worldwide scale every year. It's evidence that Golftec's full-service but smaller footprint model continues to be successful, Assell said, despite industry reports that show a flat to down retail environment.
"We just haven't seen that trend," he said. "Our merchandise business has been up 15-20 percent over the last couple of years. We're seeing a real positive trend with golfers choosing to be more fit for their clubs."
Indeed, rather than compete with major golf retail entities like PGA Tour Superstore, Golf Galaxy and Worldwide Golf, whose facilities can often be more than 10,000 square feet and sometimes more than 20,000 square feet, Golftec's facilities are average around 2,000 square feet, but feature three hitting/fitting/instruction bays and are often located in areas easily accessed by corporate parks and other businesses. Golftec, whose instructors Assell said gave 900,000 lessons last year, expects to open 30 new standalone facilities in the first half this year.
That's not to say retail giants PGA Tour Superstore and Dick's Sporting Goods-owned Golf Galaxy haven't seen success. PGA Tour Superstore just opened its 29th U.S. store, a 25,000 square-foot megastore near Hilton Head Island, S.C., its second new store this year. Meanwhile, Golf Galaxy is expected to open two new stores this year, along with 36 new Dick's Sporting Goods stores. But the Golftec model's size makes it certainly more nimble, and Assell sees it resonating with more golfers as the golf club purchase continues to become a more considered process.
"Our existing lesson customers trust their coach with their swing and their game implicitly. We have such an intimate relationship with our students," he said. "It's not your typical transactional relationship where people are going through your cash register aisles and you don't really know who they are. All of our relationships are truly one-on-one, and we're looking to expand that trust to our business and their affiliation with Golftec knowing that we will be with them for whatever they need to play their best golf."
Assell said the expansion to Golftec's club fitting operation, Tecfit, will be rolled out in more than 30 standalone Golftec centers this year and will eventually make Golftec "the largest component club-fitting provider based on total facilities operated." Tecfit uses a proprietary software created by SwingLabs that analyzes a player's skill, technique, physical attributes and preferences to produce a recommended series of options that best fit his needs. The expansion will take Golftec's current fitting system, which is based largely on manufacturer's fitting carts and offer an expanded shaft wall that will included 120-150 shaft options. This club fitting expansion may change Golftec's customer base, too.
"We didn't normally sell clubs to someone who wasn't taking lessons from us," Assell said. "We're now going to be marketing to non-Golftec clients, as well. We know there's a much broader group of golfers out there who haven't always taken lessons but are interested in the latest equipment. And we want to be relevant to those golfers, as well. There's going to be a high-integrity factor on our end that we advise people on what they need the most, whether it's clubs or lessons or both, depending on their need."
Golftec, which expects to have more than 180 facilities open by June and currently employs 700 PGA professionals, is in the midst of transitioning from having about 45 percent of its U.S.-based facilities operating within Golfsmith stores. Golfsmith filed for bankruptcy in 2016 and shuttered all of its stores, and Dick's Sporting Goods acquired the stores with plans to rebrand about 30 under its Golf Galaxy name. As a result, Golftec is relocating, merging or building new locations for most of the lost Golfsmith facilities, as well as partnering with Golf Galaxy on 31 others. The net loss in Golftec stores, due to the Golfsmith bankruptcy, has been about 20 facilities, but Golftec's Assell says his company plans to open 20 new facilities a year. In addition, he said that the staff and customers on most of those 20 lost facilities have been absorbed by other existing nearby Golftec facilities. In real terms, Assell estimates the loss may have been 20 addresses but more like only four actual facilities.
The Golftec plan could eventually put its custom component clubfitting footprint well beyond others in the business, including leaders Cool Clubs (20 locations), Club Champion (18) and True Spec (13). According to Assell, all of Golftec's 186 facilities will offer the expanded Tecfit program by the end of the year. It's a renewed philsoophy that instruction and properly fit equipment are two sides of the same coin.
"Dustin Johnson if he tried to play with standard sized golf clubs that had the wrong shaft, he wouldn't be the No. 1 player in the world right now," Assell said. "It's his swing matched with his equipment that's driving his success. Just like the 30-handicapper with the perfect set of clubs is going to need to get a better swing to really improve. They absolutely go hand in hand.
"We're excited to really be able to deliver that all under one roof. We've been doing it, but I would say it was kind of a B-grade offering on the club fitting side, but now we're bringing our A-game."
To date, Golftec's Tecfit program produced more than 20,000 fittings, but the new format with True Spec, which will include a dedicated fitting specialist at each facility, is expected to expand Golftec's retail equipment business model. True Spec will provide Golftec with increased shaft and clubhead options, and it will build all custom orders from Golftec's Tecfit custom fittings.
One additional upgrade in Golftec's development plans is a completely redesigned camera system that will fuel its swing analysis. Custom-built for Golftec, the new HD camera will capture 120 frames per second with improved clarity that will aid Golftec instructors in pinpointing areas of focus in a player's swing and body movements and positions.
The changes, including a new logo and redesign/refresh of all current facilities is part of a plan that's been in the making over the last two years, beginning well before the Golfsmith difficulties, Assell said.
"What I'm most excited about is this overall evolution of Golftec," he said. "We really stepped back and said,'The golf world keeps evolving. Are we going to evolve with it, or are we going to stay as we are wait for something bad to happen to our business and then react to it?' We chose to be aggressive and not rest on what we have even when things are going well. We focused on what we need to do to keep Golftec relevant and growing and a leader for the years ahead."