News
Golf's New $25 Million Man*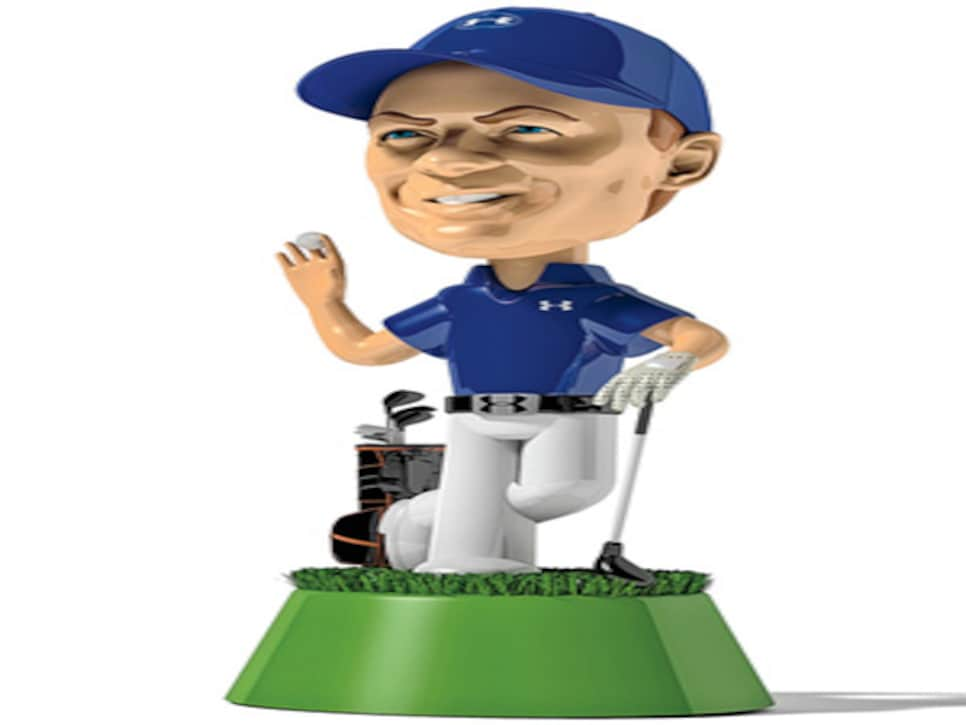 Turning points usually don't walk up, slap you in the face and shout, "This is important—pay attention!" More often, they're recognized after the fact. The accomplishments of Bobby Jones, Ben Hogan and even Jack Nicklaus look bigger now than they did at the time, the appreciation growing with the years. But occasionally, a moment occurs with such sudden brilliance that it amounts to a face slap. When Tiger Woods won the 1997 Masters by 12 strokes at the age of 21, it was one of those moments. And so, too, it seems was the victory this year by 21-year-old Jordan Spieth at Augusta National Golf Club. "There are certain tournaments when we know we're watching the beginning of a new era," says Casey Alexander, director of research and special-situations analyst for golf stocks at Gilford Securities Inc. "And clearly, that was true in this Masters." Like Woods, Spieth won people over not just with his golf but with his essence. Woods was a young, dynamic man of color in a staid, white sport. And that was a refreshing change for golf.
Spieth emerges now as a similarly refreshing change: a young, dynamic new-age champion. Quite simply, Spieth slipped into a green jacket and the role as one of the most marketable athletes in all of sports—in fact, one of the most marketable in all of entertainment.
Call him the $25 Million Man—at the very least. That's the new base for his yearly off-course income, multiple agents and marketing experts tell Golf Digest. That, combined with his on-course winnings, could jump Spieth from No. 16 this year on the Golf Digest 50 all-encompassing money list to as high as No. 3 in the 2016 ranking, trailing only Woods and Phil Mickelson.
The significance of Spieth's Masters victory was that it extended his brand beyond the world of golf to the public at large—especially a younger, hipper crowd obsessed not so much with sports as with celebrity.
According to the Celebrity DBI, which measures consumer perception of 3,600 celebrities for the promotions and marketing agency The Marketing Arm, 19 percent of consumers knew who Spieth was in mid-March, before the Masters. On April 16, after the victory at Augusta, his consumer awareness was 35 percent. (There's room for growth there: Tiger is known by 97 percent.)
In overall appeal/likability, Spieth went from No. 1,500 to No. 129, ahead of Tina Fey (134) and Jack Nicholson (135). In aspiration (think: "I want to be like Mike"), Spieth went from No. 333 to No. 4, behind only Tom Hanks, Bill Gates and Kate Middleton. In endorsement value, Spieth went from No. 529 to No. 5, behind Hanks, Morgan Freeman, Betty White and Michael Jordan, and ahead of Arnold Palmer, Angelina Jolie and Sofía Vergara.
"When it comes to the sports-marketing checklist, Spieth seemingly checks all the boxes," says David Carter, a principal for The Sports Business Group and a professor at the Marshall School of Business at the University of Southern California. "He's competitive, a strong communicator and appears to fully appreciate what he has and what he represents to the sport. Roll up all of these attributes, including the fact that he's likely to be on the scene for a very long time, and all those that invest in golf are understandably bullish about his future."
Under Armour, the sports clothing, shoe and accessory company, felt bullish enough to sign Spieth to a 10-year contract in January, before he won the Masters. The deal, which industry insiders say has "Tiger-like numbers," includes an eight-figure guarantee annually, bonus benchmarks (for things like winning a major), stock options and, in the future, a signature line of clothing.
Spieth and Under Armour seem to be a marketing match. "He feels comfortable with the people, comfortable with the product, and this gives him a chance to be a part of one of the fastest-growing brands in the world," says Jay Danzi, Spieth's agent for Lagardère Unlimited.
Under Armour, AT&T, Titleist, Rolex, NetJets, SuperStroke Grips, Perfect Sense Digital and EA Sports give Spieth a strong endorsement portfolio. (Spieth is also a Golf Digest Playing Editor.) Danzi says Spieth has had more than 20 new offers but will be very selective in adding partners, and then only if they fit an overall brand strategy.
Including the TV, digital and print-media pop generated by the Masters, "Under Armour would have had to spend about $35 million to get that level of coverage," says Drew Hawkins, managing director of Morgan Stanley Global Sports & Entertainment. "Their logo was seen all around the world for four days."
Under Armour originally signed Spieth in January 2013. From the 2014 Masters—when Spieth finished T-2—to a week after the 2015 Masters, Under Armour stock went from $51.08 to $87.76. Right after this year's tournament, the company announced its 20th consecutive quarter of growth at 20 percent or more.
"It was really cool to see a kid live out a dream," says Ryan Kuehl, vice president of sports marketing and sponsorship for Under Armour. "He validates aggressive, young, fearless competitors, and that authenticates the sport. That's what we think we are."
Marketing experts say Spieth hits all the benchmarks endorsement partners look for: believability: No one thinks Spieth's Masters win was a fluke. The believability factor extends beyond golf: People believe Spieth is telling the truth. "When Tiger was behind the wheel of a Buick, we all got the joke that he was only there because he was being paid millions of dollars to be there," Gilford's Alexander says. "If you saw Jordan Spieth behind the wheel of a Buick, you'd have no doubt that he was behind the wheel of a Buick."
LONGEVITY: Because of Spieth's age, business partners are confident he'll be around for a long time, generating publicity for their products for decades. Spieth is more than a decade younger than Justin Rose or Adam Scott were when they won their first major championship.
LIKABILITY: Spieth is a nice guy with no off-course baggage. He's polite, devoted to his special-needs sister, and articulate. The Jordan Spieth Family Foundation focuses on junior golf, military families and special-needs youth. Ellie, Jordan's younger sister, is his constant source of inspiration, and he references her often when speaking of his motivations for success.
SPIETH WON THE RIGHT MAJOR: The Masters is on an island by itself. When it arrives, there hasn't been a major in eight months, and there are two months until the next one. It also generates the highest TV ratings of any golf tournament and is televised to more than 100 countries. As the DBI shows, the tournament introduced Spieth to the world.
The potential for Spieth to make unimaginable numbers off the Under Armour deal is real. "It wouldn't surprise me to see Under Armour buy an equipment company in a few years," Alexander says. "They have room for enormous growth in their golf business."
AT&T has had a long involvement in golf, including the AT&T Pebble Beach National Pro-Am. At one point, AT&T had its logo on Woods' bag. That logo is now on Spieth's bag. As a Dallas-based company that covets the young market that lives on its phones, it's a perfect pairing. "The company has had a steep tradition in golf," says Mark Wright, VP for media and sponsorships at AT&T. "When we went out to look for a golfer to be associated with the brand, Jordan Spieth was an amazing talent, but more important, he's an amazing human being. He has integrity, family support; he presents as young in a game that could arguably use an injection of that. He's technology savvy. And he's a Dallas native. So you put that all together, and wow."
Under Armour and AT&T will use Spieth in print and electronic ads, television commercials, social media, in-store opportunities, meet-and-greets and other corporate entertainment.
"You'll have times when you aren't winning the Masters," Wright says. "When we first talked about forming a relationship with him, the likability and character factor are going to be there even when he's not winning. He's rock solid in that regard. Last year when he didn't win, he was amazing."
Under Armour, which has New England Patriots quarterback Tom Brady, Los Angeles Dodgers pitcher Clayton Kershaw, Golden State Warriors guard Stephen Curry and U.S. Olympic skier Lindsey Vonn among its endorsement partners, gets giddy when talking about Spieth's impact on the brand.
"It was not just that [Masters] weekend, but the past four months," Kuehl says. "We're up triple digits in many categories, we're selling out the shirts he was wearing, and there's a halo effect in all of our major categories. We were looking for that North Star athlete in golf—and we found him."
What's next? Every golfer finds that winning the first major changes life. Those who continue to succeed are the ones who adapt without losing the essence of who they are—or the focus on their game.
"There are a variety of things he's going to be dealing with now," says Hawkins of Morgan Stanley. "He's gone from being a very likable young man and a good golfer to being catapulted into the public eye. Everyone is going to want a piece of him. He needs to continue to remain focused on his marketing message, focused on golf, and stay reliant on those who have supported him."
Like Woods, Spieth could be one of those players who raises not just his fortune but that of all those with a stake in the game.