The Loop
In the reasons why I love this sport, let me include, near the top of the list, yesterday.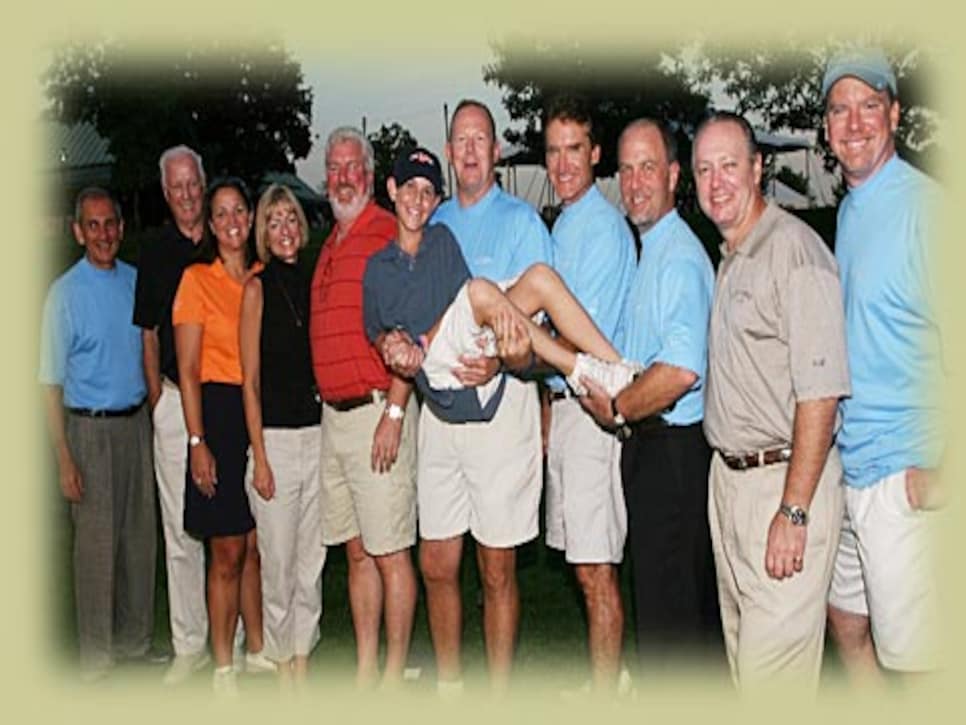 Yesterday was the 20th anniversary of a charity event begun by former ATT employee Mike Marion and my wife, Julie, on the sad occasion of one of their colleagues, Steve Cox, becoming ill with a cancer usually found only in children. That first year, Mike, Julie and six friends, including Geoff Russell, the editor of Golf World, played a golf marathon to raise money for Steve's home hospital bed. (Steve wrote a very funny note thanking the eight and noting what a tremendous sacrifice it must have been for all them to go out and play golf all day.)
And every fall they did it again, even after Steve had succumbed to cancer at the ungodly age of 32, the event at one point encompassing seven courses and some 700 golfers. (Yesterday, at New Jersey National, there were 128). Because so many of the supporters over the years were members of the media, the event always included—and did yesterday—a moving video about Steve that kept not only his memory, but his face, his personality, his spirit, alive. Steve's Dad gave a talk yesterday that embodied the funny, upbeat, brave spirit of his son, proving that you can laugh even when you think you're crying. I'm sure--because you write to us about them--that you have created or attended events like this one. It's what we do in golf.
In 20 years, the Steven A. Cox Classic, one of thousands and thousands of golf fundraisers, has generated almost $6.5 million for charities that fight cancer. For the past several years the contributions have gone to St. Jude's Children's Research Hospital for children and LIFE, the breast-cancer-awareness initiative begun by Val Skinner and other LPGAS players in memory of Heather Farr, who succumbed to breast cancer, also at 32.
During those 20 years, the Cox Classic grew to a huge event when ATT, radio personality Don Imus and WFAN got involved, and then shrunk a bit, when ATT fell on hard times and about five years ago Imus and the FAN no longer participated. But companies like the Hibbert Group, RR Donnelley, Asurion, the Christie Fundation and Eric Bergstol's Empire Golf, the title sponsor, are still part of it and it thrives because. Steve's buddies, work-mates and college roommates still come and because his old ATT colleagues--Mike and Susan Campbell among them--are still running things. The Cox Class has lost some of its size, but it has never lost its soul.
It's also not lost Jack Szigety, thank God, although it came close one year I remember when Jack couldn't play and we all prayed for him. We played with him yesterday, askinny teenager who loves the Yankees, loves golf and is called a Cox Classic Hero, meaning he's one of the cancer-surviving kids who's probably alive because of this event. Szigety saved our third-place finish yesterday with an up-down-birdied from 80 yards when the rest of his team had chunked or skulled their wedge shots into oblivion.
We also played with four LPGA players, Val Skinner, Christina Kim, Beth Bader and Rachel Herrington, who flew up from Alabama after Sunday's tournament, and helped us make birdies on all of the par 3s. FYI, if you want professional golfers to participate in your event, call Skinner, because these four could not have been more involved, more fun or been better ambassadors for the LPGA and the game. Kim even bid on and won a Jeff Gordon jacket and four tickets to a race in the Poconos because the rest of us weren't bidding high enough!
The event was one of hundreds, even thousands of golf fundraisers that took place yesterday. Some raised a few thousand dollars, some a half a million. A few years ago a study was done to capture golf's giving. You probably know the Tour contribution to charity is an incredible number--$125 million or something like that. But do you know what golf's total contribution is, when you add in all of the "little" events like the Steven Cox Classic and the thousands of scrambles, Ryder Cups, hole-in-one contests and other tournaments held in the name of friends and colleagues across the country?
Which is why yesterday was such a big deal. I hesitate to say that in the grand scheme of things it is more important than all the trophies, tournaments and "majors" that professionals play for and we make such a big deal about. I hesitate, but I will anyway. It's bigger than all of that.
To the corporations that are wondering if the time's right to be involved in an affluent sport like golf that might seem too upscale or exclusive in these recessionary times, let me refer you to yesterday.
(Photo: Steven A. Cox Classic supporters, with Jack Szigety, center)