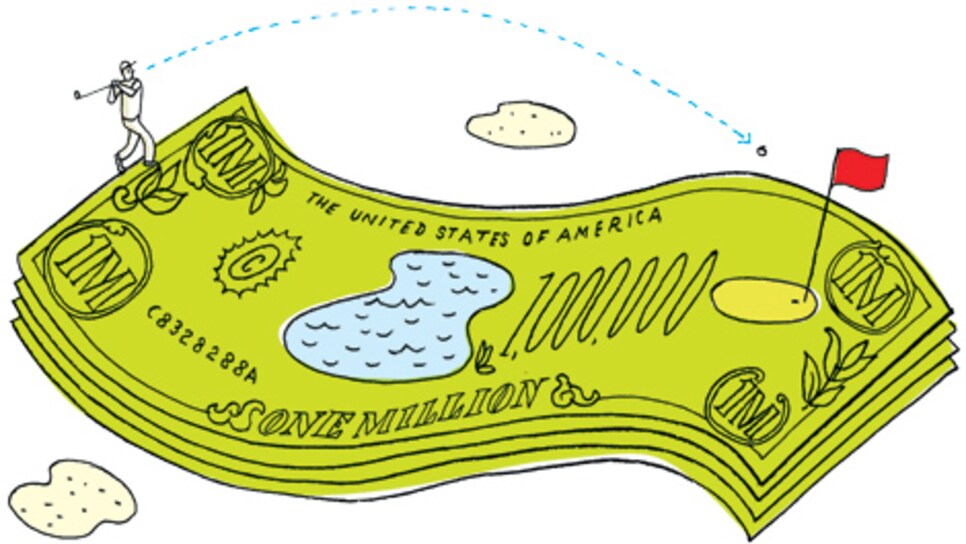 __Q: Where would a pro on the PGA Tour finish on the money list if he shot even par every round he played?
--Ed Kubic / Lexington, SC.__
A: Par is not a very exciting player to watch.
He never makes any birdies. He lays up on every par 5. He wears dull colors. When he drives his favorite car--beige--he listens to the kind of '80s soft rock that no one liked even in the '80s. He's not one of the guys. He's a room service, early night kind of character. His wife is somewhat plain, and, shockingly for the PGA Tour, isn't even a blonde.
But Par puts in terrific performances in the majors, always seems to rise to the big occasion, and is a great bad-weather player. He almost never wins regular tour events, but Par won last year's Masters by a stroke over Zach Johnson, and last year's U.S. Open by five strokes over Angel Cabrera. In 2008, if Par played every week, for the first six months, his best finish would have been third place in the U.S. Open, a stroke outside the Tiger Woods-Rocco Mediate playoff. In 26 tournaments, Par also missed four cuts (by a lot at the Hope, where the winning score was 26 under par). At the midpoint of this year, Par had earned $1,933,762, putting him 15th on the money list, just behind Jeff Quinney and just ahead of J.B. Holmes. But no one plays 26 tournaments in 26 weeks. The top 100 played an average of 16 events in the first six months of the year. That would give Par equivalent earnings of $1,190,007, putting him 44th on the money list.
He makes wise invest-ments. He's thrifty. And he has a big endorsement deal, too, with a sleeping-pill manufacturer. Par does fine. Maybe we'd all like to be a bit more like Par.
__Q: Is it OK to leave your clubs in the trunk of a car?
--Larry Kim / Phoenix, AZ.__
A: No. Don't do it. Ever. Temperatures inside the trunk can reach 150 degrees in summer, especially in your part of the world, enough to start causing degradation of the grips and the glue that holds the clubs together. But there's another reason it's a no-no. The Golf Guru used the same set of clubs for almost 20 years. Then I went through the custom-fitting process and got a new set that accommodated all the quirks of my swing. But two weeks later--having used them just twice--they were stolen from my car one evening while I was enjoying drinks with friends in a local hostelry. The two young perpetrators smashed the windows and made off with my clubs on bicycles (they were spotted by a man out walking his dog but were never caught). The clubs were never recovered.
Most of them were new and thus replaceable, but the putter I had used almost exclusively since 1982 is not, nor is the old rusted wedge that I was particularly attached to, despite the fact that it had failed to extricate me from many a bunker over the years. Take your clubs inside. They are part of the family. You'll miss them when they're gone.