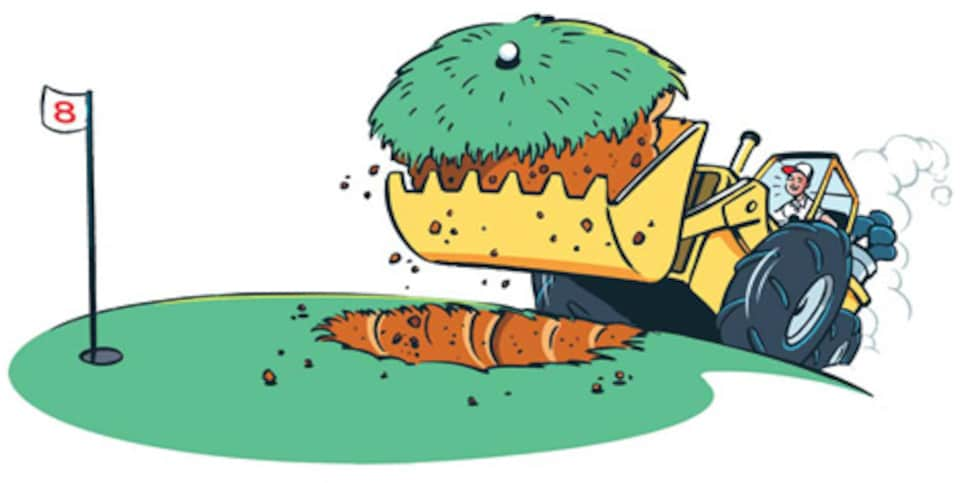 __Q: On large greens, a player's ball might be on the putting surface but still be 20-plus yards from the hole. Is it permissible to chip the ball instead of putt it? Is it considered gauche?
--Frank Manfre / Loganville, GA.__
A: You can use any club on the greens. At the Old Course at St. Andrews, where it's not uncommon to have a 150-foot putt, The Golf Guru has found that "putting" with a 5-iron or a hybrid is much more effective than a putter from long range. You can even use a wedge, but the greenkeeper will not thank you for it. No one wants to see divots taken out of any putting surface, and tour pros have been booed at St. Andrews for hitting wedges on its sacred greens. With Ryder Cup fever almost upon us, let's look back on perhaps the best demonstration of putting without a putter. On the final day of the 1987 contest at Muirfield Village, Ben Crenshaw took on Ireland's Eamonn Darcy. Walking off the sixth green, Crenshaw banged his putter into the ground in frustration -- he'd just three-putted--and the head snapped off. According to the rules, he could not replace it, and was thus forced to putt with a 1-iron, or sometimes the blade of a sand wedge, the rest of the round. It seemed to make little difference--Crenshaw could putt with a shovel--and he made plenty of good putts, including a 12-footer for a bogey at the last. But Darcy, whose swing could out-weird Jim Furyk's, made a slippery, downhill five-footer for victory--and the visitors won the cup in the United States for the first time. Darcy was asked what was going through his mind as he stood over the ball. He replied: "Don't effing miss."
__Q: The other day I heard someone referred to as "a left-brain golfer." What the heck does that mean?
*--Scott Miller / Dallas, TX. *__
A: It is said that there are two sides of the brain. The left brain is in charge of logic, numbers, understanding tax forms. The right brain handles art, poetry, intuition. Left-brain golfers are concerned with scores, yardage, wind speed. Right-brain golfers are more interested in the poetry of the swing, the rustle of leaves, the artistry of the bunkers. Left-brain golfers are terrible scramblers. Right-brain golfers play too slowly. Left-brain golfers win the U.S. Open. Right-brain golfers win the Masters. Left-brain golfers: Jack Nicklaus, Ben Hogan. Right-brain golfers: Seve Ballesteros, Phil Mickelson. Tiger, of course, is both.
The driving range is a good place to improve the left-brain part of your game. But you must work on the right side, too. Visualize great shots. Sketch a golf hole. Hum a tune. Dance. Listen to jazz. These things will make you a better golfer.