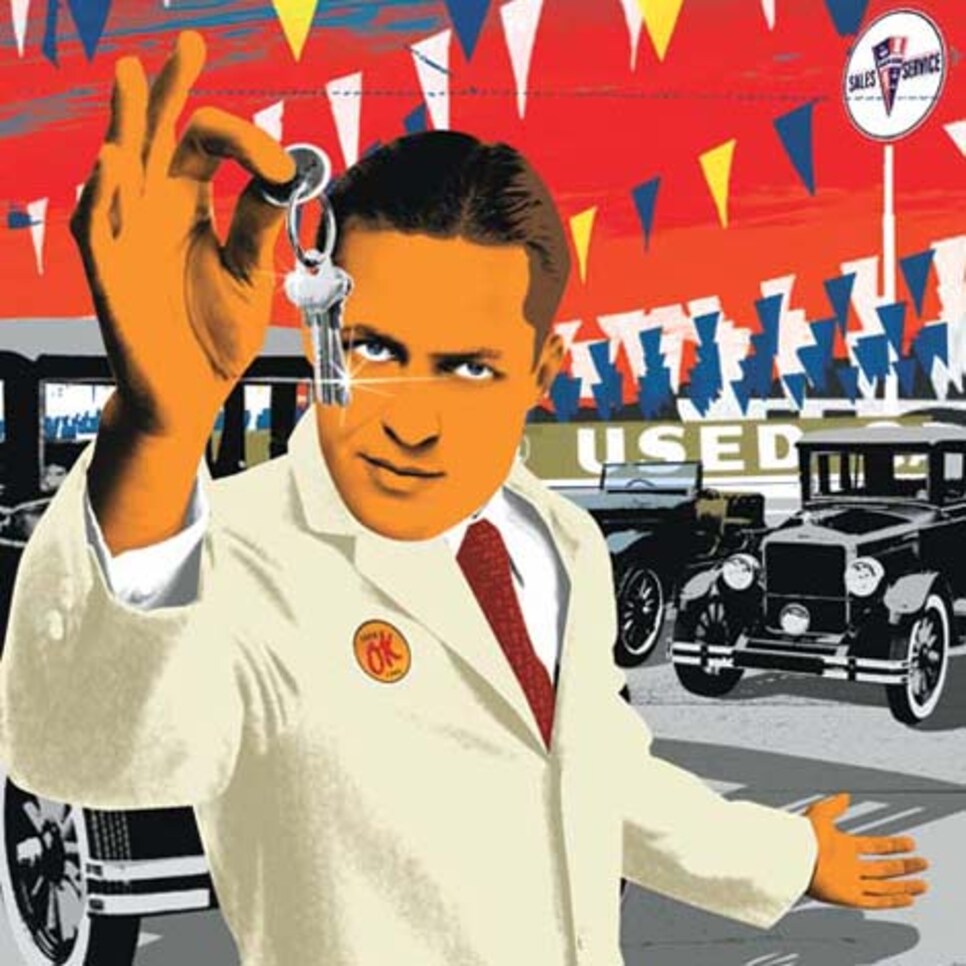 Q: Bobby Jones is considered the greatest amateur ever. But he made a good living off golf. Shouldn't he be considered a pro? Did he have any other income?
-- Dr. Jim Yerger / Eagle, Idaho
A: What? You mean you didn't know he was a used-car salesman? Just kidding. Bobby Jones, the founder of Augusta National and the Masters, had an engineering degree from Georgia Tech and another in literature from Harvard. After a year at Emory, he passed the bar exam, too. He became a lawyer and was a part-time amateur golfer, winning 13 major championships.
When he retired from competitive golf in 1930, having achieved the unimag-inable Grand Slam of winning the Open and Amateur championships on both sides of the Atlantic that year, he was 28. He was also practically broke. The athlete-scholar would quickly find his fortune, however. In 1931, Warner Bros. made a dozen short films of him to be shown as fillers in movie houses, titled "How I Play Golf" (Jones not wishing to presume to tell anyone else how to play). He was paid about $600,000, an amount very roughly equivalent to, say, the $29.2 million that Arnold Schwarzenegger got for "Terminator 3." Jones was worth every cent; the films are spectacular. (As for Schwarzenegger, I could not say. The Golf Guru would rather be attacked by a swarm of locusts than sit through any of the "Terminator" movies.)
Jones' Hollywood venture, and an endorsement deal with Spalding, made him a wealthy golf professional. But he did not take the money and run down that familiar road trafficked by the super-rich. He stayed in his hometown of Atlanta and continued to practice law -- despite the onset of a rare spinal disease that ravaged his body and left him unable to play, or walk, or even light his cigarettes. His most important legacy has perhaps nothing to do with golf. It is instead the example of his stoicism in the face of such a cruel and terrible turn of events. Jones taught us that come what may, the ball is to be played as it lies.
Q: I had the unusual experience of making two holes-in-one in a round. Has anyone ever made three, or do I co-hold the record? What are the odds of doing this?
-- David Schaefer / Maumelle, Arkansas
A: There have been claims of three holes-in-one during a round of golf. Most recently, on Jan. 21, 2005, Tom Kahler reportedly did it at Coastal Pines Golf Club in Brunswick, Ga. He scored a 16 on the last hole for a round of 102. Do I believe this story? You be the judge. Golf Digest Contributing Editor Dean Knuth, the Tiger Woods of number crunching (he invented the Slope system), says that the odds of making two aces in a round are one in 64 million; the odds of three aces are one in 512 billion. You're more likely to be run over by Elvis on your way to collect a lottery jackpot.