Golfers Who Give Back: Jake Owen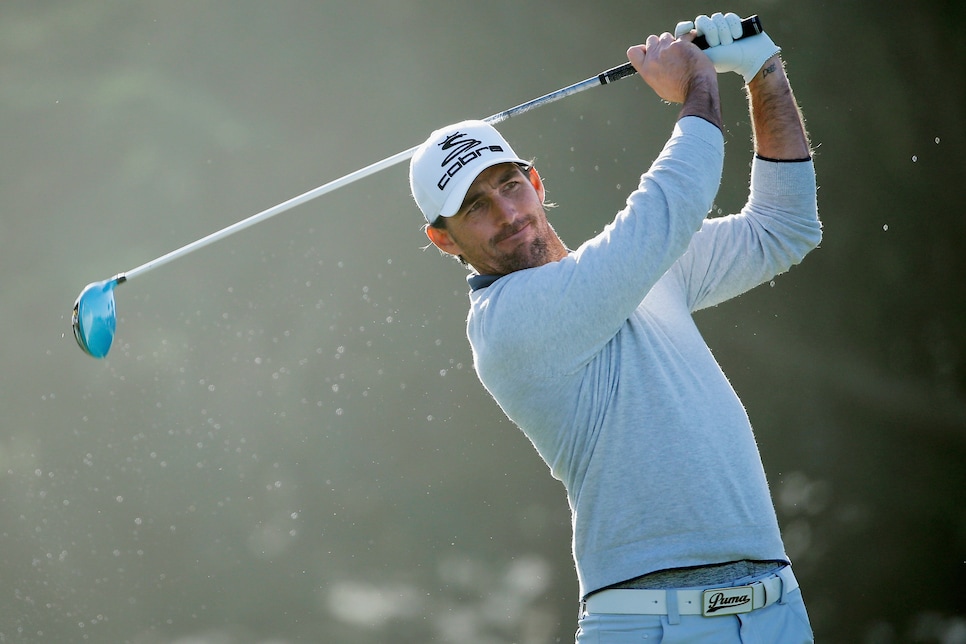 Photo by Jeff Gross/Getty Images
A few days before we got together with country artist Jake Owen at the Golf Club of Tennessee, he received a photograph in the mail of a soon-to-be-married couple that was taken the night they met, at a Jake Owen concert nine years ago. Somehow the groom found Owen's Nashville address, and he asked in the accompanying letter if Jake would sign and return the photo so it could be displayed at their wedding and eventually in their home.
Owen gladly obliged, and he says it's requests like those that remind him why he'll never regret giving up competitive golf for a career in music that so far includes two No. 1 country albums and six No. 1 singles.
"I feel like I've been able to touch more people with a guitar and a song than I would have with a putter or a driver," says Owen, the only golfer we know to shoot "a legit four-under-par 68 at Pebble Beach" while playing alongside buddy Jordan Spieth during the 2015 AT&T Pebble Beach Pro-Am.
The son of a very good amateur golfer, Owen was swinging cutdown Titleist irons when he and twin brother Jarrod were still in diapers. At 15, Jake won his first junior tournament, and during high school in Vero Beach, Fla., he was No. 1 on the golf team. A shoulder injury suffered in a wakeboarding accident ruined his plans of trying to walk on while attending Florida State, and during the six months of rehab he discovered music. The golf motivation, he says, had always come from his dad, Steve, who reached the quarterfinals of the 1978 U.S. Amateur before losing to Bobby Clampett.
"Thanks to my dad, I had the talent, fundamentals and foundation like many of those guys on the PGA Tour," Owen says. "What I didn't have was the drive. Music is something I found because I lost interest in golf. My dad didn't put a guitar in my hands when I was in diapers; I taught myself how to play when I was 19 and 20 years old. I think that's why I've enjoyed music a little more than golf."
Today he's able to enjoy both, playing occasionally alongside the best golfers in the world on their stage—and sometimes pulling them onstage to sing beside him.
Owen's commitment to giving back blossomed in 2006, the year he released his first album, "Startin' With Me," and debut single, "Yee Haw." That's also when he combined with childhood friend and former professional tennis player Mardy Fish on Mardy's Tennis & Jake's Music Fest in Vero Beach, where both grew up.
That event (2006-'11) and the Jake Owen Foundation concerts (2012, '14, '15) have raised $1.25 million and benefited several organizations, including St. Jude Children's Research Hospital, Hibiscus Children's Center, Boys & Girls Clubs of America, Habitat for Humanity, and Autism Speaks, an organization especially important to Owen because he has a nephew with autism.
Last December, Owen got Spieth to play in Vero Beach's biggest golf tournament, the annual Grapefruit Pro-Am, where Spieth whacked his opening tee shot while running Happy Gilmore-style. Because the Grapefruit was played the same weekend as Jake's benefit concert, both received a significant boost that'll likely be even bigger at this year's events Dec. 9.
"I've performed multiple times at Jordan's foundation event, at Jason Day's event, Peyton Manning's, Tim Tebow's, and they've come and helped me as well," Owen says. "The greatest part for all of us, golfers and entertainers, is being able to help one another. And golf is usually the common denominator."