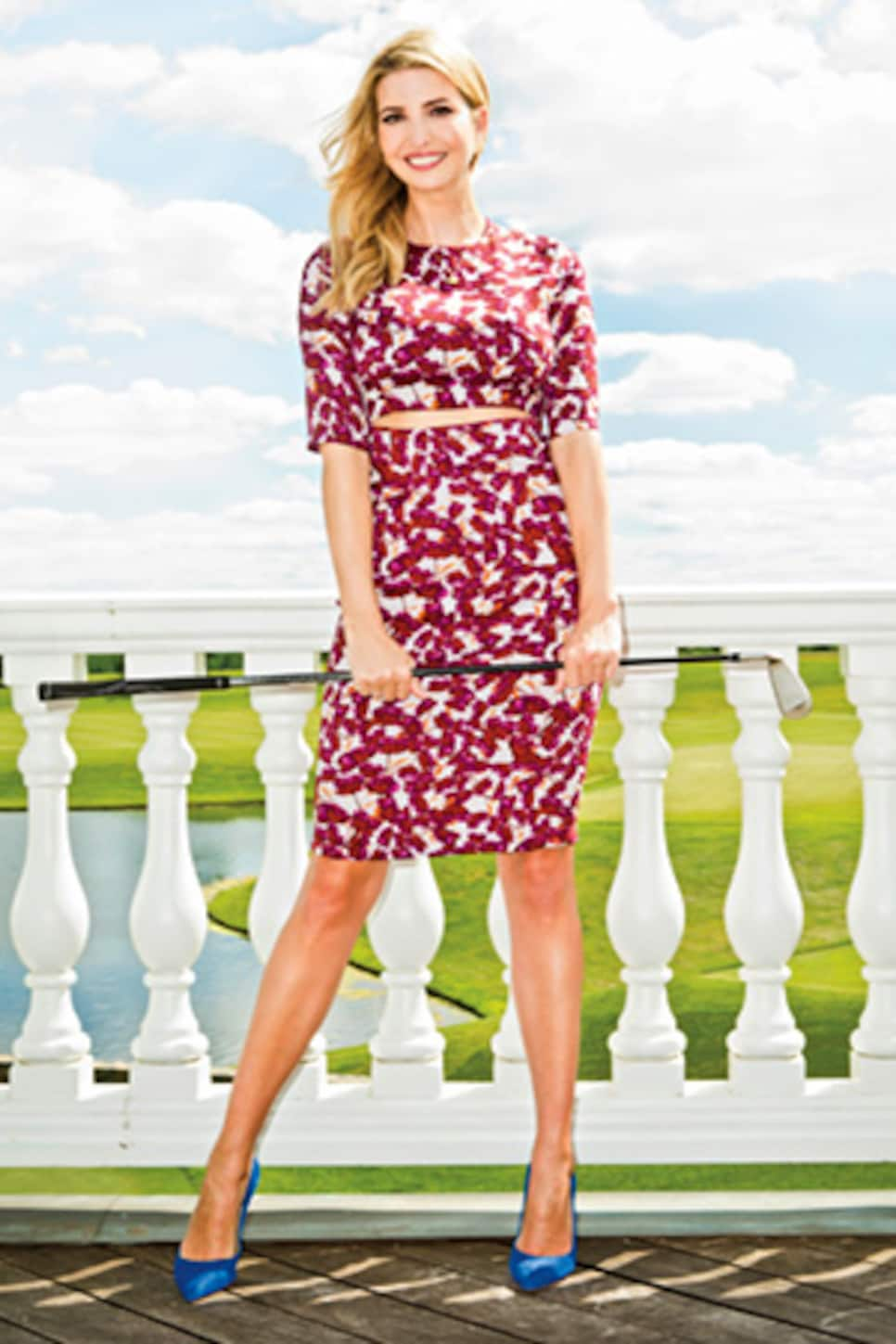 When Ivanka Trump was a kid, her famous father, Donald, told her something she has never forgotten. The best place to see a person's true personality is on a golf course, he said.
"There's a lot of truth to that," she says.
"I have a lot of athleticism in the blood. I grew up playing tennis, swimming, skiing. So it's hard when you're used to having a natural proclivity toward certain things to go out and struggle to swing a golf club. It's been a little blow to my ego how I play."
Welcome to our frustrating game, Ivanka. Despite being the daughter of one of golf's emerging land barons—The Donald now owns or operates 17 golf facilities worldwide, including Turnberry and Doral—Ivanka is relatively new to golf and all its torturous yet addictive qualities.
She used to play twice a year but says she didn't really "get into golf" until she got married, in 2009, to Jared Kushner. Now she takes lessons, accompanies her father and brothers on golf trips and often sneaks out with Kushner for a quick nine while their two children are napping.
"I'm starting to have some game—not a great game, but a little bit," says Ivanka, 32, who has a 24.6 Handicap Index playing out of Trump's club in Bedminster, N.J. "My father and I were recently on a trip to Ireland and Scotland visiting our courses. I played 18 holes every day for eight days. At Aberdeen, I broke 100 on a difficult and long course. I loved it."
One of the reasons she loves the sport is how it serves as a conduit to helping those in need. "I don't know any golfers who aren't philanthropic," she says.
That includes the Trumps. Events run by her brother's charity—The Eric Trump Foundation—have donated and pledged nearly $28 million for St. Jude Children's Research Hospital since 2006. "We use all our courses for the tournaments, so there are no pass-through costs. Every dollar raised goes to the kids," Ivanka says.
When the Trumps bought Doral in 2012—now Trump National Doral, Miami—they inherited a role in fundraising during the PGA Tour's Cadillac Championship. The tournament, played on the resort's Blue Monster course, helps charities such as the Florida Heart Research Institute and The Wellness Community.
"Well-organized golf tournaments have fundraising down to a science," she says. "It's a blend of recreation and sports that a lot of other sports don't have. We love being involved."