News
Golfers could never pay enough attention to the wisdom of John Jacobs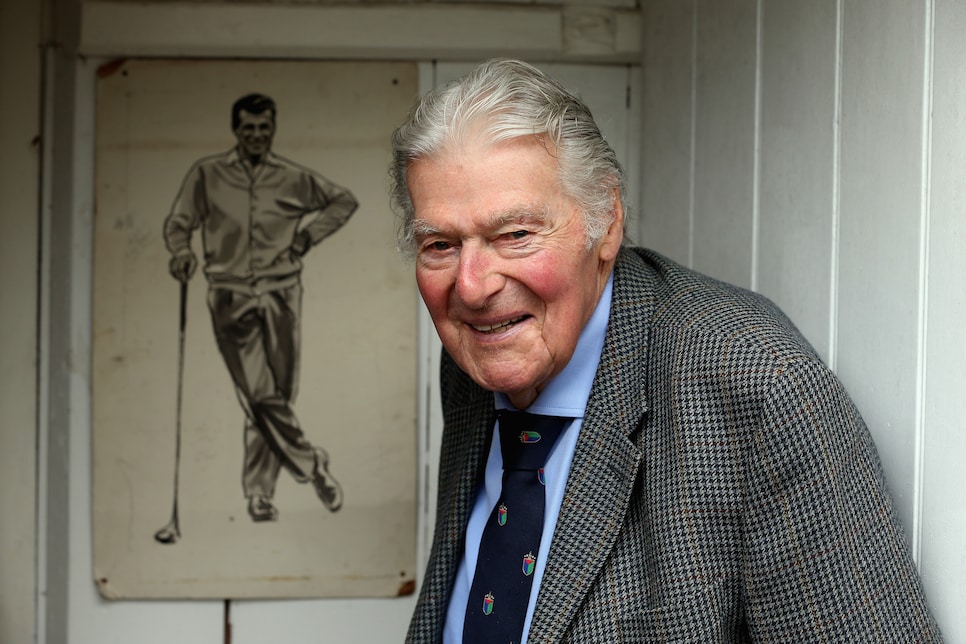 After learning John Jacobs died Friday in his native England at 91, I paid my respects by playing nine holes at Pine Needles G.C. in the crystal air of a wintry North Carolina late afternoon with the great teacher on my mind.
Before my first shot, one of Jacobs' deceptively profound descriptions of the golf swing—"two turns and a swish"—popped into my head. I'd never really appreciated the genius of the phrase, or truly understood what it meant, until recently, when Paul Azinger told me it had been one of the foundational concepts of his game. For the first time I used it as a swing thought, and my 90-minute round was marked by wonderful (and a very long absent) feeling of freedom and easy clubhead speed.
It just reinforced the idea that a golfer can never pay enough attention to the wisdom of John Jacobs.
Jacobs did just about everything in golf—won international tournaments and played in the Open Championship 14 times, beat Cary Middlecoff in the 1955 Ryder Cup and served as captain in 1979 and 1981, became the first director of the European Tour, performed admirably as a television analyst. But it was through more than five decades of teaching, including for European national teams and at his eponymous golf schools, and 10 golf instruction books, that Jacobs also thought of everything in golf.
Those thoughts—like "the flight of the ball tells all"—achieved the concision and clarity that made them timeless because, according to Jacobs, he was a "dunce" in school. Rather than leave an original idea unfinished and complex, Jacobs would hone it until it was short and simple. "I wasn't satisfied until I thought it would be understandable to a slow learner like myself," he told me when I first interviewed him in 2005.
And because Jacobs had burned to be a golfer who could win major tournaments, ruminating obsessively as a young pro on how to make his swing reliable under the competitive pressure that he found agonizing, he believed he could sense the struggles and confusions experienced by every player, beginner to expert. "I found I had a gift for feeling like the people I was teaching," Jacobs said. "Watching their movements, I could put myself in their bodies and even their minds. Probably because I had so wanted to be a great player, I'd already experienced just about every possible problem in the swing."
Jacobs was also a magnetic person, warm and generous and verbal and fun. As much as he loved golf, he loved people more. His good friend and contemporary Peter Alliss described Jacobs as a man in full. "He did everything and he had everything. He was a good-looking man, he had charisma, he could speak, he had ideas." All wonderful traits, but Alliss saved for last one that the gifted often lack: "He listened."
Jacobs' empathy made the difference when he taught beginners, such as a woman—a Mrs. Calendar—who took up golf at 60 to get over the death of her husband. After two years under Jacobs' direction and encouragement she was playing in regular club competitions and loving the game. "That's probably the best job I've ever done," he said. "I was very sympathetic toward the bad golfer who tried."
Of course, Jacobs also loved working with top touring pros, players such as Tony Jacklin, Seve Ballesteros, José Maria Olazábal, Nick Faldo and Tom Watson, whom he admired for having the competitive qualities he lacked. He never charged them or any of their brethren for lessons. "I've been well paid because I've been thrilled to be asked, and I've enjoyed their success," Jacobs said. When he was inducted into the World Golf Hall of Fame in 2000, he said, "Now I am among all my heroes."
Deferential as he was to the stars when it came to playing ability, Jacobs was assertive when it came to teaching. When a slumping Jack Nicklaus asked his advice at the 1969 Ryder Cup, Jacobs didn't hold back in telling the Golden Bear that poor posture had caused his backswing to become too steep, blurting at one point, "You're doing it wrong." Said Jacobs: "I would go forth because something inside that I could not ignore told me I was right." Nicklaus did in fact begin to stand taller at address and played his best golf from 1970 to 1975. Offered a slightly abashed Jacobs, "I dare say I think he became better because of me."
Today's top teachers all hail Jacobs as a fountainhead.
"John was the best who ever taught," says Hank Haney, who began his teaching career in the late 1970s at a John Jacobs Golf School near Chicago. "It was incredible to watch how quickly he could fix people and how he would make the lessons such an enjoyable experience. By educating his students about what causes different ball flights, he got them to become their own best teacher, which was a huge breakthrough."
I had the privilege of spending several days with Jacobs on two visits, in 2005 and 2010, to his home in the venerated village of Lyndhurst in southern England. Amid the rustic furnishings of his converted 1860s coach house, whether over morning porridge, afternoon tea or an after-dinner port, Jacobs would provide lively dossiers on a player pantheon from the 1950s that included Cotton, Hogan, Nelson, Snead, Locke, Thomson and De Vicenzo), along with his best thoughts. The discussions continued during long walks with his two dogs, Pippi J (a whippet) and Prudence (a black Labrador), through the ancient heathlands of the New Forest. We also spent five hours one afternoon watching cricket, with Jacobs giving me a primer on the game and supplying nuanced analysis on the battle between bowler and batter that baseball analyst John Smoltz would have admired.
Jacobs also took me out to a raggedy back-yard hitting net and had me bash a few 6-irons. Seeing how enthused I was at getting advice from the mountaintop, he issued a sage warning: "Getting very deep into technique can lead to some successes, but it's dangerous for most."
Jacobs had to stop playing golf a few years ago because of back problems, and he began losing a battle with bladder cancer. In mid-October, two weeks before undergoing surgery that would leave him permanently bedridden, he went trout fishing for the last time with his best friend, Barrie Ashworth. The pair ceremoniously shared smoked salmon and champagne.
Over the last several weeks, Jacobs was visited by many friends, including former Ryder Cup captain Bernard Gallacher and Ken Schofield, who succeeded Jacobs as head of the European Tour. Jacobs' latest dog, Joey, another whippet, was often curled next to him. Many calls came in from all over the golf world.
"There was just this outpouring of loyalty and friendship, a lot of grown men to get choked up on the phone," said Jacobs' daughter, Jo. "It was sad and wonderful. My father had a wonderful life."
All golfers should keep paying attention to what he left behind.