The Loop
GolfBoard: Where skateboard meets golf cart
The hybrid is already a staple in golf equipment and footwear and is about to take on another form with the introduction of the GolfBoard.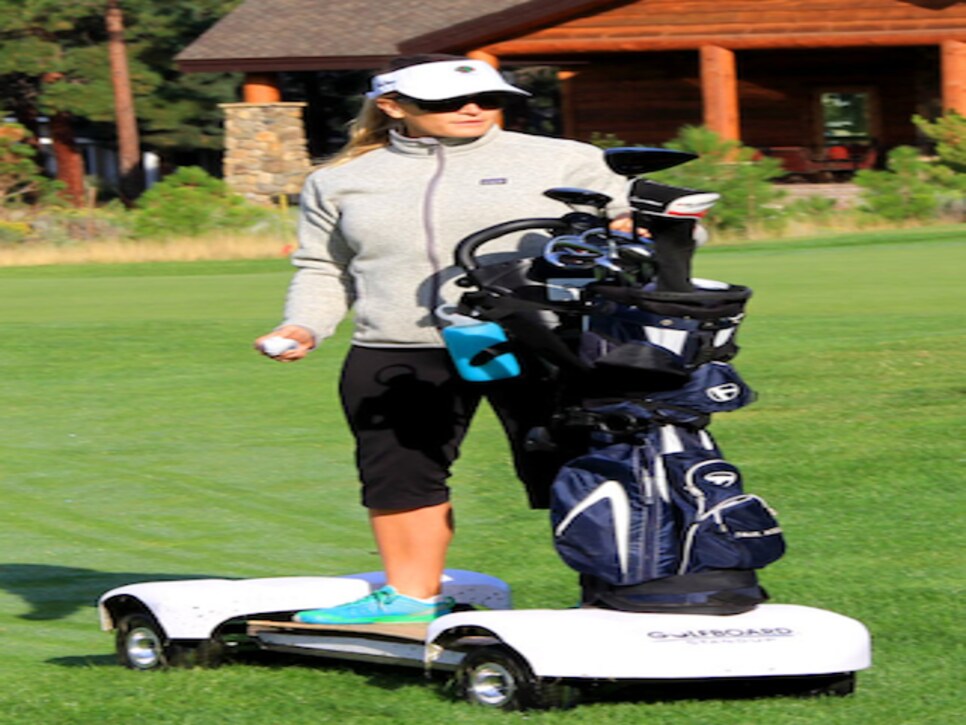 It is neither a skateboard nor a golf cart, but a hybrid of sorts, featuring functions from both. It is an electric board on which the golfer rides in lieu of the traditional golf cart.
But if you think it isn't a serious endeavor, consider this from the biography of Paul Anthony Tomaso Sr., GolfBoard's chief scientist and engineer: "Over 30 years of experience and expertise in pneumatics, electrical engineering, mechanical engineering, software engineering, 3D virtual prototyping, monolithic hybrid design, thick-film hybrid design, laser-technology design and development, and robotic technology design and development, including work on the Space Shuttle, B1 Bomber, and Tomahawk Cruise Missile."
"It was kind of like a perfect storm," said Mike Radenbaugh, a co-founder of the company, explaining how the idea originated. "We had been building electric skateboards for grass terrain and dirt terrain and made a connection with co-founder Don Wildman [the founder of Bally Total Fitness], who had been playing golf on an electric skateboard in Hawaii. He had been using what are very common, electric skateboards...all one-wheel drive and dangerous to ride."
The GolfBoard is powerful, stable and safe, Radenbaugh said. "We use turf-saver tires, from commercial lawn mowers. They're designed for the turf and are wide and stable." The width of the board is 15 inches, contributing to a stable platform. It is operated with a wireless remote and has two speeds -- low (seven miles per hour) and high (11 miles per hour). It can be operated with a bag mount and stability handle or by carrying the clubs yourself.
The reaction? "We haven't run into one course that hasn't been adamant at the very least about trying the board out on the course," Radenbaugh said. "They all have similar questions about liability and safety and durability. But we've got good answers for all of that."
The initial objective was to entice new golfers to the game, "a totally radical new way to play golf," Radenbaugh said. It can still serve as an inducement to new, younger players, but the product has been tailored to golf "to make the game more enjoyable."
To help get the message out, surfing legend Laird Hamilton is on board as a design consultant and company spokesman.
The idea is to sell the GolfBoard to individuals and to golf courses to hire them out, as they do golf carts. Its only apparent drawback? The cost: $3,595.