News
Yang Receives Special Phone Call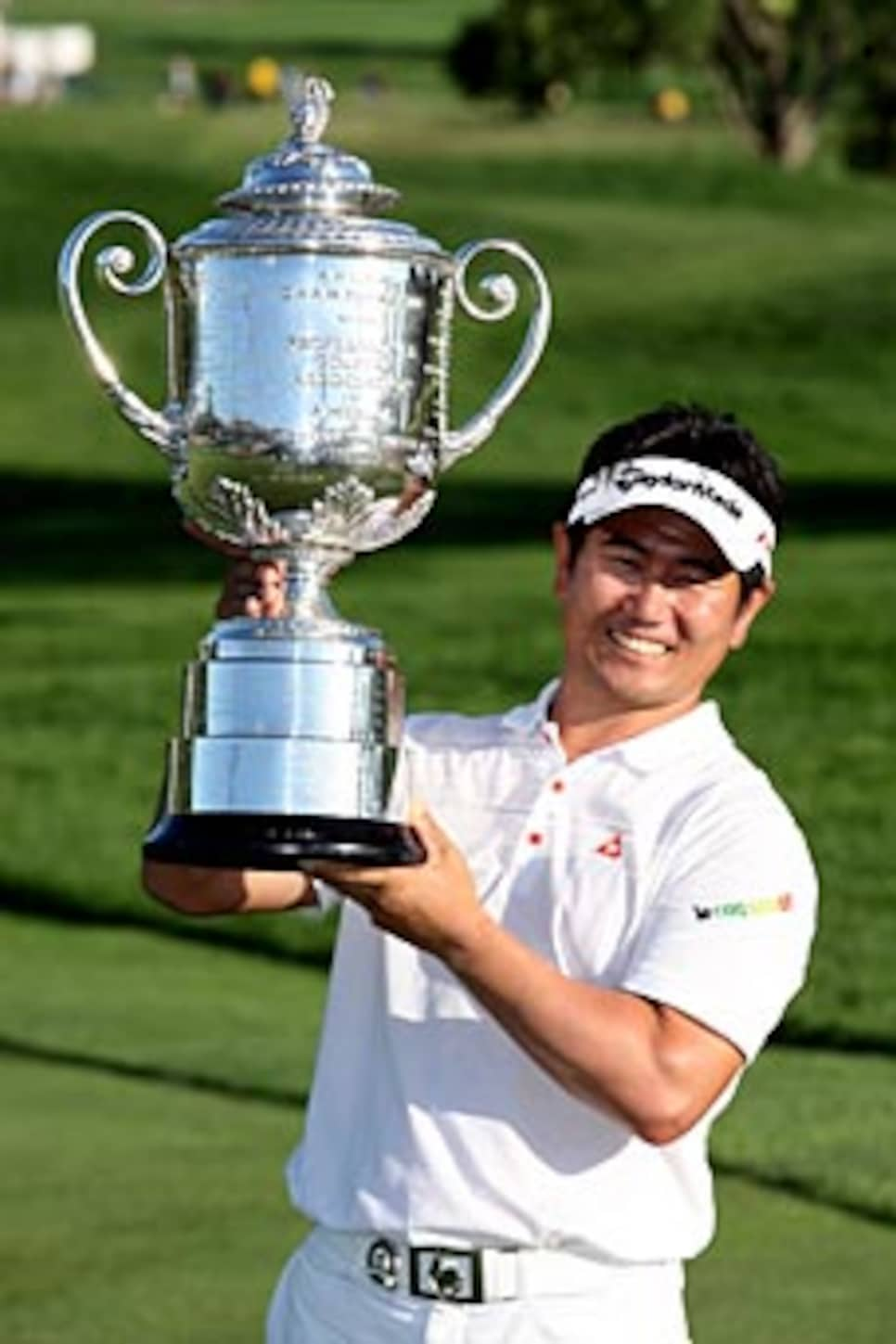 Yang celebrates with the Wanamaker Trophy after winning the PGA Championship.
JEJU, South Korea (AP) -- Eyes glued to the TV, Y.E. Yang's family on the island of Jeju stayed up all night to watch the South Korean face off against world No. 1 Tiger Woods at the PGA Championship.
Yang, ranked 110th, made history Sunday by coming from behind to beat Woods and become the first Asian-born man to win a major tournament -- a stunning rise for the self-taught son of a farmer who first picked up a golf club at age 19.
"I am so happy and proud of him. What else can I feel?" elder brother Yang Yong-hyuk said Monday. "Since he has finally reached the peak, I hope that he will work even harder to become better and defend his position."
Yang, 37, is known as "Son of the Wind" in his native South Korea for his consistency even on windy days. Now he deserves a new name, the Korea Professional Golfers' Association said: "Tiger Killer."
Though relatively unknown on the international circuit, Yang was named Rookie of the Year after going pro in 1996 and has twice beaten Woods -- but never on such a big stage.
"Seeing Yang, ranked 110th in the world, win against Tiger Woods, the best player in the world, I felt so proud to be a Korean today," Kim Soo-mi, who like many South Koreans woke up at 4 a.m. to watch the final round, said at an indoor driving range outside Seoul.
"It's great! And as the first South Korean -- and as the first Asian man to win a major -- I expect this will have a positive influence on men's professional golf in South Korea," said Lee Sang-hun, 44, a Seoul businessman catching a flight to Jeju who said he woke up early to watch Yang play but hadn't expected him to win.
Golf is huge in South Korea, which in recent years has produced a number of top female players. But the top ranks had until now evaded Asia's men.
Even South Korea's president, Lee Myung-bak, watched the tournament live on TV. He later phoned Yang to offer his congratulations.
"I woke up at dawn today to watch the broadcast, and you played in a calm manner," Lee told Yang, according to the president's office. "First of all, you enhanced our people's morale by winning the major title for the first time as an Asian."
Lee also praised Yang for persevering despite personal difficulties, calling his win a "come-from-behind victory" that was all the more valuable because of his life story, his office said.
Yang, whose full name is Yang Yong-eun, calls himself an "average Joe" from a humble farming family who aspired to be a bodybuilder and once dreamed of owning his own gym. But a knee injury forced him to reconsider his athletic career, and at 19 he took a job collecting golf balls at a local driving range to make money.
After the last golfers left, Yang stayed late into the night at a training field, practicing his swing, said Kim Young-chan, executive director of the driving range at the Ora Country Club on Jeju, a tropical island popular among honeymooners and golfers. He recalled Yang as a late bloomer but a hard worker.
Banners at the country club read: "Congratulations to Yang Yong-eun for become the first Asian male to win the PGA Championship!"
"After the guests left the driving range, he practiced late into the night," Kim said, calling Yang's diligence a testament to how hard he worked to learn the game at such a late stage. "He certainly stood out from the rest of the students."
Hooked, Yang eventually went pro, winning his first title in 2002.
His father, Yang Han-joon, said Monday that he tried to pressure his son to join him in the fields.
"I had no idea what golf was -- that's why I was opposed to golf," he told The Associated Press at his home in a Jeju farming village.
But he said Yang was determined to succeed at golf and to leave their life of poverty behind, insisting "I won't live like my father."
Golf coach Kim Won-jun, 43, said Yang's nerves of steel set him apart from other players.
"I personally know Yang and what distinguishes him from other players is his emotional stability," he said. "He is in total control during his game so when he has the chance, he's able to immediately seize it."
Unlike other players, Yang is not intimidated by Woods, said Shane Hahm, who covers sports for Seoul radio station TBS eFM.
"Yang is not fazed by all the media and all the size of the gallery that follows Tiger -- that's really what gets into other players' heads," he said.
Still, this win will have historic impact, Hahm said.
"For the first Asian-born player to win, it's pretty historically significant," he said. "It's just unbelievable the way he did it, too, by beating the No. 1 player in the world."
Suh Gee-young, who woke up early to watch the tournament and take a few practice swings before work, called Yang an inspiration to other Asian-born players seeking to make it big.
"I think Yang's victory will give young Asian players a confidence that they can beat the odds in any situation," he said.
Lee Jong-hoon, 33, said chatter about Yang's victory filled the halls of the Seoul hospital where he is a physician.
"I'm a fan of Yang because he overcame many obstacles to become a golfer," he said. "I think what makes his victory especially meaningful is not only the fact that he's Asian but also the fact that he was a true underdog."