News
Riley And Moore Tied At The Top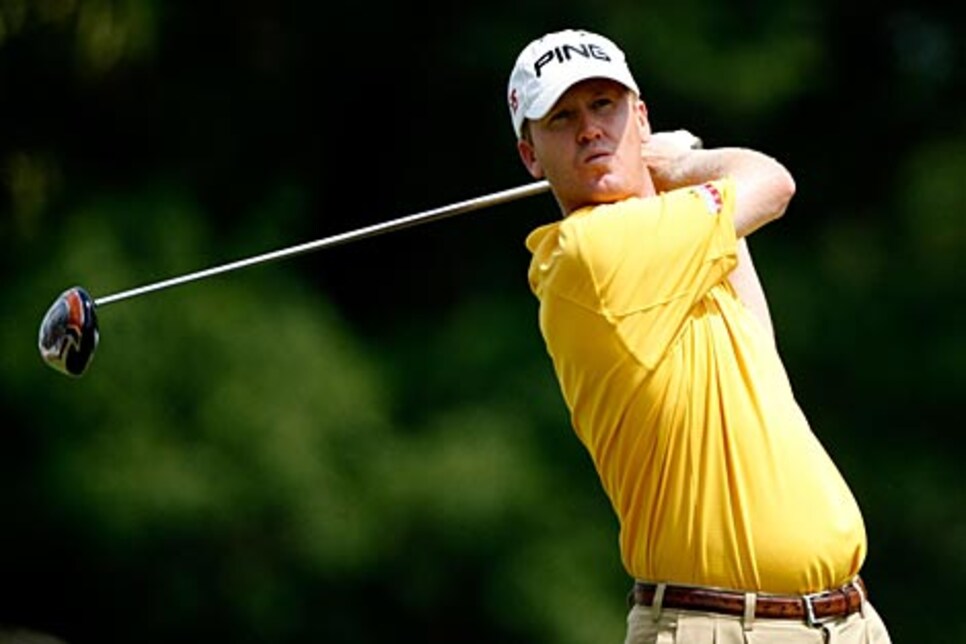 Chris Riley fired a bogey-free 63 in the second round to share the lead.
GREENSBORO, N.C. (AP) -- Chris Riley caught some strange looks from his playing partners for often leaving his driver in his bag. They can't argue with the results.
Riley shot a season-best 63 on Friday to move to 11-under 129 and claim a share of the lead with Ryan Moore during an incomplete second round at the Wyndham Championship.
"I'm playing this golf course different than a lot of other guys," Riley said of the Donald Ross-designed layout at Sedgefield Country Club.
"The rough's pretty thick, so I'm just trying to keep the ball in the fairway," he added. "I don't mind hitting a 2-iron or a 7-iron or a 3-wood ... compared to guys hitting driver and missing fairways."
Moore was at 11 under through 17 holes and Jeff Maggert was 10 under with one hole remaining when play was halted shortly after 8 p.m. with 28 players still on the course. The round was scheduled to resume at 7:45 a.m. Saturday, with the cut and new pairings following as tournament organizers continued to play catch-up after Thursday's four-hour weather delay.
Sergio Garcia had two eagles during his 64 and joined 18-hole leader Bill Haas (69) and Chez Reavie (67) at 131. Kevin Stadler (63), Marc Leishman (65), Boo Weekley (67), Johnson Wagner (66) and Fred Couples (66) were at 132.
Riley, who finished 15 holes of Round 1 before play was called due to darkness, completed that round Friday morning before turning around and hitting the course again during his long day at Sedgefield.
Using his driver only a handful of times in favor of his hybrid club and his 3-wood, he was bogey-free the second time around and birdied four of his final six holes. That included consecutive birdies to close the round -- highlighted by an impressive uphill chip on No. 18 that rolled in from 13 yards out.
The former UNLV player arrived in Greensboro on the FedEx Cup playoff bubble at No. 129 on the points list. But now, after his best 36-hole start of the season, he moved into contention for his second top-10 finish of the year -- and possibly even his second career PGA Tour victory, and first since the 2002 Reno-Tahoe Open.
"I just step onto the tee and see what (club) feels the best," Riley said, adding that partners Kent Jones and Mathias Gronberg "were giving me some looks. They were like, 'What are you doing?' I'm like, 'I'm just putting it in play.'"
Later, he chuckled, adding that, "I don't care what they think."
Moore -- who shared the lead with Reavie and Brandt Snedeker on Thursday night when it became too dark to continue the first round -- started the second round on the back nine and finished strong with consecutive birdies on Nos. 4-6. Play was suspended after he sank a 2½-foot par putt on No. 17.
Garcia, who came to Sedgefield at No. 115 on the points list and looking for a push, used the same formula for both of his second-round eagles, following his drives on Nos. 5 and 15 with 5-iron shots that set up makeable putts.
"The course was there for the taking," Garcia said. "There's only one thing that you need to do to make the course harder, and it's not to grow the rough or make the fairways narrower or anything like that. ... The toughest courses we play are ones where the greens are firm and fast, and that's where things happen. If you have a course where the greens are not too big, and the weather needs to help, but you manage to get them firm and fast, that's it."
Haas, the son of nine-time winner Jay Haas, brought a strong local flavor to the top of the leaderboard. The Charlotte native who played collegiately at nearby Wake Forest -- his uncle still coaches the Demon Deacons' golf team -- had a 26-hole marathon Friday, finishing the final eight of his career-best 62 in the first round before returning to the course for a second go-round.
"Any time you can make a cut is good, and to be 9-under par after two rounds is even better," said Haas, who missed the cut in 12 of his previous 22 tournaments. "If you're not confident, you're not going to play well. There's nobody that says, 'I didn't have it this week, and I won.' Tiger (Woods), maybe, with his 'C' game, can win. He's still confident."
Reavie briefly moved to 10 under before his second shot on No. 18 found the bunker and he two-putted for bogey to drop two strokes back.
Justin Thomas, a 16-year-old from Kentucky, started on the back nine and briefly moved within two strokes of the lead early during his 72 that was marred by a double bogey on the par-3 No. 7. That left him at 3 under, and he stands to become the third-youngest player in PGA Tour history to make a cut; the projected cutline was 2 under.
Thomas played his way into the field with a sponsor's exemption after winning the AJGA's FootJoy Invitational here earlier this year.
"It was cool seeing my name" near the top of the leaderboard, Thomas said. "Then again, I was kind of disappointed knowing I was that close and had that bad (final nine holes)."