News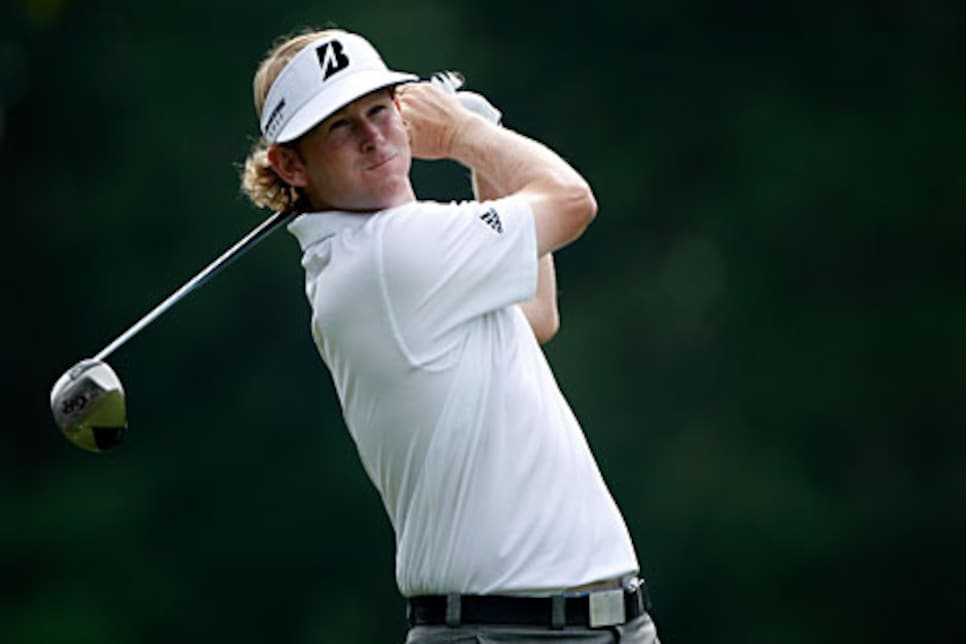 Brandt Snedeker is looking for his second win in three years at the Wyndham Championship
GREENSBORO, N.C. (AP) -- With thunder booming, Chez Reavie rushed to hit the 15-foot putt that would have left him alone atop the Wyndham Championship leaderboard.
Once he missed, he had more than enough time to think about his gimme.
After a long weather delay, Reavie returned to the green and tapped in a 1-footer to close out a 64. He wound up sharing the early lead with former champion Brandt Snedeker and Ryan Moore on Thursday during a suspended first round of the PGA Tour's final event before the playoffs.
"I could have just made the first putt and left," Reavie said.
Justin Rose, Kevin Streelman and Colt Knost were one stroke back at 65, with Chris Riley also at 5 under through 14 holes. U.S. President's Cup captain Fred Couples and John Daly were among the eight who shot 66. Steve Elkington joined them at 4 under through 14 holes and Bill Haas was at 4 under through 10.
Play was suspended for roughly four hours amid early afternoon rumbles of thunder and the more than an inch of rain that was dumped on the area surrounding the Donald Ross-designed course at Sedgefield Country Club.
Things didn't clear up until late afternoon, play resumed around 4:30 p.m. and 78 players were left on the course when things were halted shortly before 8 p.m. due to darkness. It was scheduled to resume at 7:45 a.m. Friday.
"When you lose time Thursday, it's very difficult to catch up," said Mark Russell, the tour's vice president of rules and competition. "It's going to be an all-day affair."
Once the rains stopped, Reavie came back to the green at No. 9 and polished off his opening round by tapping in his short putt for par. The former Arizona State player took a strong first step toward thrusting himself into the playoff field. He entered at No. 177 on the points list, 159 behind No. 125 Andres Romero.
Starting his round on the back nine, Reavie made a late charge with birdies on Nos. 4-7 to move to 6 under. Then, he said he heard thunder while he lined up the birdie putt that he pushed wide right.
Playing partners Parker McLachlin and Johnson Wagner both holed out, but the air horn sounded to stop play moments before Reavie could tap in. That temporarily halted his best round since the Mercedes-Benz Championship -- the first event of the year.
"The putter woke up today," he said. "I've been hitting the ball well for the last month and a half or so. I just haven't been able to make any putts."
Snedeker, who won the Wyndham two years ago when it was held across town at Forest Oaks Country Club, started on the back nine and birdied the par-3 No. 7 before the delay, then came back out and closed his round with consecutive pars.
"I've been putting it fantastic -- I putted it great today, and hit a lot of quality iron shots," Snedeker said. "I knew I was swinging good, knew I was playing good ... I guess getting back on bent-grass greens kind of got my putter working again."
Moore moved into a share of the lead with six birdies during his bogey-free round, the last coming after the delay on the par-4 No. 17. He placed his fairway shot about 5 feet from the flagstick and holed the following putt.
"I was just thinking (during the break) about the movies that I was missing out on watching," Moore quipped. "If you know (a delay) is going to be 2½, three hours, I personally like to just kind of go leave and do something so you're just not sitting and not moving -- although that seemed to work for me today."
Rose birdied No. 17 to briefly move to 6 under before three-putting on 18 for his only bogey of the round -- his best round of the year, beating by one stroke his final round at the Crowne Plaza Invitational at Colonial.
And after spending his two rounds at the PGA Championship playing in the threesome ahead of Tiger Woods -- and before the huge galleries that follow his every move - Rose took advantage of the relative peace and quiet that accompanied an early round at this subdued course.
"It really was a low-stress round of golf," Rose said. "It was nice today to get off and get some momentum going. Probably one thing that I haven't been doing of late is getting off to good starts, grinding on Friday to make the cut and then battling away on the weekends to have a respectable finish. It was a little nicer today to get off to a fast start."
Two of the day's most impressive shots came on No. 17. Bill Lunde eagled it after holing out from 98 yards out in the fairway, and Tommy Armour III later chipped in from a distance of 14 yards in the intermediate rough.
Tim Clark, a local favorite who played at North Carolina State, withdrew during the weather delay due to a neck injury. College teammate Carl Pettersson, a North Carolina resident who is defending his title, opened with a 70.