News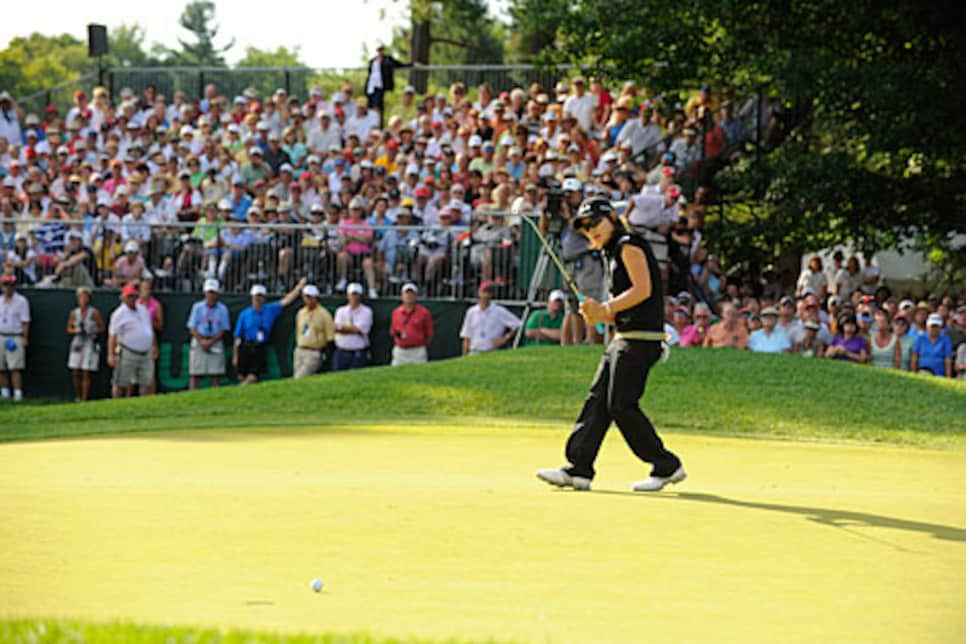 finishing with a flourish: Ji made a double bogey on the 10th hole of the final round but steadied herself and took the title by making this 20-footer on No. 18.
Those with a sense of whimsy would say Eun-Hee Ji's victory at the U.S. Women's Open was served up with a touch of irony. Others might say it was mere coincidence she would win her first major on this of all weeks, when the departure of LPGA commissioner Carolyn Bivens silently shrouded Saucon Valley CC, a topic everyone refused to discuss out of deference to the national championship for women. You see, it was Ji's victory a year ago at the Wegmans LPGA, when she was unable to give her victory speech in English, that triggered "language-gate," one of many gates Bivens tripped over on her way out the LPGA door.
Ji again handled her post-victory interrogation with the help of a translator, using English only a few times, one of those when asked if her victory could be summed up in a single word. With a smile that earned her the nickname Mickey Mouse from friends who say her laugh reminds them of the cartoon character, she said perfectly, "Driver." Indeed, her driver was nearly perfect—missing just three fairways on the weekend—as was an overall game that in the universal language of golf could be understood by anyone who witnessed her performance.
Starting the final round two strokes behind Cristie Kerr, with whom she was paired, Ji bogeyed two of the first four holes to fall four back. She was let back into it by a pair of Kerr bogeys, then seemed to eliminate herself again with a double bogey at No. 10. But Ji, a 5-foot-4 wisp of a woman, made birdies on three of the final six holes while others were making bogeys, ending with a 20-foot birdie on the 72nd hole to finish at even-par 284, one stroke better than Candie Kung, who waited hopefully for a playoff, and two better than Kerr and In-Kyung Kim.
"I didn't even dream about winning this tournament," Ji said through a translator. "But I did it, and I think this is going to be one of the most memorable moments in my life." Ji, 23, is the seventh Korean to win a major, although Se Ri Pak with five is the only multiple winner among them. With Inbee Park's win in last year's Women's Open followed by Jiyai Shin's victory at the Ricoh Women's British Open, three of the last five majors have been won by Koreans.
"I think it is going to be all over the news in Korea," said Ji, who was to fly back to her homeland that night. "I think there will be a lot more people recognizing me." Ji, the 2003 Korean Women's Amateur champion, won twice on the KLPGA in 2007 and, in only four LPGA tournaments that year, earned enough to finish 52nd on the money list and gain a tour card for 2008, when she finished No 15 in earnings. Her only other LPGA win was at the Wegmans, prompting Bivens to say players who couldn't pass an English proficiency test would lose their tour card, a decision she had to rescind because of the intense negative reaction.
As is often the case for those who win majors, Ji's solid shotmaking—she was T-6 in fairways hit for the week and T-2 in greens in regulation—was complemented by patience and aided by the generosity of others. Kerr contributed with bogeys on Nos. 13 and 16 Sunday—after also making bogeys on both of the front-nine par 5s—while Kung's gift was a bogey on the 126-yard 17th with a wedge in her hand. Ji's patience kicked in after the double bogey on No. 10, when she tried to drive the short par 4, landed in a greenside bunker and needed three more shots to reach the green.
"I think that double bogey actually gave me an opportunity to calm myself down," she said. "I think it was one of the factors in winning this tournament. After that double bogey I basically cleared my mind, and said 'Let's go and play out the rest of the round.' " Ji played mistake-free from there in, something no one else with a chance to win could say.
"She's just real steady," Kerr, the 2007 Open champion, said about Ji after letting the title slip away with a closing-round 75 in which she missed too many fairways and short putts, most painfully a four-footer for par on No. 16. "Steady wins Opens. I played poor enough to kind of give it away."
Kung played great, closing with 68-69 on the weekend, but all that was undercut by her misplay on No. 17. "Very costly," Kung said. "I was playing for 105 yards and then have it release to the hole. That wind just took it, and it ended up in the bunker." The flagstick on No. 17 was 2½ paces from the left edge and 3½ paces from the back. "I didn't aim out to the middle of the green enough," Kung said.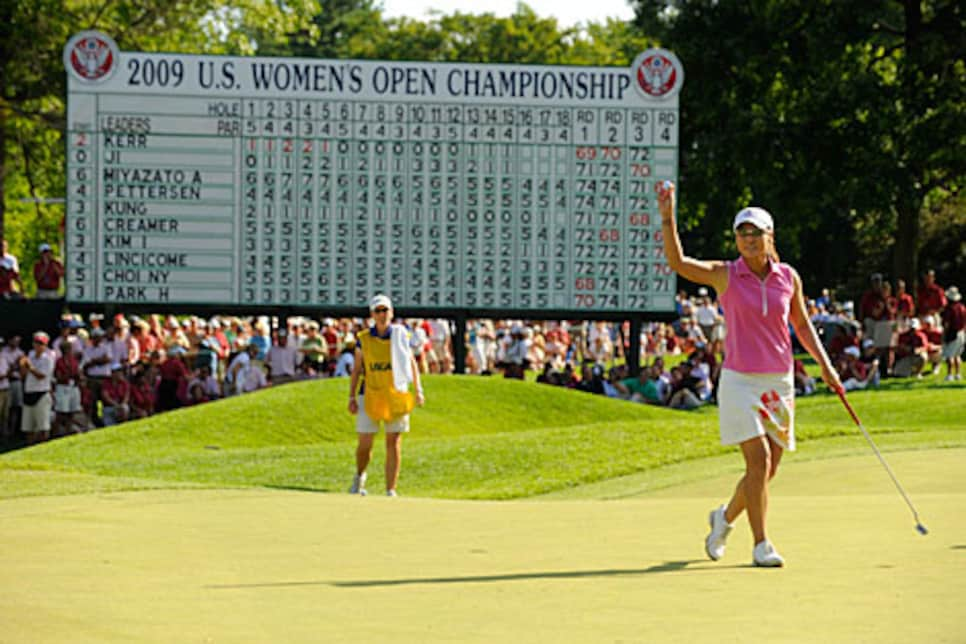 Using a tee not seen all week is one of the tricks USGA course set-up man Mike Davis likes to play on the competitors. Once again, he took a very good course and made it a thought-provoking test. After playing at more than 6,700 yards the first two rounds, Davis shortened Saucon Valley to 6,337 yards Sunday.
The par-4 10th hole—where Ji made her double bogey—measured 234 yards to the front edge, tempting players to try to drive the green. No. 15, also a par 4, played 239 to the front. And on No. 3, a dogleg left with an approach over a creek to a green with a false front and a front-left pin—where it was essential to drive in the fairway—Davis shortened the hole by 28 yards, making the players (and caddies) think long and hard about what club to hit off the tee.
"It's an amazing golf course, an amazing test," Kerr said. "They moved a bunch of tees up today, but it didn't play any easier." Only six players were in the 60s Sunday, none lower than 68. There were only four scores in the 60s on each of the first two days, the lowest round for the week being the 67 Friday by Giulia Sergas.
The first day of the U.S. Women's Open is always culture shock for LPGA players. The fairways are tighter, the rough is higher, the greens are faster and the pin positions more demanding. It appeared Thursday the USGA had taken a page out of the Masters playbook of recent years and set the course up brutally early in the week in order to allow the cream to rise to the top for a weekend shootout with more friendly hole locations. That was pretty much the way things played out.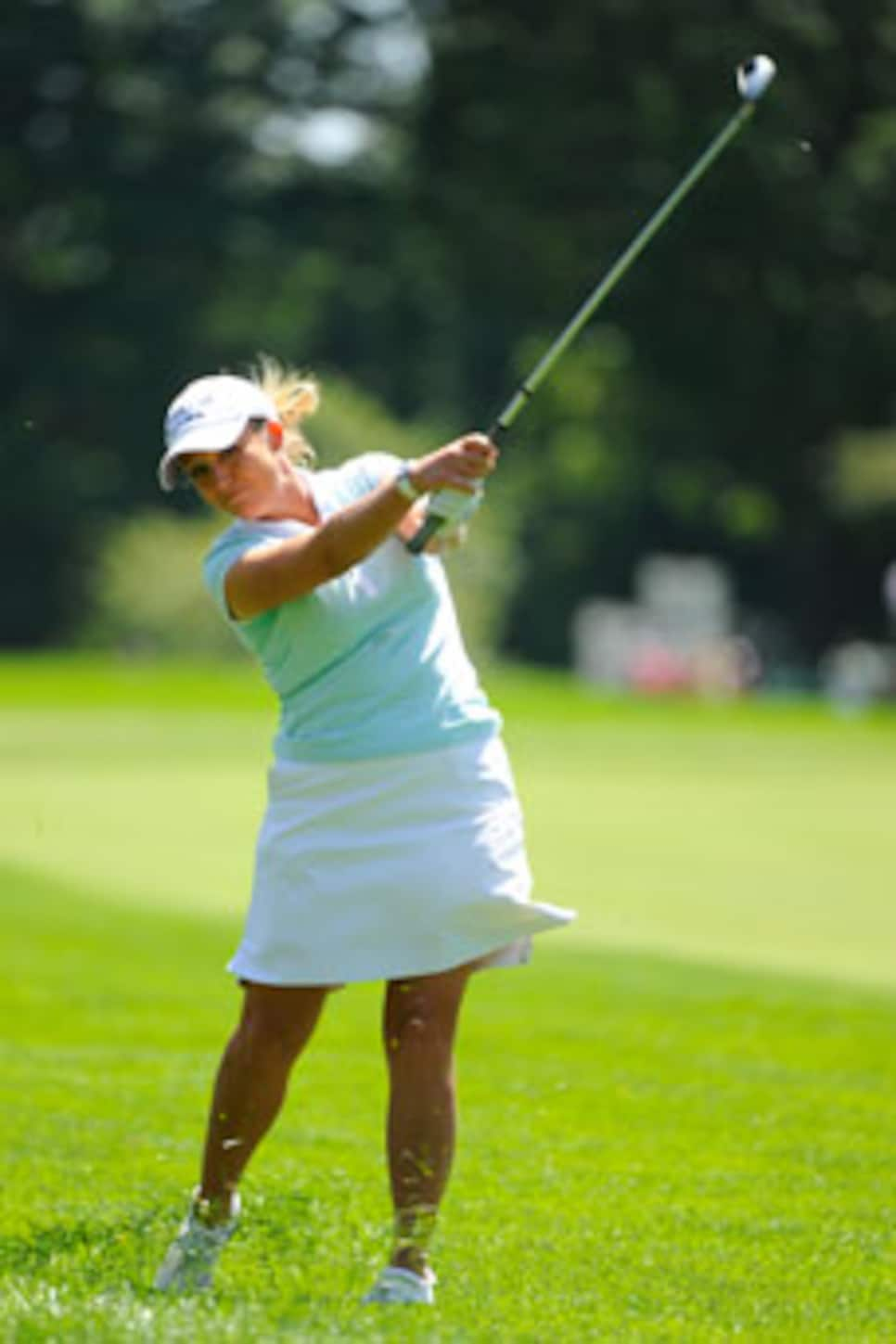 The severely contoured greens at Saucon Valley need little help from rules officials to be a nightmare. The two-tiered putting surface at No. 3 was a perfect example in the first round, playing to a stroke average of 4.8 and yielding 32 scores of double bogey and higher. Note to architects and rules officials: The way to combat the distance players hit the ball nowadays is not to make courses longer, but to make them more strategic.
The birdie by Na Yeon Choi on the third was probably the most remarkable aspect of the three-under-par 68 that gave her the first-round lead by one stroke over Kerr, Lorena Ochoa and Jean Reynolds, a qualifier who plays the Duramed Futures Tour. Ji and Kung opened with a 71 and Kim a 72.
Kerr took the 36-hole lead at three-under-par 139 with Creamer one back after a 68. Reynolds shot a solid 72 to be at 141. The shocker Friday was the 79 from Ochoa that dropped her to 148. Ji was at 143, Kim 144 and Kung 148 after a 77. The 435-yard second hole was the bear Friday. Only 14 of the 149 players left in the field managed to hit the green—9.4 percent—as the par 4 played to a stroke average of 4.57.
Kerr took control Saturday with a 72 that gave her the third-round lead at two-under-par 211, two strokes better than Ji and four better than Reynolds and Teresa Lu. Kung moved within five with a 68, tied with Kim. Creamer stumbled to a 79—with a triple-bogey on No. 10—and fell from contention.
Of those who left Saucon Valley with regrets, Kerr's were the most justified. Although Kung, 27, from Taiwan by way of the University of Southern California, was disappointed, it was still a step forward as she tries to revive a once-promising career. She won three times in 2003 but not again until last year. After five missed cuts this year, a second-place finish in the Open is something to build upon.
But Kerr, who has 12 victories (including at least one in each of the last six seasons), squandered a chance to become a two-time Open champion, something few can say. After averaging 29 putts the first three rounds, she needed 35 Sunday and made no birdies after No. 3. "Nothing went in," she said. "Even the good putts I hit didn't go in."
Ji saved her best putting for when it mattered most, needing just 29 Sunday, the most impressive on her last stroke of the tournament. After a drive to the fairway she hit a 6-iron from 167 yards to 20 feet. "I knew the worst possible scenario was the playoff," Ji said. "So I cleared my mind and thought, 'Let's give it a try,' and then it just went in."
When Ji's ball disappeared, Kung's head snapped up as the roars reached her on the practice green, then she looked down helplessly at the what-might-have-beens piled at her feet. It was a sound that communicated in any language, and that's part of the beauty of the game.