News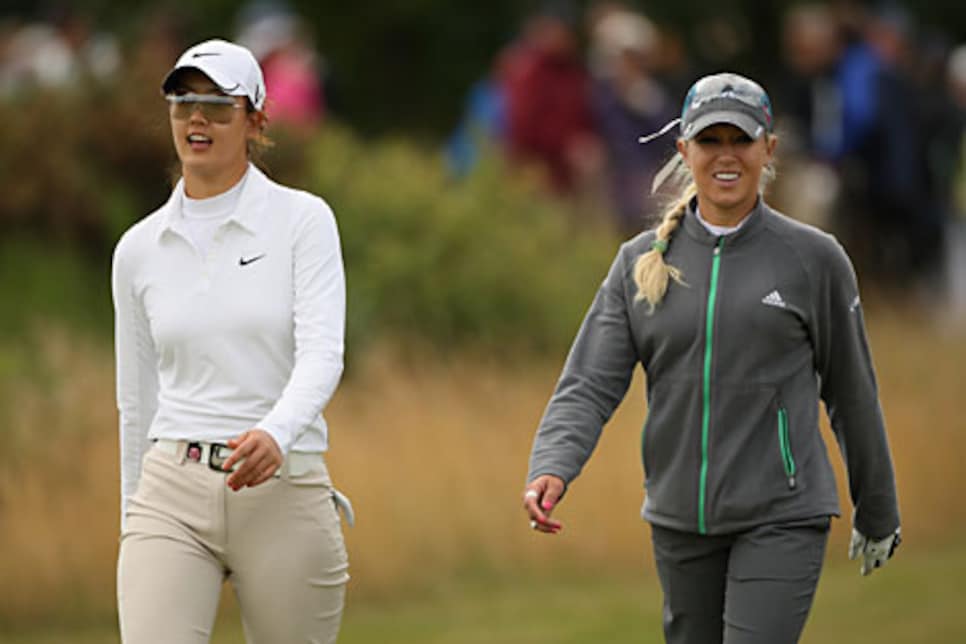 Michelle Wie, here enjoying a light moment with Natalie Gulbis, has likely played well enough this week to earn a berth on the U.S. Solheim Cup team
LYTHAM ST. ANNES, ENGLAND -- This is where is all started to go wrong for Michelle Wie, a painful downward spiral into poor golf marked by an injured wrist, a bruised ego and shattered confidence. Then 16 years old, she limped away from the 2006 Women's British Open at Royal Lytham and St. Annes with a T-26 finish, no rounds under par and an embarrassing penalty for moving a loose impediment in a bunker.
Her caddie was fired at the gate at Manchester airport the day after the tournament by an agent, Wie's first of four since turning pro in October 2005. It was a year after that '06 British at Royal Lytham before Wie broke par again, and even longer before the bad headlines began to turn to good.
She returned to northwest England this year as a member of the LPGA after years of insisting her dreams were much bigger than women's golf; and now with every indication she is tunneling toward daylight as she tries to rediscover the brilliance she displayed as far back as her first professional tournament more than seven years ago. Still, her last victory of any kind is six years in the past.
Wie has been less than brilliant through two rounds at this year's Ricoh Women's British Open, following an opening 73 with a 76 on Friday to be at five-over-par 149, eight strokes off the lead. But it has been a performance that likely locked up a captain's pick on the U.S. Solheim Cup team when Beth Daniel announces her selections here Sunday evening.
That Wie has accumulated enough points to be No. 16 in less than one full season -- others have been earning point for nearly two seasons -- is reason enough to skip over the five players between her and the No. 10 spot earns the last automatic bid. The fact no one between Wie and the tenth spot is playing all that well doesn't hurt, either.
But the 19-year-old has put together a solid rookie season, finishing second once, third twice and not missing a cut. There have also not been mental blunders this year of the magnitude of the loose impediment here in 2006 or the failure to sign a scorecard last year in the State Farm Classic.
There are, however, rough spots that need to be worked out, some of which were on display Friday at Royal Lytham. The putter is inconsistent -- she missed putts inside 10 feet on Nos. 9, 10, 11 and 12, the last being from three feet. And there are the occasional loose swings, such as the one off the tee on No. 13 that resulted in an unplayable lie penalty. The decision-making also fails at times to take the long-term into consideration -- as on No. 18 when she tried a too-aggressive line from the fairway bunker and left the ball in the tiny pit on her way to a closing double bogey.
The missed putts and the missteps when trying to finish off a round or a tournament give reason for pause, but they also give cause for hope that they are bumpy patches that can be smoothed out with experience and result in victory. Pretty much everyone agrees the LPGA needs Wie to be a consistent winner, especially with the tour trying to patch together a 2010 schedule in the current economic climate.
Wie easily had the largest share of the gallery Friday at Royal Lytham, and no matter what accent uttered the words, everyone knew the name "Michelle Wie." Everyone was trying to find her on the draw sheet so they could follow her. For her part, Wie seemed much more relaxed on the course, chatting constantly during her round with Natalie Gulbis about movies, music and other non-golf stuff.
Two bogeys early in the second round -- Nos. 2 and 4 -- came after six-foot misses following solid bunker shots. A third front-nine bogey, this on No. 8, followed an errant tee shot after which she had to play her second shot sideways. Her only birdie on the outward nine came on a two-putt on the par-5 sixth hole after Wie convinced her caddie, Patrick Tarrant, on loan from Brett Wetterich, she could play a wood from the right-side rough.
Following the rash of missed opportunities with the putter from No. 9 through 12, she rolled in a 10-footer on No. 14 for her only birdie on the incoming nine. She wasted another birdie opportunity on No. 15 when she had a chance to go at the green with her second shot on the par-5 with an iron, but bunkered the ball and had to settle for par.
With the wind significantly less than Thursday and coming from an easier, and rarer, direction -- not into your face on the back nine -- Wie squandered what may turn out to be the best scoring day of the week. A lone 69 by Sandra Gal was the low score in the first round but Catriona Matthew and Giulia Sergas, who like Wie played early, both manhandled Royal Lytham with 67s.
Still, the unpredictable nature of the British Open -- whether it is for the men or the women -- pretty much allows anyone who makes the cut to still be in contention. The way the weather changes around here, it's easy for the leaders to be blown off the scoreboard and for lurkers to creep into contention.
But no matter what happens on the weekend, Wie is almost certain to leave Royal Lytham feeling a lot better than she did in 2006, and she has every reason to believe the next time she has to revisit that painful 2007 season, it will be after her first LPGA victory, when she tells everyone how she fought back from those depths.