News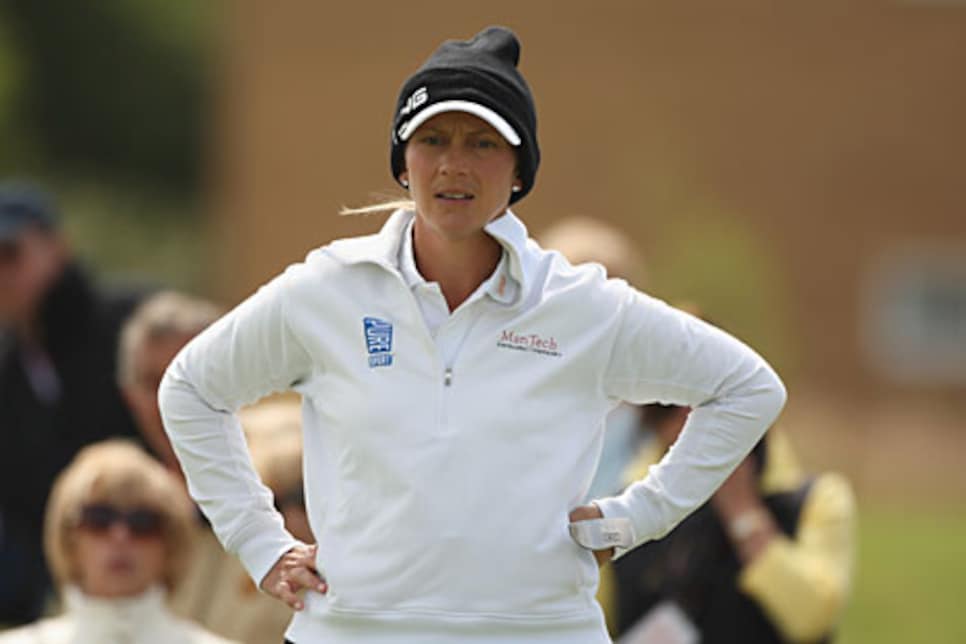 A side trip to Rome before the final major of the LPGA season provided Angela Stanford a needed breather.
LYTHAM ST. ANNES, ENGLAND -- The shortest distance between two points is not always a straight line, nor is peace of mind always found on the road most traveled. Such is the lesson of Angela Stanford, who got to Royal Lytham from France by way of Rome a couple of days later than everyone else at the Ricoh Women's British Open.
Along the way, Stanford put into perspective some haunting memories from her mother's ongoing battle with breast cancer and apparently put to rest some bad golf, a spiral that began soon after Nan Stanford was diagnosed in late June. On Thursday, a serene and focused Angela Stanford got the best of wind that gusted to more than 25 mph at Royal Lytham and shot a two-under-par 70.
Beginning last Sept. 14, when she won the Bell Micro Classic, Stanford was the best of the Americans, winning three times and constantly finishing in the top 10. At least that was the case until Nan was diagnosed. Since then, Stanford has finished T-49 at the Jamie Farr, missed the cut in the U.S. Women's Open and then was T-52 last week at the Evian Masters in France.
"The last couple of weeks have been kind of tough and I haven't really played very good," Stanford said. "So I thought I'm going to take my mind off all of this, all of the negative feelings I have, and I've always wanted to see Rome and took a short vacation."
Asked if prayers were involved in the trip, Stanford, a devout Christian, smiled and said: "If you are standing in the Sistine Chapel, you're saying a few prayers." Perspective was found in a lot of places. "We saw the Catacombs," she said. "That was kind of eerie/cool, in that I'm a Christian and what it would have been like to risk your life for that."
Arriving on Wednesday, Stanford played a late afternoon practice round at Lytham and was ready to go. "I played here [in the Open] in '03 and '06," she said. "So I am fairly familiar with the golf course and my targets. [Besides], once you get here, you can play a different course seven days. So if I were to get here Sunday night and play Monday, Tuesday and Wednesday, I may play a different course on Thursday. That's how I justified [skipping practice for Rome] in my head."
Certainly, she has not had much success in the British Open -- her best finish was T-13 in 2002 at Turnberry, her first time in the Open. Last year she missed the cut at Sunningdale.
What she faced in the first round was one of those patience-testing winds that pounded the course at a steady 20 mph, gusting to more. Those are not unfamiliar conditions for a Texan born, raised and still residing outside Fort Worth.
"I'm not one of those people who want it to blow," Stanford said, "but growing up playing in the wind I know what it is going to be like and how it is going to affect things like your chipping and your putting. You've just kind of got to go with the flow. That's the kind of golf it is. Eighteen holes out there will wear you out."
Stanford got to three-under par, helped by a 66-foot eagle putt on No. 7, but gave up strokes on Nos. 15 and 17 before rolling in a 30-footer for birdie on the final hole to close out her 70.
"Those holes coming in kicked my butt," Stanford said. Indeed, that will be the case all week when the prevailing wind blows, as it did on Thursday. The front side plays downwind and the back side not only comes back into the wind but also has several holes -- 15, 16 and 17 especially -- that play with a cross wind. "We played at least two clubs [more] coming in," Stanford said. The 419-yard 17th hole required a driver and a 3-iron, and Stanford was still a yard short.
Stanford is not a go-with-the-flow kind of person. "I like to control things," she says. But her mother's cancer has taught Stanford some valuable lessons about what you can control and what you have to accept.
"She's had some good days lately," Stanford says about her mother. "When I call home, she sounds good. And I think as much as you try to not let it affect you, it affects you. When she sounds good, it helps. I also know that watching her go through that first chemo treatment and watching how it wasn't as bad as what it could have been, that helped. We know it's going to get harder. But I also have a plan for the rest of the year."
Part of the truth Stanford seems to have found in Rome is that even when things get harder, there is a way to adapt and develop a plan. That's exactly the kind of perspective that can translate into her first major championship here this week at Royal Lytham.