News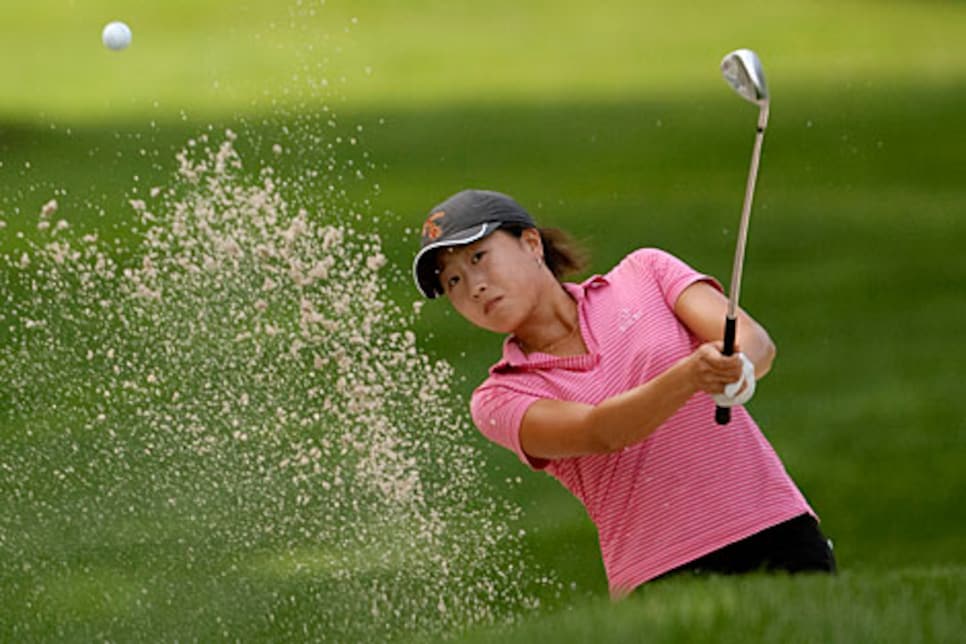 hail to the victor: Song, who was born in Michigan, but lives in Korea, became the first woman since 1988 to win two USGA events in one year.
After a rather desultory opening round in last week's U.S. Women's Amateur, Jennifer Song sat down at her father's laptop computer and composed her victory speech. This seemed more like an act of hope than chutzpah for a player who had struggled to a four-over-par 75 and was battling both fatigue and a faulty swing. It was neither. The one-page document simply represented a declaration of her intentions.
"Whenever I enter a tournament," Song explained, "I am here to win, and not just play great golf. I have the full purpose of winning any tournament, so I try to prepare myself with a little speech."
Song is getting as comfortable at a podium as she is scrounging for pars.
Putting an exclamation point on one of the best summers in the history of women's amateur golf, the talented teen with dual U.S. and Korean citizenship wrote herself into the history books by capturing the 109th Women's Amateur with a resourceful 3-and-1 victory over Jennifer Johnson at Old Warson CC. Song, who won the U.S. Women's Amateur Public Links in June, became the seventh player and second female to win two USGA championships in the same year. Pearl Sinn won the Women's Amateur and WAPL in 1988. Colt Knost in 2007 was the most recent to win two (the U.S. Amateur and Amateur Public Links) among a group of five men that also includes Bobby Jones.
"It's breathtaking," Song said.
Just like her final match with a fellow teen who showed the same unflappable tendencies. Johnson, who turned 18 on the eve of the championship, had Song gasping for air early on a sweltering but breezy Sunday in St. Louis, building a 4-up lead through 10 holes in the morning session of their 36-hole final. Song might be nifty at composition, but Johnson can follow a script. The 2008 Rolex Tournament of Champions winner from La Quinta, Calif., was merely resuming her daily ritual of appropriating a lead and then refusing to relinquish it.
Heading into the final, Johnson had played 76 holes without trailing, and she led outright on 68. She didn't seem impressed by the statistic. "I don't really notice those things," said Johnson, who is headed this fall to Arizona State. "I try not to pay attention. I'm quiet on the golf course and in my own little world. I almost don't notice the other player. I know I'm not intimidated by anyone."
That was apparent throughout the tournament, one populated by 40 juniors among the 156 entrants. After the 36-hole stroke-play qualifier, Johnson didn't see the 17th hole again at the 6,422-yard Robert Trent Jones layout until her semifinal match against perhaps the most renowned player in the field, 14-year-old Alexis Thompson, who was coming off a 12-shot victory in the Junior PGA Championship. A telling moment occurred at the third hole when Johnson, already 1 up, found the green while Thompson blocked her tee shot into the right bunker. After sizing up her lie, Thompson walked onto the green, but Johnson, oblivious to her opponent's presence, strode in front of her. Thompson broke stride in time to avoid a collision.
The '08 U.S. Girls' Junior champ, Thompson didn't find her form until Johnson was dormie on the 16th tee. She won the next two holes with birdie putts of 25 and 35 feet, respectively, but her comeback bid ended when an eight-foot par attempt slipped by at the home hole. That was a reversal from the previous day, when Thompson overcame a 3-down deficit to Korean Han Jungeun and survived, 1 up, when Jungeun couldn't hole a four-footer for par.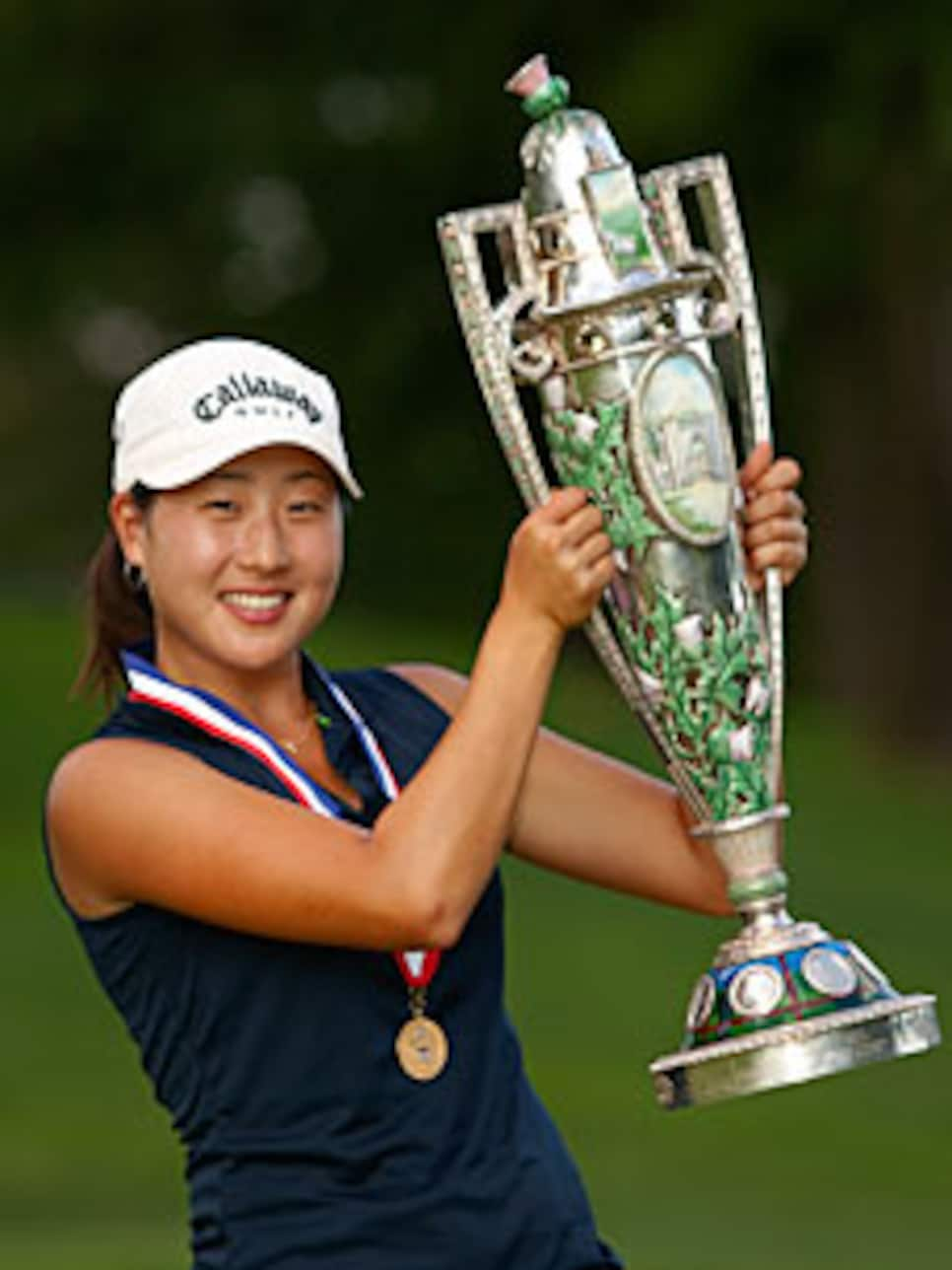 "Alexis will fight to the end," said Jessica Korda, who dined with Thompson each evening until Tiffany Lua eliminated the 16-year-old Floridian in the quarterfinals, 3 and 2. "She knows how to dig herself out of a hole."
Johnson, who began match play as the 32nd seed, saw her chances blossom not only because of a beneficial slot in the draw, but also because of the first-round losses of Danielle Kang and 2006 champ Kimberly Kim. The stroke-play medalist at 138, Kang, of Thousand Oaks, Calif., fell to Amelia Lewis of Jacksonville, 2 and 1. Kim, of Hilo, Hawaii, who at 14 became the youngest winner in Women's Am history, was dispatched by Canada's Maude-Aimee Leblanc, 5 and 3.
"Once the one seed lost, we kind of jumped into that spot," said Steve Ries, Johnson's caddie, who has been looping at Old Warson for 12 years. "You're playing the lower seeds and you're first off every day with fresh greens. We could kind of set the pace. We never had to worry about what was going on around us, never had to wait. I think that was really a big plus for us."
So there was Johnson Sunday morning with a big plus on the leader board. After converting an 11-foot birdie at the par-4 10th, Johnson was rolling and Song roiling. "I almost had a heart attack out there," said Song, whose summer run also included a T-13, low amateur, at the U.S. Women's Open at Saucon Valley. "I may have looked calm outside, but it was a volcano inside my body."
"I just told her, 'You can win this tournament if you just play your game. Don't worry about being behind,'" said Song's father, Museok, a college professor in Korea who has been on the bag since his daughter's summer schedule began June 15 at the U.S. Women's Open sectional qualifier.
Song, whose WAPL victory made up for a second-place finish in the NCAA Division I championship, responded by making successive birdies to cut the deficit in half. That ignited a run of seven wins in 10 holes that first squared things after 18 and then produced a quick 2-up lead to start the afternoon. Song's eight-foot birdie at the 19th hole left Johnson trailing for the first time in 95 holes.
"I was actually kind of glad I got behind because then I could just get that out of my head and, you know, come back strong," Johnson said.
That she did. Down three through 27 holes, Johnson won three of the next four, the last thanks to an 8-iron to three feet at the par-3 13th. Johnson could have regained the lead at the next, but misfired from six feet, and that was a costly opportunity lost. She bogeyed from the back bunker at the 33rd hole while Song converted a seven-footer for par.
A six-foot birdie at the par-5 16th put Song two ahead, and the final margin was determined when Johnson couldn't get up and down from the left bunker at the 17th while Song negotiated a two-putt par. She looked relieved until spotting her mother, Jeeyeon Koong, who had missed the WAPL. Then Song began to sob. "It's been awhile since she's seen me win and really hold on to the trophy and smile," Song said. "That feeling when you see your mom, it's your mom, so you just cry."
Born in Ann Arbor, Mich., Song was headed home to Korea for a few days before beginning her sophomore season at USC, where she is studying business but majoring in psychology, the variety learned by listening daily to Dr. Bob Rotella CDs. "He just really keeps me focused all the time. He helps me to stay positive," Song said.
That certainly came in handy, as did an uncanny week with the ­putter. That helped her overcome ball-striking lapses exacerbated by Old Warson's buoyant zoysia fairways, which Song likened to beef jerky, "because it's hard to cut through."
But then, so is Song. Chew on that.
"Her putting was incredible; she just didn't miss," said Ries, who also is a teaching pro. "I was really impressed with both young ladies—their composure, and they can stand up to the ball and hit some shots. I believe we got a good look at the future of the LPGA this week."
After posing for photographs, granting TV and radio interviews and accepting a congratulatory toast from Old Warson's members, Song was asked to go over a few points of her speech again, but she couldn't produce the document. "I have no idea what I did with it," she said with an embarrassed laugh. "I guess I lost it. But that's OK. I don't really need it anymore."
Indeed, the speech that matters is the next one she writes.