News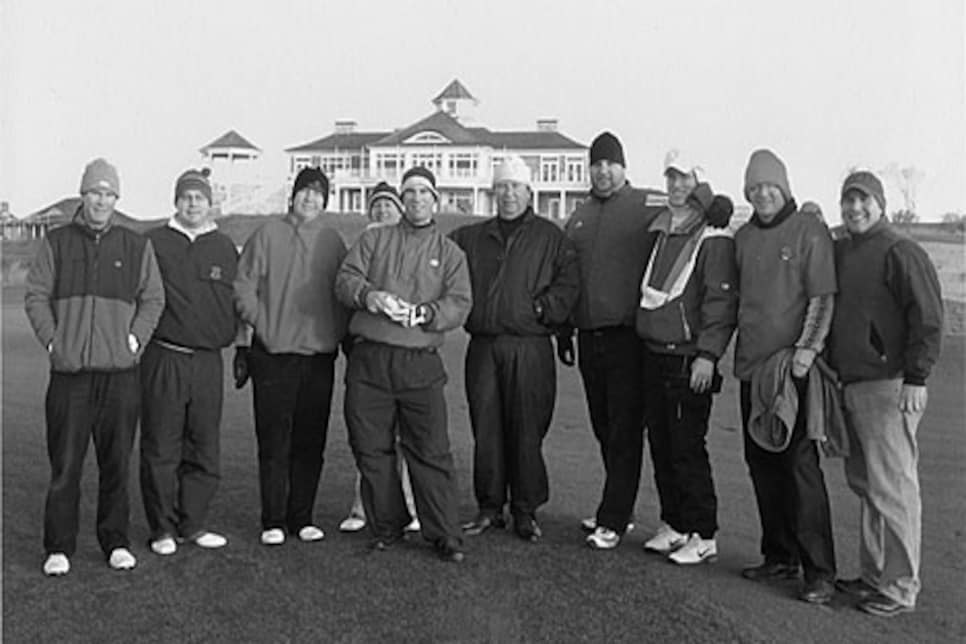 Golf Digest staff members playing in the editor's putter on a frigid day.
Late each fall the editors of Golf Digest play something called the Editor's Putter, an individual stroke-play event -- no gimmes, no do-overs, no funny winter rules. Typically our editor-in-chief Jerry Tarde announces the venue on a Friday post-noon for a round to be played that weekend. He's watching for a good weather day, yes, but he also gets to see who has the grit to tell their significant other, who's sure golf season has mercifully passed, that there's one more Sunday game. It's cruel, but as I say, not unsual.
Two years ago we played the Putter at a new course in The Hamptons, out east of Bethpage Black. From our office in Connecticut, getting there was an hour in the car and another hour by ferry, which put us at the club around 10 a.m. We had a coffee, made our bets and headed out. It was the first day of December. The temp was about 30 degrees, the wind blowing another 30, so whatever that means, say 20 in the sun.
Crazy, right? Well, with due respect to our benevolent dictator, this was not a golf day. We did get it in, and we did have some highlights and camaraderie, and plenty of stories about ridiculous shots tried and failed. But my clearest memory of the day is standing greenside at No. 9, an exposed par 5 that plays up a rise to the clubhouse, waiting for someone to hit his fourth putt. I was so cold at that moment, I instinctively crouched down and covered my ears like a rebellious four-year-old. I suppose I was trying to make myself small. I sure felt small. That's what winter golf can do to you.
Now before I get myself in trouble here, let me say it was a memorable day. It was the coldest round I'd ever played, but the game was basically still there. Not my game, but the game. You still did your little waggle, you still got the yardages (though they rarely mattered), you still missed putts you thought you'd made (and tamped down imaginary spike marks). But it was tough to get over one cold, hard truth: 20 degrees.
When I think about golf, I see green acres, bright-blue skies, Bermuda shorts, not ski caps and frozen puddles. Not my breath. I know a lot of golfers think they're playing golf year-round. But when you can't feel your grip, or hammer a tee in the turf, it's not really golf. When you're putting on makeshift greens in the fairways, and the bunkers play like a gravel road, it's not really golf. It's just getting out of the house.
I hang up my clubs in November and try to remember where I put them in April. I like those delicious first rounds of spring, when you don't know what to expect of your old game and you feel so damn good just being back out there. Golfers without an off-season deprive themselves of those sweet reunions.
So call me stupid, call me a fair-weather whatever. I'll do it my way, packing on my winter 10, watching too much bad TV. Waiting. But remember, I get to feel that thrilling anticipation of the return, when the grass wakes up and the sun can warm your shoulders. To me, that's when golf is really played.