News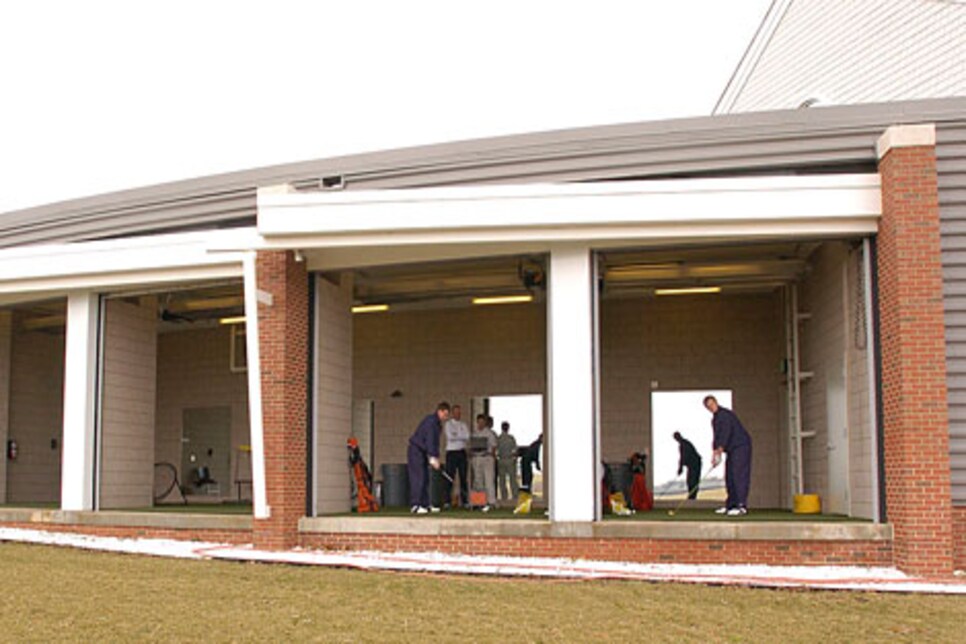 Illinois coach Mike Small estimates his team his 25,000 balls from heated bays the first winter the school's Demirjian Golf Center was open. An Illinois golfer has his shots monitored while hitting from a heated bay.
A 7,000-square-foot indoor chipping area. ... Six heated hitting bays. ... Two video swing analysis stations. ... A fully equipped golf club repair room. ... A 1,500-square-foot team lounge.
Listen to Mike Small rattle off the amenities found at the Demirjian Golf Facility on the campus of the University of Illinois and two things become apparent. First is the pride the man in his 10th year coaching the men's program at his alma mater has when talking about his pet project, opened in August 2007 for the exclusive use of the men and women who play varsity golf in Urbana-Champaign. Second is the shear breadth of the 14,500-square-foot complex. At a cost of $5.1 million, it has seemingly everything.
Everything that is except for an NCAA trophy in its display case.
Mind you, the Fighting Illini are working on that. Ranked 10th in the final fall Golf World/Nike Golf coaches' poll, Small's squad has big ambitions for the coming spring. During the 2008-09 season, Illinois won seven titles, including its first Big Ten championship in 21 years. This past fall the team won twice more and had a 50-15 overall head-to-head record in five tournaments.
Should Illinois collect a men's national title this spring, it would become just the second northern school to win since 1979, joining 2002 champ Minnesota in the exclusive club.
There is, of course, a simple explanation for why so few northern schools have had success on the national level: location, location, location. With freezing temperatures and snowy conditions blanketing campuses from North Dakota to Maine, the inability to keep their games sharp come December, January and February seemingly forces such programs to play catch-up throughout the spring when competing against their counterparts from warm climates.
For many schools in the Northeast and Midwest, however, winter is no longer seen as their period of discontent. As was the case at Illinois, the presence of indoor training facilities specifically designed for the golf programs has created a paradigm shift in the college game.
There was a time where a northern school really wasn't on the same playing field, admits Small. "[But] there is no reason we can't compete every year on a national level," he contends. "Not any more."
The results seem to be proving Small's point. Last spring, five Big Ten men's programs qualified for the NCAA Championship, with Michigan becoming the tournament's Cinderella story by advancing to the Final Four.
On the women's side, Purdue's Maria Hernandez capped a four-year career that included 13 individual victories when she claimed medalist honors at last May's NCAA Championship. Collectively, the Boilermaker women have posted two top-four and four top-10 finishes at nationals in the four seasons since the Tom Spurgeon Training Center adjacent to the Birck Boilermaker Golf Complex opened. This fall, Purdue is ranked fourth in the Golf World/NGCA women's coaches' poll, with Big Ten-rival Michigan State sitting in the No. 6 spot.
Across the snow belt, the rise of such facilities has removed many excuses and extended the golf season. "We've picked up probably an extra 30, 40 days," says Mark Crabtree, men's coach at Louisville, where the Musselman Center opened in April 2007. "That allows us to have an effective practice, as opposed to being able to work on a very limited basis, at best, from January 15 to February 15."
Not coincidentally, Crabtree's teams have won two of the last three Big East Conference titles while Cardinal women's coach Kelly Meyers Rothberg has watched her squads claim three Big East championships in four seasons.
The boom in indoor golf training facilities began in earnest when Northwestern opened the Gleacher Center in 1999. Rather that ask his players to grab a few hours of time to hit wedge shots in the Wildcats' indoor football facility, men's coach Pat Goss helped create the short-game facility they could use on a 24/7 basis.
In turn other Big Ten program followed suit, or are in the process of building facilities. "It's funny," said Michgan men's coach Andrew Sapp, "I was on our driving range [this morning] in a meeting about our future site for our own standalone practice facility. It's going to have heated bays, a large chipping and putting facility." The new area will give the Wolverines an on-campus retreat rather than travel to a heated range 10 minutes off campus.
"Our players time is very important because as student athletes, it keeps them from having to drive from one place to another to have to practice," says Sapp, who hopes the facility will be up and running by winter 2011.
The trend also has trickled down to several other schools and conferences in the region. Perennial Mid-American Conference men's and women's contender Kent State has a 3,000-square-foot facility that many coaches argue is the best of the lot.
"Our kids are much more prepared to compete in February with this facility than they would have been," Brouse contends. "We've closed the gap."
The first winter the Demirjian Golf Facility was open in Illinois, Small says his golfers hit 25,000 golf balls from the heated bays into a driving range blanketed with snow, using Track Man radar technology (a staple in nearly every school's indoor facility) to monitor various stats.
What Small takes the most pride in, though, is the facility's chipping and pitching area. "You can hit 30-, 35-yard pitches inside and have them react and spin," said Small of the 7,000-square-foot space (note: a basketball court is 4,800 square feet).
Four different heights of (artificial) rough are in place for players to work from. "We can hit 85 foot bump and runs," Small says. "We can hit flop shots, the ceiling is 3½ stories tall."
While indoor facilities obviously allow golfers to avoid shoveling snow to get in some practice, they aren't just handy in the winter time. Brouse says Purdue's indoor area helps as much during the spring months when rain and wind can keep his players from practice on the course just as frequently as January snow.
For schools with such facilities, the thought process regarding how to approach the early spring has begun to change. The old model was to take your kids to the warm weather to get their games in shape, and in turn take your lumps in the process. Now schools can stay on campus to get ready for spring and feel they have a chance at competing.
"February and March we generally have a chance to hit a lot more golf balls and do a lot of work," Crabtree says. "It allows us to be farther along in the front end of the spring. Whether that translates at the end is another issue."
While not just allowing the players to keep improving on their games instead of building up winter rust, the facilities also have helped the programs attract a better caliber player in the first place. Quincy, Ill., native Luke Guthrie, an AJGA first-team All-American, was being courted by several nationally ranked schools two summers ago but chose to stay in-state thanks in large part to the amenities Illinois had to offer. Through the first half of his sophomore year, Guthrie has the second best scoring average (72.8).
If there is downside to these facilities it ironically cut at the one thing that players from northern schools always seemed to have an upper hand with: the ability to handle difficult weather conditions during tournaments.
"We used to get a 45 degree day and we'd go outside and play in the snow and rain and get tough," Small says. "Now we all go inside. So I think it kind of softens you up a bit, which is a drawback. Any day we can go outside, we'll go outside [though]."
Still, with his players avoiding the fatigue from being forced to practice in frigid conditions prior to having an indoor facility, Small believes in a better position than ever to excel.
"We're definitely more prepared come spring time than we were before," Small says. "Is it real golf? No. But I think physically and mentally we're more ready than we were before."