News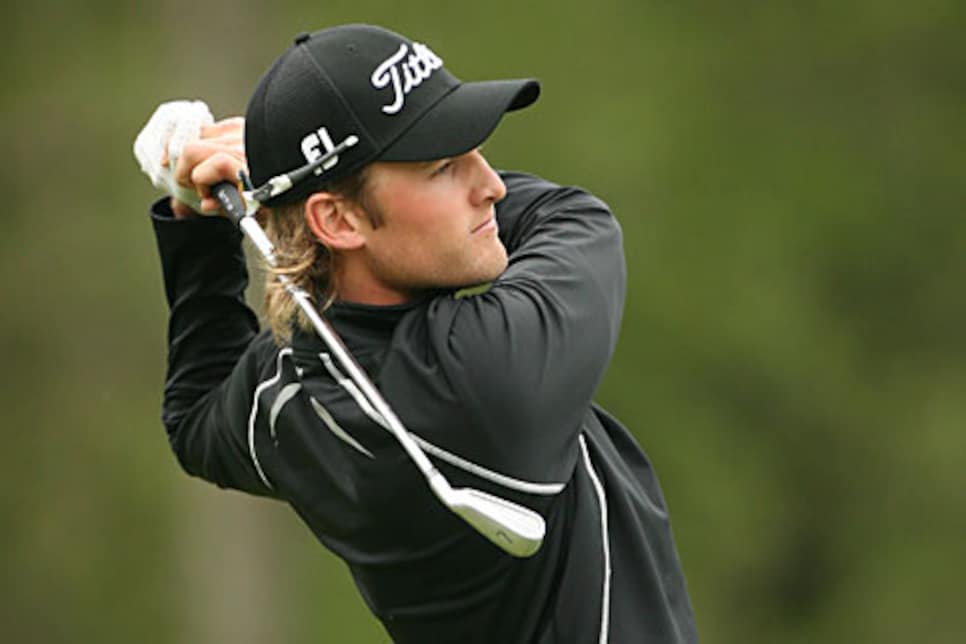 Australian Michael Sim is believed to be the first Nationwide Tour player to crack the top 100 in the world ranking.
The task of identifying the top players in the world is not difficult, and even if it was, there is a study guide. It's a handy list, called official rankings. No surprises here, and the players are all numbered, in ascending order, so keeping track of them is simple.
Not that much help is necessary. Besides, Tiger and Phil and Sergio and the guys get enough television airtime at tournaments that they could start their own network. The only way you wouldn't know them is if they started wearing disguises or acting differently or something. Garcia, for instance, could pretend to be a great putter.
The pool of talent in professional golf is all deep end. There's no shallow. That's why Paul Casey is all the way up to No. 3 now. At the same time, there is a vast array of players who've got talent but have managed to stay under the radar. Call them "The Best Players You Don't Know Much About". Here are some suggestions for membership.
Michael Sim: This 24-year-old Scottish-born Australian may be playing the PGA Tour any week now. In his last three Nationwide Tour events, Sim has two victories and runner-up in a playoff. One more victory and he earns an immediate promotion to the PGA Tour.
Ranked 229th in March, he is now No. 94 and believed to be the first Nationwide Tour player to crack the top 100, although the tour couldn't confirm it. A chest and sinus infection kept him from the British Open qualifying Monday at Gleneagles Country Club in Plano, Texas. His sports psychologist is the wife of fellow Australian Rodney Pampling.
Brian Davis: He's 34, was born in London and lives in Portugal. Davis has been around for awhile (turned pro in 1994), it's just that he hasn't turned a lot of heads, although that may not be the case after his closing 64 at the Nelson that was good enough to beat everybody in the field except winner Rory Sabbatini.
Davis has won twice on the European Tour and tied for sixth at the 2003 British Open at Royal St. George's. He doesn't get great distance off the tee, but he's accurate, and a solid putter. Davis said he came back too soon after having surgery to remove a benign tumor on his side a couple of years ago; and two herniated disks also kept him off-track for awhile.
James Nitties: If you're looking for a prototypical Australian, here's your guy -- a poker-playing, beer-loving, party-lover. Four times through qualifying school, at 26, Nitties makes no apologies for his hobbies.
"I'm pretty brutally honest," he said at the Nelson, where he started with a first-round 65. "I'm exactly like any other single 26-year-old. I love going to movies, I love hanging out with my mates and having a couple drinks in bars and chasing girls. I mean, I could be monotone and boring, but that just wouldn't be fun."
He got shoved into some kind of fame as participant on the golf reality show, "Big Break."
Richard S. Johnson: Sure, he's already won a tournament last year at the U.S. Bank Championship, but the 32-year-old Stockholm-born Floridian may be only the third most famous Johnson on the PGA Tour, behind Zach and Dustin (and possibly Johnson Wagner).
His victory at Milwaukee, in a tournament played opposite the British Open, was one of only two top 25s Johnson had all year. But he is a grinder. Maybe that came from his upbringing. As a kid in Sweden, Johnson was into skateboarding ... stunts, mainly, that led to seven broken ribs, a broken hand and a broken foot.
Check it out, he may be riding a skateboard into another trophy presentation before you know it.
Brendon de Jonge: If there is a heavyweight division in this list, de Jonge is on it. The 26-year-old tips the scales at 230 pounds. Born in Zimbabwe, he lives in Charlotte, N.C., now, and was the Nationwide Tour player of the year in 2008. He once played with a broken rib and still finished ninth in a college tournament.
He's played a total of 57 PGA Tour events and has four top 10s, one of them at this year's Northern Trust Open at Riviera. His strength is that he can get it rolling: he is fifth on the PGA Tour in making birdies.