News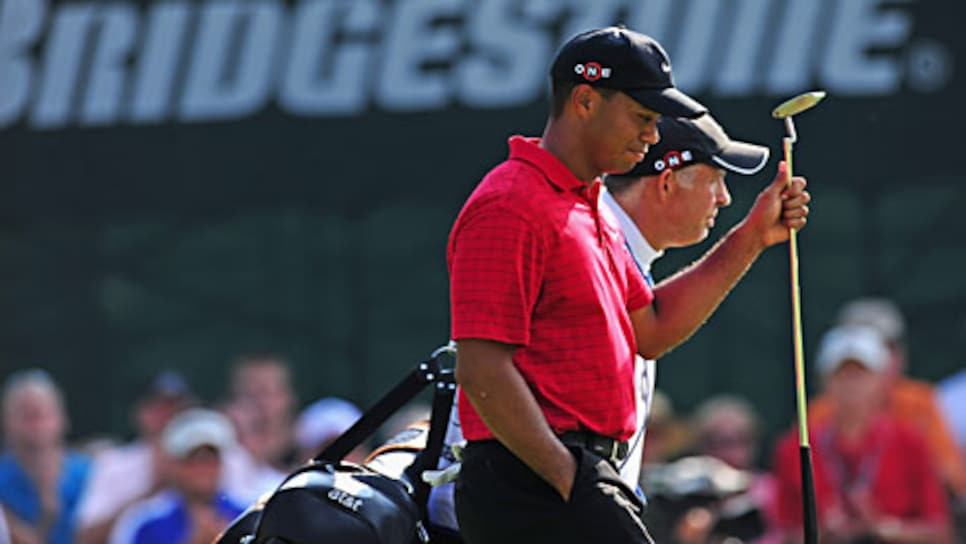 Tiger Woods prevailed at Firestone, but not without controversy.
CHASKA, Minn. (AP) -- Tiger Woods will be fined by the PGA Tour for his public criticism of a rules official after winning the Bridgestone Invitational, a tour official said Monday.
The official spoke on condition of anonymity because the tour does not publicize fines.
Woods was bothered after his four-shot victory Sunday because he and Padraig Harrington were put on the clock at the par-5 16th. He said that caused Harrington to rush three difficult shots, leading to triple bogey.
European Tour chief referee John Paramor told Woods and Harrington they were being timed.
Woods said he told Harrington after it was over, "I'm sorry that John got in the way of a great battle."
Paramor said the final pairing was well behind most of the back nine, but officials gave them time to catch up. They were still 17 minutes out of position on the 16th tee, when they were put on the clock.
Woods hooked his tee shot, punched out to 178 yards and hit an 8-iron that stopped a foot from the hole for birdie. From the right trees, Harrington hit a 5-iron to the edge of a bunker, went over the green, then hit a flop shot too hard and into the water. The four-shot swing took the drama from one of the most compelling final rounds of the year.
"I don't think that Paddy would have hit the pitch shot that way if he was able to take his time, look at it, analyze it," Woods said. "But he was on the clock, had to get up there quickly and hit it."
Harrington conceded he was rushed, although he said it would be unfair to give the final group preferential treatment.
Section VI-D in the PGA Tour's player handbook says, "It is an obligation of membership to refrain from comments to the news media that unreasonably attack or disparage tournaments, sponsors, fellow members, players of PGA Tour."