News
Harrington Leads, Woods Charges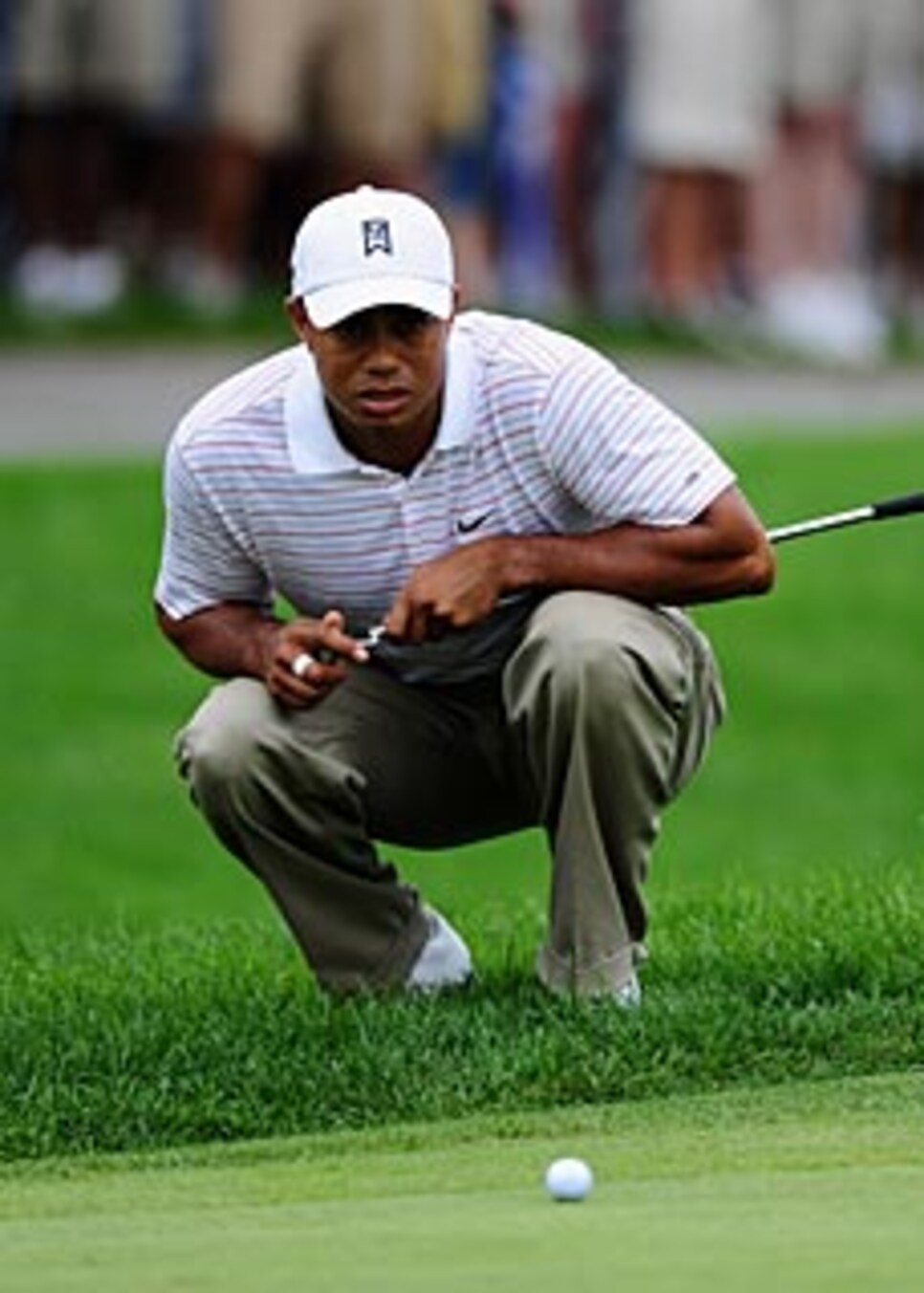 Tiger Woods is eyeing a seventh win at Firestone and the 70th overall victory of his career.
AKRON, Ohio (AP) -- Padraig Harrington kept pouring in birdies as he tried to separate himself from everyone else at the Bridgestone Invitational. He arrived at the 18th green with a three-shot lead, happy with his day's work.
Then he glanced at the leaderboard for the first time Saturday.
Suddenly, that lead felt a little smaller.
His closest challenger was Tiger Woods, the world's No. 1 player and close to unbeatable at Firestone.
"I was surprised, yeah. I didn't know he was up there," said Harrington, who make four birdies on the back nine for a 3-under 67. "OK, he's in second place. There he is, 7-under par. There you go, three-shot lead. Is that enough? Probably not. I was trying to put as much room between me and the field. But at the end of the day, there's probably never enough room between you and Tiger.
"I know I have to play well tomorrow if I'm going to win."
Woods made a charge of his own about an hour earlier, running off four birdies over the last six holes, for a 65 that put some life into a dreary afternoon of light rain that slightly softened Firestone.
He has never finished worse than fifth on this track, and Woods has won six times in 10 appearances, three times when trailing.
Of his 69 victories on the PGA Tour, however, Woods has only won five times when trailing by three shots or more after 54 holes. Two of those came this year, a five-shot deficit at Bay Hill and a four-shot deficit at the Memorial.
But the players he was chasing were not Harrington, a three-time major champion and the last man to beat Woods worldwide when he was atop the leaderboard going into the final round.
And while Harrington conceded that Woods chasing him changes the dynamics, the Irishman usually is up to the task.
"I realize I'm going to have a difficult day, that's for sure," said Harrington, who was at 10-under 200. "This golf course has obviously been very good for Tiger ... so I don't think anything is going to be easy tomorrow. Probably at best, it's going to be a long, hard day and a battle. That's what I'm going to prepare myself for."
Jerry Kelly had a 69 and was five shots behind. Tim Clark, who had a one-shot lead early in the third round, also was five shots behind until he called a two-stroke penalty on himself for not replacing his ball mark on the 16th hole. He wound up with a 73, leaving him at 3 under.
Woods was happy to just have a chance.
He missed a short par putt on the eighth hole and fell six shots behind, with no indication Harrington would back up.
"I figured if I could put half a dent in that, I'd be all right," Woods said. "At least I'm there with a shot at it."
It could be a two-man show, and quite an opening act for the PGA Championship next week at Hazeltine.
Harrington has virtually disappeared this season while searching for the right swing. He only recently found the answer and finally has seen some results. He has a 54-hole lead for the first time since the 2007 Irish Open.
Woods, already a four-time winner this year, is going after his seventh victory at the Bridgestone Invitational and his 16th victory in a World Golf Championship.
It will be the first time Woods and Harrington have played in the final pairing since the 2006 Dunlop Phoenix on the Japan Golf Tour, which featured a rare collapse by the world's No. 1 player. Woods blew a three-shot lead with six holes to play, then lost to Harrington on the second playoff hole.
Harrington also held off a hard-charging Woods at the Target World Challenge seven years ago, a year-end exhibition. Even so, for so many players scarred by losing to the world's No. 1 player, Harrington is among the few with positive recall.
"Obviously, at this stage I know it's going to be a difficult day," he said. "Just the hype of it all, everything about it, it's just going to be a lot of work tomorrow."
The hard work came in the middle of his round, when Harrington failed to take advantage of birdie chances and then had to scramble for par. One great save came with a 6-iron he punched out of the trees and onto the green at No. 9. Another came with a superb chip out of the rough for a tap-in par at the 10th. Pars gave him the momentum to make birdies, and he knocked them in from 30 feet on the 12th, 20 feet on the 13th, and he hit the flag with his tee shot on the 15 for another birdie.
Woods began his run with an approach that spun back to 6 feet on the 13th for birdie, then picked up another birdie from 15 feet on the fringe at the 15th. His experience at Firestone really showed on the par-5 16th, where he faced a tricky shot from 90 yards to a back pin. His lob wedge hit some 8 feet short of the hole, took a hard hop past the hole, then spun back to a foot.
"Every putt I had for birdie, I made it," said Woods, who had only 23 putts. "It was the complete opposite of yesterday."
Harrington is hopeful of one more good round, making it tough for anyone -- Woods included -- to beat him. Then he considered what awaits next week at Hazeltine, and he changed his answer.
"Actually, I'd like five more (good) rounds -- four next week, as well," he said.
The pairings for the PGA Championship were released Friday evening. Harrington and Woods will be in the same group.