News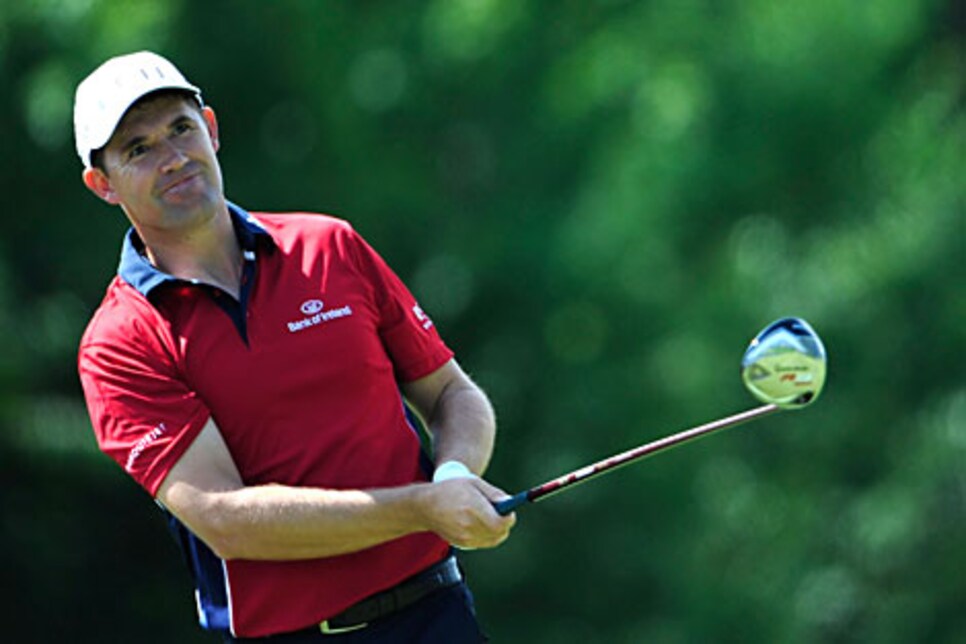 Harrington is gathering momentum for his title defense at next week's PGA Championship.
AKRON, Ohio (AP) -- Padraig Harrington broke par for the second straight day, something he hasn't done in four months. Two more days like that and it could lead to something he hasn't done in a year.
Without a victory since the PGA Championship, Harrington tread carefully across Firestone on Friday for a 1-under 69 that gave him a one-shot lead over Tim Clark (68) going into the weekend at the Bridgestone Invitational.
Harrington didn't put much stock into his opening round of 64, and he wasn't ready to declare himself the favorite to win his first World Golf Championship. Even so, he conceded that consecutive good rounds were helpful.
"I'm obviously pleased," said Harrington, who was at 7-under 133. "I shot a good score yesterday - put me up there - and it's nice to shoot a reasonable score to back it up. Break 70 on the weekend a few more times and I should be doing OK."
Scott Verplank went 35 holes without a bogey until hitting into the trees on the 18th hole and dropping a shot for a 69, leaving him alone in third at 135.
Tiger Woods, a six-time winner at Firestone, was among 20 players within five shots of the lead, although he found himself in a peculiar spot after an even-par 70. He was tied for 13th, the first time after any round at Firestone he has been out of the top 10.
He was at 2-under 138, the same score he had in 2007 when he went on to win by eight.
"You just have to be very patient," said Woods, coming off a victory last week in the Buick Open with the final major of the year looming next week at Hazeltine. "This course is playing like it normally does, and it's very similar to a major championship. A good number this week is going to be somewhere in the high 60s, and more than likely you can move up the leaderboard."
Steve Stricker (69), Jerry Kelly (65) and Prayad Marksaeng of Thailand (70) were at 4-under 136, with big-hitting Alvaro Quiros of Spain also shooting a 65 to lead the group at 137.
Phil Mickelson, playing for the first time since his wife's surgery for breast cancer last month, made a few great escapes from the rough and put together a 69 to finish six shots behind Harrington.
Except for his three majors that he won with Sunday rallies, Harrington had not been atop the leaderboard anywhere in the world since the Irish Open more than two years ago. He cares only about keeping in the mix, with an eye toward the back nine Sunday.
The Irishman, never satisfied with his swing, has spent most of the season on his mechanics, to the point that his scores have suffered. He once missed five straight cuts, and he has yet to finish in the top 10 since his season-opener at Abu Dhabi.
Equipped with the lead, he found himself playing conservatively, not wanting waste such a good start.
"I was more worried about my misses rather than having that confident attitude and just a bit more free flowing, and going after a few more pins," Harrington said. "But you've got to make some birdies. My short game has been good enough, so I probably should be a little bit more aggressive over the weekend."
He wasted some opportunities on a mild morning in northern Ohio, as did so many others. The course began to get firm under an afternoon sun, which makes it tougher to stay in the fast-running fairways or get it close to the hole.
Clark closed with two big par saves to earn a spot in the final group on a Firestone course that he always felt was too big for a guy who was short but straight off the tee. The firm conditions have been to his advantage.
"I found on a lot of the holes, my drives are landing on the down slope," Clark said. "A lot of the guys are carrying the down slopes and landing them to flat areas, so I get a little more run. And that certainly helps."
Woods has never finished worse out of the top five at Firestone, and he's still in good position to keep that streak alive, if not make this South Course the site of his most victories. He was climbing the leaderboards until driving into the trees on the 18th, his ninth hole. Trying to keep it under branches, the shot came out high and struck a limb, going deeper into the trees.
Two dozen players in the 79-man field were under par, all of them chasing Harrington.
The three-time major champion is finally comfortable with what he is trying to do with his swing, allowing him to pay attention to his score. After two rounds, he likes what he sees.
"I found what I was looking for," Harrington said. "That's freed up my mind to go back to working on the important things - the scoring, the short game and my mental game."