News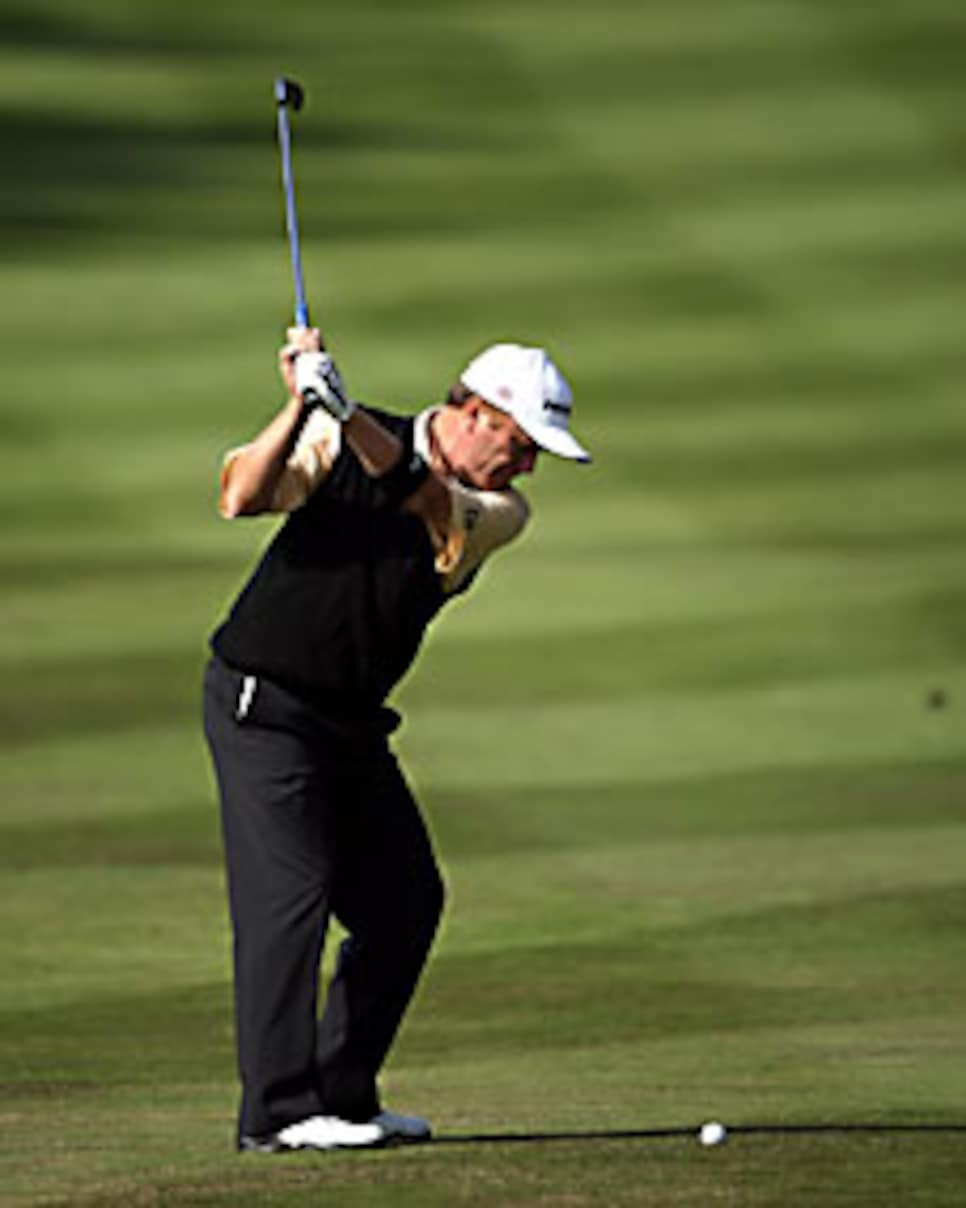 Jeff Sluman became the first player on the Champions Tour this season to successfully defend a title.
PEBBLE BEACH, Calif. (AP) -- Jeff Sluman overcame a six-stroke deficit Sunday at Pebble Beach to successfully defend his Walmart First Tee Open title, acing the fifth hole and finishing with a 4-under 68 for a two-stroke victory.
Sluman, who started the day tied for fifth after a second-round 73, had four birdies and the hole-in-one on the 187-yard fifth to finish at 10-under 206.
Gene Jones shot a 70 to finish second. Tom Lehman (73) and Mark O'Meara (75) followed at 7 under, and second-round leader Loren Roberts (78) tied for fifth with David Eger (69) and Olin Browne (71) at 6 under.
Sluman won for the first time this season after winning twice last year in his first full season on the Champions Tour. He won six times on the PGA Tour.
After catching Roberts, Sluman had held off runs by Jones and Mark O'Meara after they closed within a shot of the lead.
Sluman opened a 65 at Del Monte and shot a 73 on Saturday at Pebble Beach.
He shot a front-nine 31, highlighted by the ace on No. 5 that pulled him into a tie with O'Meara, two shots behind Roberts. Roberts and O'Meara, playing behind Sluman, both followed with bogeys on No. 5 to make it even tighter.
Sluman kept the pressure on and took the lead with a birdie on No. 9 while Roberts bogeyed Nos. 7 and 8 to drop two shots back.
Roberts, coming off a one-stroke victory over O'Meara last week in the Boeing Classic in Washington, couldn't stop his freefall and ended the day with six bogeys after getting making just two in the first two rounds.
O'Meara, a 16-time winner on the PGA Tour who was two shots off the pace heading into the final round, is winless since joining the Champions Tour in 2007.
Sluman's bogey on No. 11 cut his lead to one stroke, but he came back to birdie No. 14, then parred three of the final four holes for the win.
As he prepared to put out on No. 18, Sluman was interrupted by comedian Bill Murray who stood about 30 feet away and yelled "We love you Jeff!" as the crowd laughed.
Roberts, meanwhile, was left to think about what could have been after blowing what appeared to be a comfortable lead.
He had three bogeys in a four-hole span on the front nine, then bogeyed three consecutive holes on the back nine to fade away.