News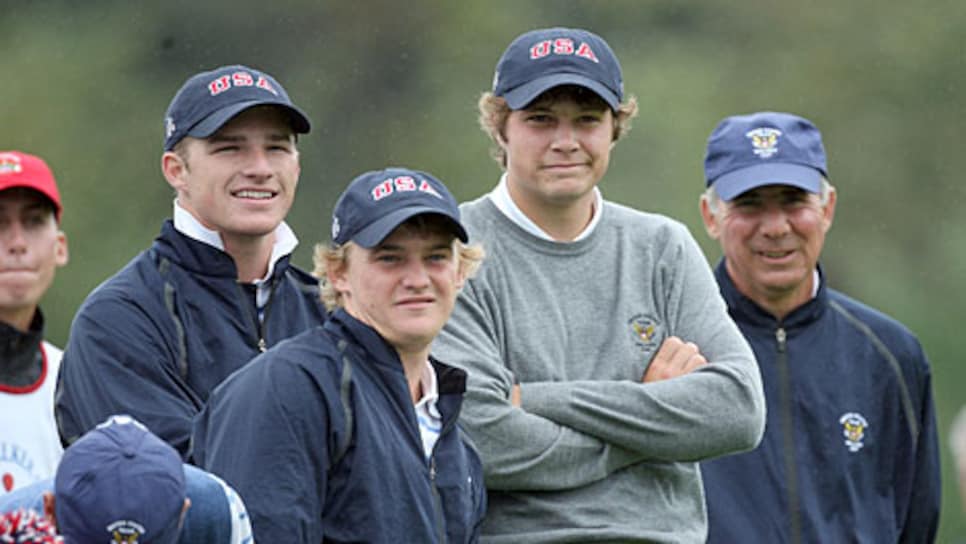 U.S. captain Buddy Marucci (right) and his team are going for their third straight win in the Walker Cup.
ARDMORE, Pa. -- Less than 24 hours before the opening tee shot of the 42nd Walker Cup, a cold driving rain enveloped Merion GC, conditions more commonly seen when Great Britain & Ireland hosts the biennial matches than when they're held stateside. Yet while the weather soaked the historic Hugh Wilson course hosting its 18th USGA championship, it failed to dampen the spirits of the American players, a handful of whom attempted to play the five finishing holes before finding refuge in the Merion clubhouse.
"Well," joked U.S. team member Brendan Gielow with one of the brave -- and few -- spectators who ventured out Friday morning, "at least we got a chance to use all the rain gear we got."
Walker Cup - Saturday pairings FOURSOMES
7:30 a.m.--Wallace Booth/Sam Hutsby (GB&I) vs. Brian Harman/Morgan Hoffmann (U.S.)
7:40 a.m.--Gavin Dear/Matt Haines (GB&I) vs. Peter Uihlein/Nathan Smith (U.S.)
7:50 a.m.--Luke Goddard/Dale Whitnell (GB&I) vs. Rickie Fowler/Bud Cauley (U.S.)
8:00 a.m.--Stiggy Hodgson/Niall Kearney (GB&I) vs. Cameron Tringale/Adam Mitchell (U.S.)
1:00 p.m.--Gavin Dear (GB&I) vs. Brian Harman (U.S.)
1:10 p.m.--Sam Hutsby (GB&I) vs. Rickie Fowler (U.S.)
1:20 p.m.--Wallace Booth (GB&I) vs. Cameron Tringale (U.S.)
1:30 p.m.--Matt Haines (GB&I) vs. Morgan Hoffmann (U.S.)
1:40 p.m.--Tommy Fleetwood (GB&I) vs. Peter Uihlein (U.S.)
1:50 p.m.--Chris Paisley (GB&I) vs. Drew Weaver (U.S.)
2:00 p.m.--Niall Kearney (GB&I) vs. Bud Cauley (U.S.)
2:10 p.m.--Stiggy Hodgson (GB&I) vs. Brendan Gielow (U.S.)
The abbreviated practice was no big deal, according to captain Buddy Marucci. Having been on site playing morning and afternoon sessions since Tuesday (after spending a few days prior bonding at Caves Valley GC), Marucci wasn't going to have his charges walking more than nine or 10 holes anyway, conserving energy for the evening's opening ceremonies and the two-day sprint that awaits this weekend.
Suffice it to say, Marucci has a glass-half-full bunch in the 10-man team at his disposal. A loose group, too. Watching them dodge the rain drops while working their way around Merion's famed quarry holes, you get the impression the American side isn't just anxious to get things started but well-prepared for what lies ahead.
"We've geared our games all year just for this week," said U.S. team member Brian Harman. "We're ready to go."
Of course, it helps that the U.S. has claimed the cup the last two times the matches have been contested, winning by identical 12 1/2-11 1/2 scores at Chicago GC in 2005 and Royal County Down in 2007. With momentum on their side, the Americans have the breathing room to laugh and joke and not fret over a few showers.
Still, it's a far cry from the American downtrodden mindset earlier in the decade when their rivals suddenly found their way after 70-plus years of regular drubbings. If GB&I surprised the Americans with a 15-9 victory at Nairn, in 1999, it stunned them with a 15-9 knockout at Ocean Forest in 2001 and then demoralized them with a 12 1/2-11 1/2 gut-check at Ganton in 2003. (Indeed, while the U.S. has a 33-7-1 overall record, it's 3-4 in the competition since 1995.)
If the Americans were guilty of taking things for granted, that can't be said any more, and the change in attitude remains noticeable. Through the diligent efforts of Marucci and his predecessor, Bob Lewis, young American golfers again look forward to representing their country, many delaying plans to turn pro in hopes of playing in the event. This time around, half the team -- Harman, Rickie Fowler, Adam Mitchell, Cameron Tringale and Drew Weaver -- will be making this event their amateur swan song.
"They know what the experience can be and how enriching it is," Marucci said. "They've chosen to stay. We're indebted to them for doing that. Plus it's a great example for the young men that will come down the road, especially when they talk to Rickie and Brian and some others that have done this, to help guide them in their decisions."
Fowler, 20, and Harman, 22, are competing for a second time in the matches, which makes two more "veteran" players than GB&I captain Colin Dalgleish has on his roster. In a role reversal, the GB&I side is actually younger than the Americans, with an average age of 21.1 compared to the Americans' 21.9.
While unfamiliar with Walker Cup pressure, though, all have competed in significant amateur events, including Wallace Booth and Gavin Dear playing for the victorious Scottish squad at last year's World Amateur Team Championship.
"We have guys who have won in the U.S. and won in Argentina and won in Spain and Portugal and Australia, so on," Dalgleish said. "So they have plenty of experience."
On paper, however, it would appear the Americans' chances of a three-peat are rather good. Marucci believes he's got a more balanced group than the one that won two years earlier. "The chemistry on this team is great," he said. "I could put anybody with anybody and I would not have one blink of an eye from anybody."
Another factor that points to an American victory is that for the first time in Cup history, all 10 players will compete in Sunday singles. Adding two additional matches, in a format where the Americans have traditionally been successful, would seem to favor the home team. Particularly, too, when you consider the slim one-stroke margin of victory that the Americans have claimed the past two matches.
Perhaps the biggest intangible working for the Americans is the Marucci/Merion connection. A longtime member of the venerable club, Marucci has even more motivation to bring home a victory this time around. It's something his players are well aware of and most certainly will use as a rallying cry at some point this weekend. The pro-U.S. crowd, too, should help spur the Americans on to victory.
Exactly what the margin will be is up for debate. An educated guess would be that the matches will remain undecided heading into Sunday singles, but they won't come down to the bitter end. For some reason 14 1/2-11 1/2 has a good ring to it.
With a third straight victory for the Americans, are the matches in danger of being returning to the days of the "Walk-over" Cup? Doubtful. The level of play has increased and the lopsided victories have decreased, making for a more balanced, healthy, competition.
That said, the days of the U.S. taking victory for granted are over as well.