News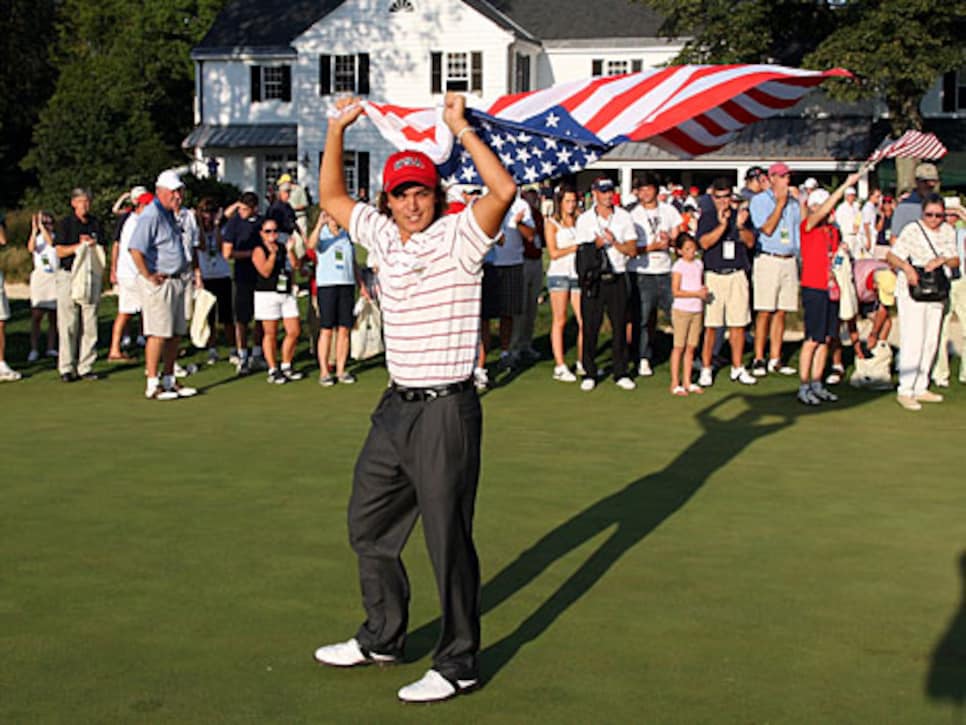 team effort: Every American player earned at least a point for Marucci, but Fowler and Uihlein stood out with 4-0 records in a dominant weekend.
"Gripping" is hardly the word anyone will use to describe the 42nd Walker Cup, a fact made certain by the leader boards around Merion GC that read "United States 16½, Great Britain Ireland 9½" at the conclusion of the two-day event. "Memorable" might fit the bill, though. Particularly after the ever-stoic George (Buddy) Marucci did the most unexpected thing last Sunday evening when he let down his steely guard, if only for a moment.
"I never had a problem sleeping in my life, and I have to tell you that I did not sleep last night," confided the U.S. captain, the cup he coveted safely in his possession. "It meant a great deal to me for the club to be as successful as they were with the event. … I'm not sure there's anything quite like it for a person like myself. These guys will win major championships, but for me, this is kind of the whole deal."
It was a far different emotion from what Marucci conveyed in the weeks preceding the matches. When asked about having the biggest competition in amateur golf contested at a place with which he had such intimate ties—for nearly two decades he has had a locker at Merion with his name on it, and he almost literally grew up in the shadow of the course—he shrugged it off as no great shakes. Never mind that Marucci would be unable to escape the eventual outcome, for better or worse, any time he set foot on the property.
The 57-year-old Philadelphia-area native thankfully won't need to hide his face the next time he's having lunch on the rustic patio beside Merion's first tee. Not after his squad's masterful showing, led by a pair of college teammates in Rickie Fowler and Peter Uihlein, an effort that helped blot out further the stain of three harsh losses the U.S. suffered from 1999 to 2003 and harkened back to a time of American superiority when folks jokingly referred to the event as the "Walk-over" Cup.
Just how dominant a performance was it for the Americans, their third consecutive victory in the biennial matches since 2005 and the second straight with Marucci at the helm? Consider that the turning point of the event came in just the third game of the competition. The two sides looked as if they would split the four Saturday morning foursomes matches, as the U.S. duo of Uihlein and Nathan Smith was 1 down with two holes to play versus Gavin Dear and Matt Haines. But the Americans won the 17th with a par, and then Uihlein holed an improbable 18-foot par putt on the home hole to steal a 1-up victory and set the tone for the remainder of the weekend.
"It just energized our entire team," said Brian Harman, a veteran of the victorious 2005 U.S. squad. "Going from 2-2 to 3-1 changed our entire demeanor." The U.S. kept the momentum with a 3-1-4 record in afternoon singles to build an 8-4 advantage after Day 1, the largest halfway lead since 1997.
Impressive as it was, the Americans could have led by more. In three Saturday singles matches in which they led 1 up on the 18th tee, they wound up losing the hole to let GBI halve the matches and grab important half-points.
Still, GBI captain Colin Dalgleish stood firm in his belief that the deficit could be overcome, even without his squad having a marquee player to rally around as GBI teams have had in the recent past (Luke Donald, 2001; Nigel Edwards, 2003; Gary Wolstenholme, 2005; Rory McIlroy, 2007). For this to happen, though, would require his charges—all Walker Cup rookies—to become the aggressors in the Sunday morning foursomes. Try as they might, the strategy failed. The U.S. again took three out of the four matches, giving the home side an 11-5 edge and leaving it needing just 2½ points in the final session to win the cup.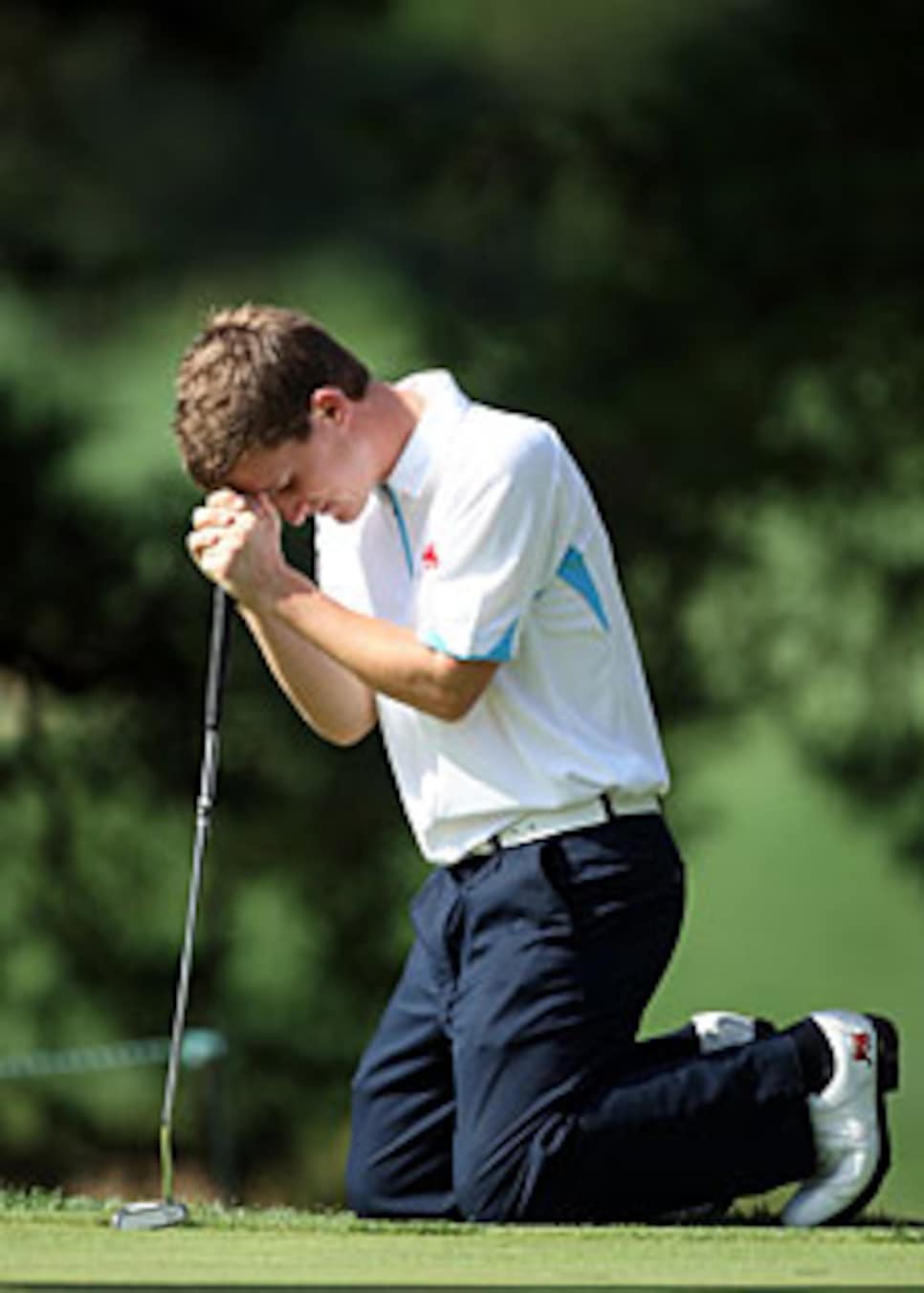 With the outcome hardly in doubt, the Sunday singles—with all 10 golfers on each side playing for the first time in the event's history—amounted to more exhibition than competition. Even so, the Americans left little to chance, winning the opening hole in five of their first six matches. Fowler knocked off Haines, 2 and 1, while Cameron Tringale stormed to an 8-and-6 victory over Luke Goddard to ensure at least a tie and the Cup remaining stateside. It was Uihlein who claimed the winning point when he beat Stiggy Hodgson, 3 and 1.
"Everything just seemed to run against us from the start," lamented Dalgleish afterward. "We were always sort of battling uphill."
The collective American effort was notable in that every player earned a point, with Bud Cauley (3-0-1), Smith (2-1), Harman (2-1-1) and Morgan Hoffmann (2-0-1) claiming at least two. Yet if there was an MVP award for the event, it would have to have been shared by Fowler and Uihlein, each going 4-0 while carrying greatly different expectations.
Fowler, a 20-year-old from Murietta, Calif., had been a standout for Marucci on the winning U.S. side at Royal County Down in 2007. While others from that team decided against a Walker Cup encore, the two-time All-American at Oklahoma State never hesitated in putting his career aspirations on hold to play at Merion.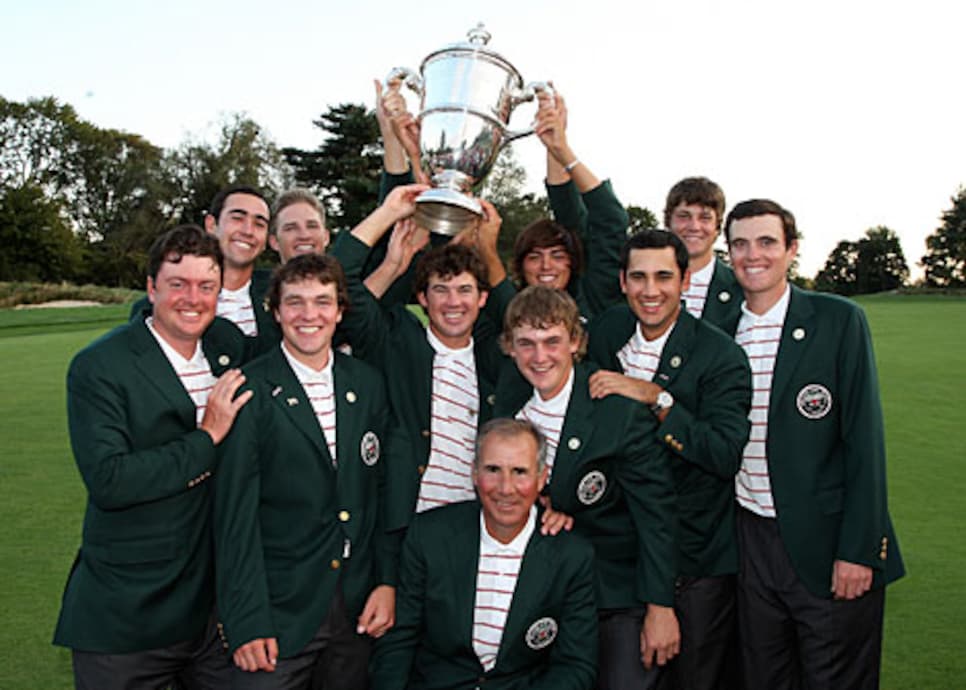 "I knew I could be a leader on this team," said Fowler, who, having improved his overall Walker Cup record to 7-1, will make his pro debut this week at the Nationwide Tour stop in Boise, Idaho. "Royal County Down was the best experience of my life. How could you turn down the chance to do it again?"
As for Uihlein, the 20-year-old former junior standout had struggled with his game last fall after enrolling as a freshman at OSU, and didn't begin to regain his form until the spring. While some questioned his inclusion on the team—he was one of the final two players selected after reaching the U.S. Amateur quarterfinals three weeks ago—he earned a bit of vindication with his performance.
"I just wanted to make the most out of the opportunity," Uilhein said. "It was everything I had hoped for and then some."
"No matter where we had won this, it would have been great," noted Cauley. "But what made it even more special was that we did it here, in Buddy's backyard. It makes us feel good to give him this experience."
No doubt, it was a poignant close to his four-year run as American captain, a job Marucci will hand over to Jim Holtgrieve in 2011. There will still be competitive golf in Marucci's future—he is the reigning USGA Senior Amateur champion—but the past weekend put an end to a portion of his life. "I don't know that there's another chapter in the story," he said.
So what then if the final pages weren't necessarily gripping. Marucci will take memorable, no questions asked.