News
Third Straight Cup For The U.S.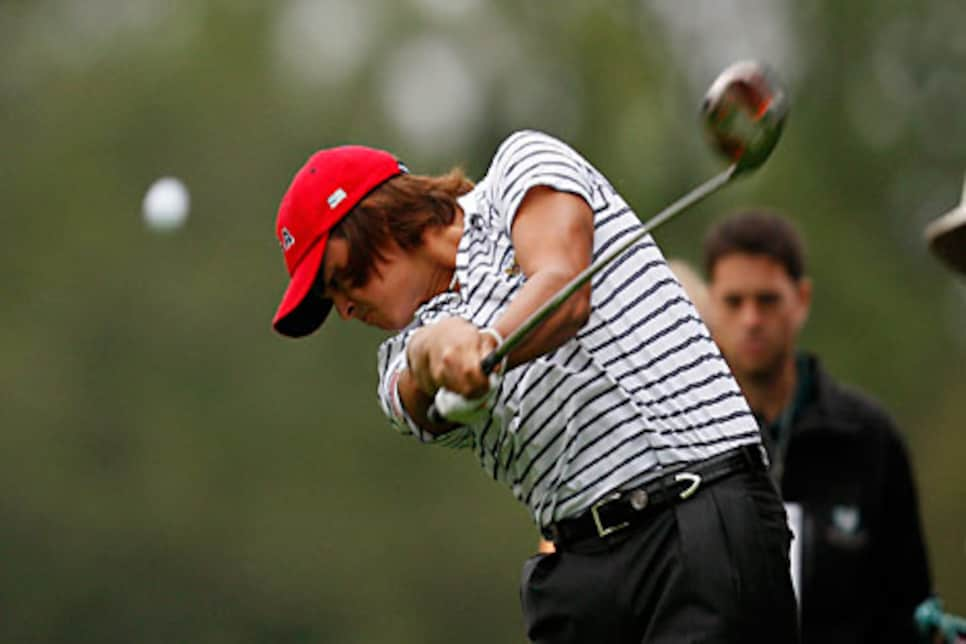 Fowler, who has announced he will turn pro in late September, finishes his amateur career with a strong showing..
Americans Ricky Fowler and Peter Uihlein won all four of their weekend matches, and Cameron Tringale won in an 8-and-6 romp in the third-largest winning margin by a U.S. player in singles.
Fowler's victory punctuated a solid amateur career. Tringale's victory ensured the U.S. would retain the title, and Uihlein's 3-and-1 victory over Stiggy Hodgson won it outright.
The U.S. team's margin of victory was the largest since an 18-6 win in 1997, at Quaker Ridge Golf Club in Scarsdale, N.Y. The Americans lead the series 34-7-1.
The U.S. team needed two points in the Sunday singles to retain the cup and 2½ to win the championship after going 3-1 in the morning's alternate-shot matches that provided an 11-5 advantage.
Bud Cauley halved his singles with Chris Paisley and finished 3-0-1 for the U.S., which also got individual wins from Morgan Hoffmann and Brendan Gielow.
George "Buddy" Marucci Jr., a Merion member, won his second straight title as U.S. captain. The 2008 U.S. Senior Amateur champion was a two-time Walker Cup player, in 1995 and 1997.
Scotland's Gavin Dear, in the first singles pairing, tried to kick-start a GB&I comeback, posting a 3-and-2 victory over Brian Harman.
"I like going out early. I feel as though I can go up," Dear said. "If the guys see that score, maybe it could give them some kind of incentive or a bit of confidence."
But the six-point deficit after the morning session proved too big an obstacle to overcome for the GB&I under captain Colin Dalgleish, who dropped his second in a row.
Sam Hutsby, Tommy Fleetwood and Niall Kearney supplied GB&sI's other singles wins.
Fowler and Uihlein, teammates at Oklahoma State along with Hoffmann, starred for the U.S. squad.
Delaying turning pro until after his second straight Walker Cup, Fowler played the 18th hole just once, Sunday morning when he and Cauley prevailed 1-up.
The 20-year-old from Murrieta, Calif., closed out his amateur career on the 17th hole and got a hearty handshake and hug from Marucci. He finished with a 7-1 Walker Cup record, unbeaten in four foursomes, and 3-1 in singles.
"I don't think anybody has played for the U.S. team in the Walker Cup the way Rickie has," Marucci said.
The 20-year-old Uihlein, from Orlando, Fla., was one of the last two picks to the 10-man team. He teamed with Nathan Smith, the oldest member of the American squad at 31, for a pair of alternate-shot victories and had wins of 2-and-1 and 3-and-1 in singles.
After three straight losses from 1999-2003, the Americans followed victories at Chicago Golf Club in Illinois and Royal County Down in Northern Ireland with a win at venerable Merion East, which was hosting a record 18th USGA championship.
Marucci's squad dominated on the same course where five-time U.S. Walker Cup member Bobby Jones played his first and last U.S. Amateur -- completing the Grand Slam with the latter -- and where Ben Hogan won the 1950 U.S. Open.
The U.S. won three straight from 1983-87 as part of an eight-title run between 1973 and 1987. GB&I won three straight titles from 1999-2003, before the current U.S. run.
The Americans raced to a 3-1 lead after Saturday's alternate-shot matches and held an 8-4 edge after the first day following three wins and four halves in afternoon singles.