News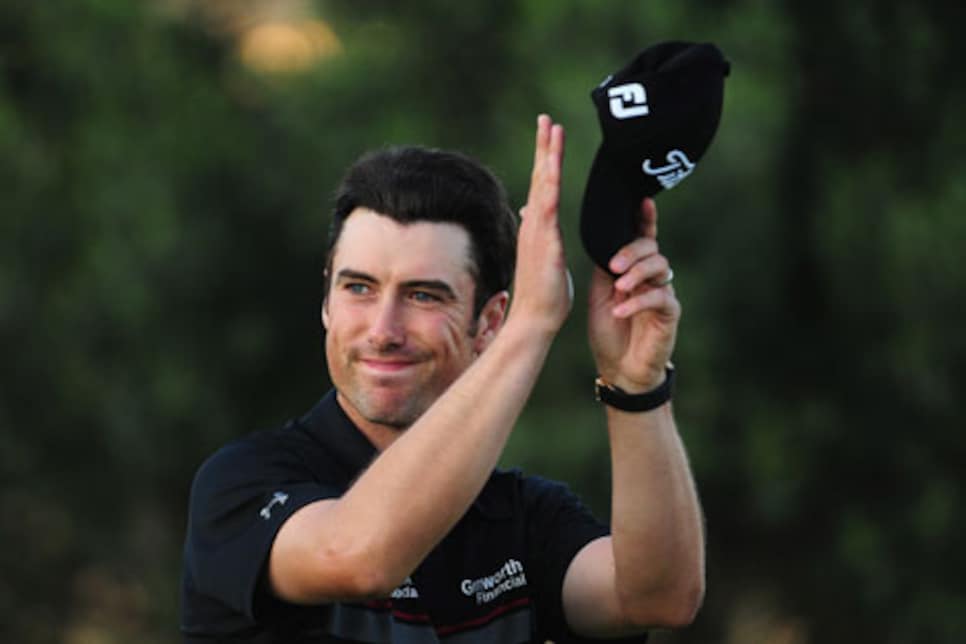 After a standout showing in majors, Ross Fisher captured the biggest win of his career.
CASARES, Spain (AP) -- Ross Fisher beat Anthony Kim 4 and 3 on Sunday to win the 36-hole World Match Play Championship final.
Fisher eagled the 22nd hole and birdied the next to take a 3-up lead at the Finca Cortesin golf course. Kim won the next hole before missing short putts at the next two, then squandering several chances to win holes down the stretch.
"Fortunately the putter finally got a little bit hot," said Fisher, who became the fourth Englishman to win the event. "It was slow to get going but when I needed some crucial putts, there were some really good putts I holed today."
Fisher never trailed his American opponent as the first 18 holes were played in cool, overcast conditions. The sun finally came out in the afternoon.
"It was tough. This course is very demanding, not only mentally but physically," said Fisher, who came through a playoff against Masters champion Angel Cabrera on Saturday. "Fitness was probably a big aspect."
Kim tried to rally on the second 18, putting his tee shot within 15 feet on the 24th hole and then making the birdie putt. But he couldn't hold it together around the greens, lipping out from about a foot two holes later.
"It was an up-and-down battle all day and I never seemed to get anything going. That's what cost me today," Kim said. "I never seemed to make a string of three or four birdies in a row."
Fisher, who won for the first time this season, earned $1.1 million and jumped into third place in the European Tour money standings.
"Obviously it's a huge stepping stone. To win it is huge and it's given me a massive confidence boost," Fisher said. "The only thing missing this year was a win. This kind of is a big cherry."
The 24-year-old Kim, who would have been the youngest winner in tournament history, improved his chances of playing in the season-ending Dubai World Championship by earning $666,000. The finish moved him into the top 35 on the money list.
"I gave it all I had but unfortunately it wasn't good enough," Kim said. "Of course I'm disappointed but what can you do? He played great."
Robert Allenby beat Cabrera in the third-place match. The Australian, who won the 18th hole to force sudden death, sank an 18-foot eagle putt on the first extra hole to secure the $368,000 prize. Cabrera earned $296,000.