News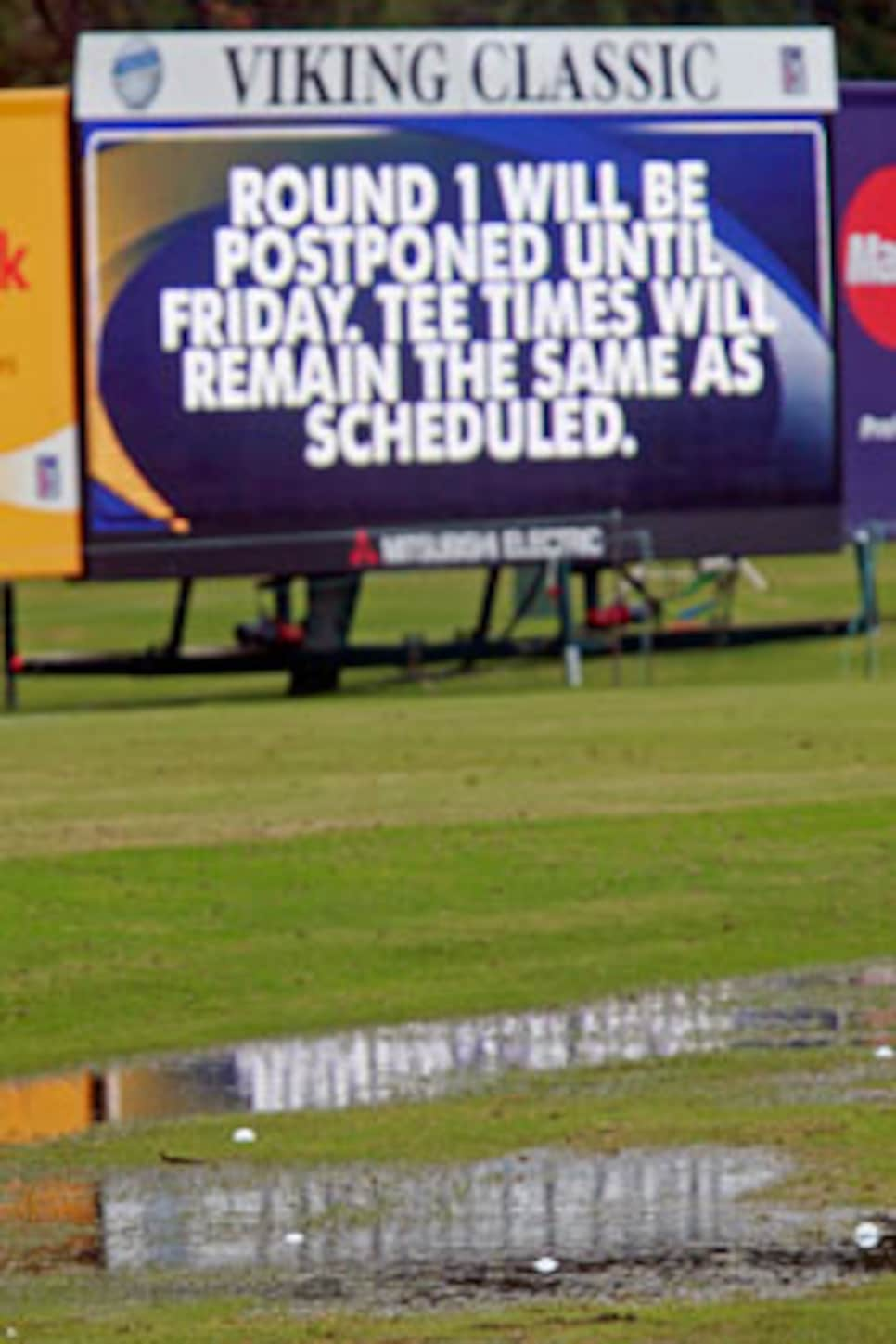 Thursday's washout will probably lead to a Monday finish.
MADISON, Miss. (AP) -- As an alternate who barely squeaked in, Shaun Micheel had to wait long enough to get into the Viking Classic.
Now, the former major champion is forced to wait even longer.
Thursday's first round was suspended because of impending rain and wet conditions at Annandale Golf Club, pushing the tournament into a Monday finish and leaving officials hoping for better weather on Friday.
"We're definitely into Monday right now," said Slugger White, the PGA Tour's vice president for rules and competition. "Monday for sure."
The first tee times for Thursday's round were pushed back three hours because of the saturated course. Officials suspended the round before noon.
Early morning rain soaked an already waterlogged golf course. The weather left pools of water on fairways and bogs of mud throughout the 7,199-yard layout.
"It's probably as bad as I've seen it in my tenure," White said. "There's no where for the water to go. It's just mud."
More rain was expected Thursday and the forecast gets no better Friday, when rain is expected about noon, White said.
The Viking Classic is the second-to-last PGA Tour stop this season. The final tournament is scheduled for Nov. 12. With no tournament next week, the tournament could go beyond Monday. White wouldn't speculate on that.
While White sloshed through muddy Annandale, players lingered around the clubhouse. Micheel quietly practiced putting. Micheel was the fifth and final alternate and got into the Viking when Tommy Armour III withdrew on Wednesday.
"It's tough being an alternate," the 2003 PGA Championship winner said.
Micheel received a major medical extension to play on the PGA Tour this season. The 40-year-old had shoulder surgery in June 2008. But he failed to make enough money through the first half of the 2009 season to keep the extension. That leaves him as an alternate at many late-season events.
"Playing that game of wondering if I'm going to get in is tough," he said.
Micheel is one of several players fighting to get inside the top 125 on the PGA Tour money list with just two tournaments left. The top 125 get exempt status on next year's tour. Micheel is at No. 177 with $257,074 and needs to finish runner-up at the Viking or take the $648,000 winner's check to attain his card.
At No. 102 on the money list and with two events left, Bill Lunde will get his tour card back for next season.