News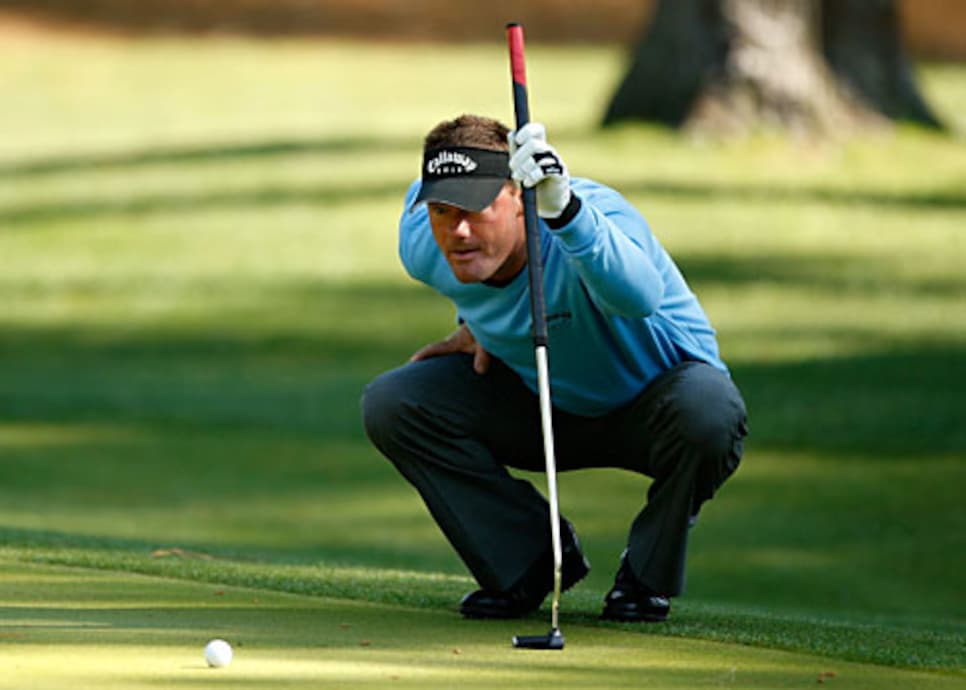 Alex Cejka's 64 was his lowest round in two years.
HILTON HEAD ISLAND, S.C. (AP) -- Alex Cejka wants to stay healthy this season. Playing his best golf wouldn't hurt, either.
Cejka, who missed more than three months last year because of neck surgery, shot his best round in nearly two years, a 7-under 64, to take a one-stroke lead at the Verizon Heritage on Thursday.
His bogey-free performance was capped by a 47-foot putt for birdie on the difficult, wind-swept 17th hole. That left Cejka with his first first-round lead since 2006, a shot ahead of two-time U.S. Open champion Lee Janzen and two in front of last year's Masters winner, Trevor Immelman.
"Just hopefully, everything stays well and I get healthy and practice hard," he said.
Cejka felt pain at the British Open last summer. Over the next month, he lost most of his strength on his left side. The diagnosis was a pinched nerve that required surgery last September to fuse vertebrae in his neck.
He only played sparingly until this season and his early results were not great, missing the cut three times in his first seven events.
Things perked up in March with a pair of 13th-place finishes at The Honda Classic and the Puerto Rico Open. The recovery took its biggest step yet at Harbour Town Golf Links.
He says he's about 85 percent healthy, but was pleased to manage Harbour Town's tiny, quick greens and narrow, tree-lined fairways.
"You've got to be a little bit lucky on the small greens and stuff to hit them all," Cejka said. "But I hit good shots today."
Cejka's round took off on the back nine with four birdies on his last seven holes. He made a 37-footer for birdie on No. 12, then punched from under a tree to 15 feet on the 13th hole for another birdie. Another 15-foot birdie putt came on the par-5 15th before Cejka's shot two holes later.
He was thinking lag up for a par. "Then I hit a good putt a little bit firm and just hit the hole right in the middle," Cejka said with a smile.
Janzen, who won the U.S. Open in 1993 and 1998, posted his lowest opening round of the season. He had a chip for birdie on his final hole, the ninth, that stopped a foot short of the cup.
"It looked like it was going in the hole, but never got there," he said.
Immelman wrapped up a rewarding, pressure-packed year that followed his 2008 Masters win.
He talked about his emotions playing his final few holes at Augusta National the bittersweet realization he'd no longer carry the distinction as the latest to wear the green jacket.
Immelman loved the respect and accolades that come from winning a major. Yet, he struggled at times after the victory trying to live up to his new profile.
"The way I look at it now, I can close the chapter on 2008," Immelman said. "It obviously was a breakthrough year for me. Now, I can take all that experience and put it to the test from now on."
Immelman came to his final hole, the ninth, a shot behind Cejka. However, he put his approach shot over the green in a bunker and could not make par.
Many of the top players passed on Harbour Town, including Immelman's successor as Masters champion, Angel Cabrera.
Tiger Woods and Phil Mickelson did not tee it up, either. Only six of the world's top 20 took part.
Boo Weekley's only two PGA Tour wins have been at Harbour Town the past two years and he dusted off the form he showed in 2007 and 2008.
Weekley, who chipped in on the 71st and 72nd holes to win here two years ago, did it again, this time from a bunker next to the par-5 second hole for an eagle to move four shots behind Cejka.
However, Weekley couldn't keep the momentum going and finished with a 69. Still, it was Weekley's eighth score in the 60s in nine career rounds here.
"I guess I got some kind of karma," Weekley said.