News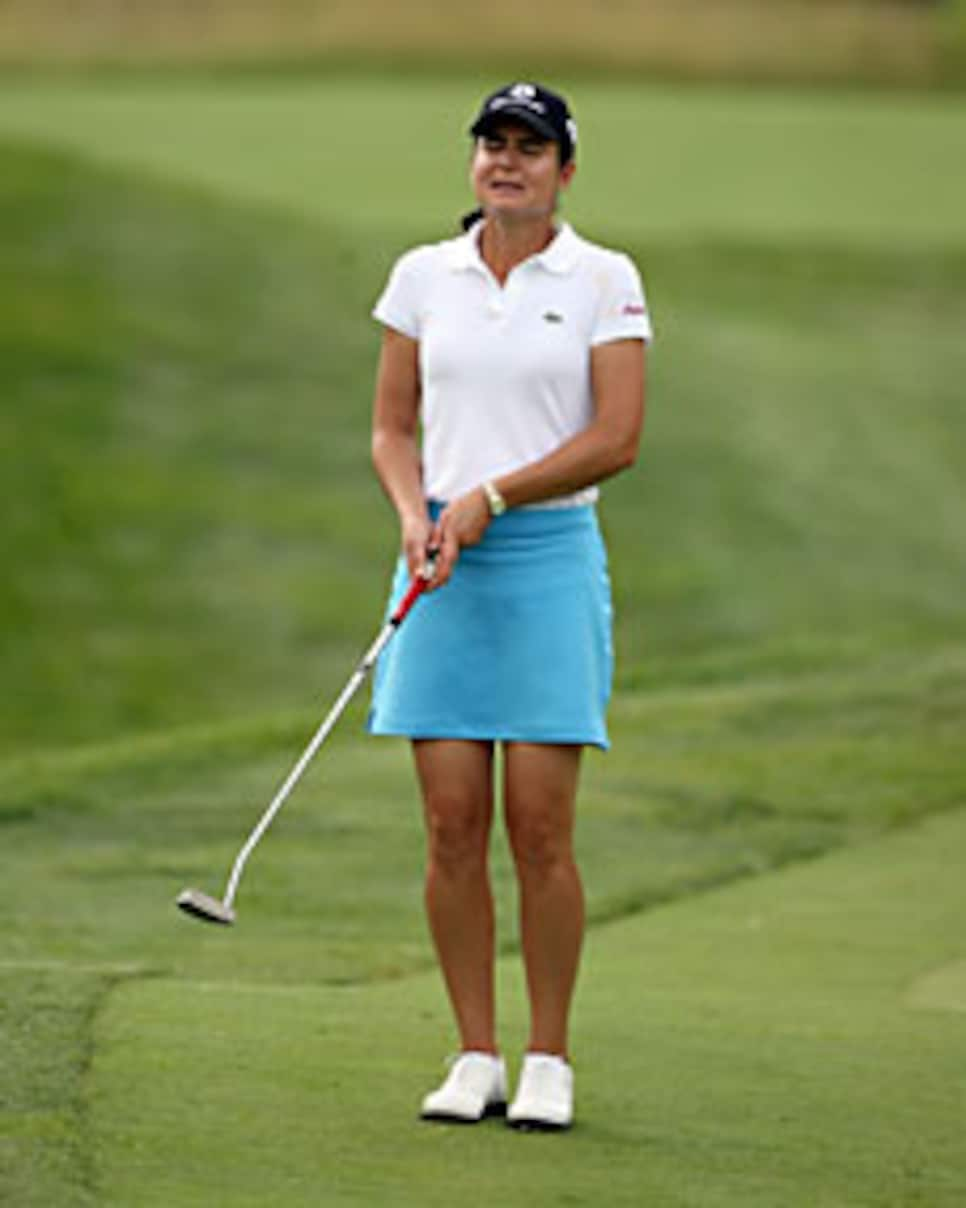 Once poised to pick up where Annika Sorenstam was leaving off, Lorena Ochoa has been surprisingly inconsistent in 2009.
Several years ago, Karrie Webb observed, "If you get hot at the right time you can win three majors and all the money." That right time is right now. Beginning with the McDonald's LPGA Championship, which ended June 14 in an Ana Nordqvist victory, the LPGA plays three major championships in eight weeks, the second of those being the U.S. Women's Open this week at Saucon Valley in Bethlehem, Pa.
Webb knows of what she speaks. The 34-year-old Australian has won seven major championships, including consecutive U.S. Women's Opens in 2000-01, and is the only LPGA player with the Golden Slam -- winning five different majors in her career. That became possible when she won the 1999 du Maurier Classic and then captured the 2002 Women's British Open when it replaced the du Maurier as a major.
In an LPGA season still waiting for someone to put their stamp on it --- after a dozen years of domination by Annika Sorenstam (7), Webb (2) and Lorena Ochoa (3), who have won all the Player of the Year titles since 1997 -- this year is a wide-open scramble in which seven players are within 30 points of each other on the Rolex POY points list. No one has won more than twice, and only Jiyai Shin and Ochoa have accomplished that, although Ochoa is winless in almost three months.
When Sorenstam stepped aside last year after winning 10 majors the path seemed clear for Ochoa to take over as No. 1. And while she holds that spot in the Rolex Rankings, she has not demonstrated it where it matters most -- in the majors. Ochoa is the only player with more than one major in the last 16 played, winning the 2007 Ricoh Women's British Open and last year's Kraft Nabisco Championship, but she was not a factor in either this year's Kraft Nabisco (T-12) or the McDonald's (T-23).
That was something that almost never happened for Sorenstam. Beginning in 2000, Sorenstam was in the top-20 in 28 of 36 majors, winning eight and finishing in the top-five 18 times. In short, she was always in contention, always gave the fans someone to cheer for. In an eerily silent Sunday at the McDonald's, galleries were trying to decide whether to cheer for Nordqvist, Shin, Kristy McPherson or Lindsey Wright -- players with whom large numbers of fans have no emotional attachment.
That Sunday at the McDonalds lacked not only Ochoa and Webb but Paula Creamer, Suzann Pettersen, Natalie Gulbis, Cristie Kerr, Se Ri Pak, Juli Inkster and Michelle Wie among the final top 10 on the leader board. In short, it lacked the players with name equity and fan identification. The only two players to finish in the top-10 in both the Kraft Nabisco and the McDonald's are McPherson (T-2 and T-5) and Wright (4 and 2).
So who are the hot players going into this U.S. Women's Open? In the three-tournament stretch that began with the McDonald's, seven players have finished in the top-10 twice: McPherson, Wright, Shin, Nicole Castrale, Song-Hee Kim, Yani Tseng and Stacey Lewis, a surprise contender in last year's U.S. Women's Open. No one was in the top 10 in all three events.
But the victory of Eunjung Yi in the Jamie Farr Owens Corning Classic over the weekend might indicate where to look for the winner of this year's U.S. Women's Open. Yi is yet another member of the remarkable Korean class born in 1988. Shin, who won last year's Ricoh Women's British Open, comes from that class as does defending U.S. Women's Open champ Inbee Park.
Song-Hee Kim, who has been playing well, is also in that group, as is I.K. Kim, Na On Min, Ji Young Oh and Angela Park, who is of Korean descent but was born in Brazil. The most consistent among them is clearly Shin, who has won five LPGA events in less than a year. She is the best bet to be the next Korean to do what only Se Ri Pak has done -- win multiple majors. Pak has five in her Hall-of-Fame career. Grace Park, Jeong Jang, Birdie Kim, Park and Shin have one each.
Here's another stat to consider when handicapping this year's field: In this century, 30 of the 38 LPGA majors have been won by non-Americans, although half of the eight U.S. victories have come in the U.S. Women's Open. Among the Americans to watch this year are Kerr, the 2007 Women's Open champion, Angela Stanford, McPherson and Creamer, who has eight wins at the age of 22 but is still looking for her first major.
A good indication of the inability of the marquee names on the LPGA to stand tall this season is the fact that Michelle Wie and Natalie Gulbis failed to qualify for the U.S. Women's Open. Even though between them they have a combined one LPGA victory, they draw crowds wherever they go. But they will be watching on TV this year.
The LPGA is entering an odd stretch of scheduling. After the U.S. Women's Open, the tour is off for a week, plays the Evian Masters in France and the Ricoh Women's British Open at Royal Lytham St. Annes, is off for two weeks and then plays the Solheim Cup. For a lot of players that means Saucon Valley is the last shot at a paycheck until the Safeway Classic near Portland, Ore. at the end of August.
Webb was correct: If you get hot at the right time you can win three majors and all of the money. In this particular year, that stretch will serve to better define who the top player is this year on the LPGA. And for some players it will be the last shot at earning some cash for a month and a half, but that's another issue.