News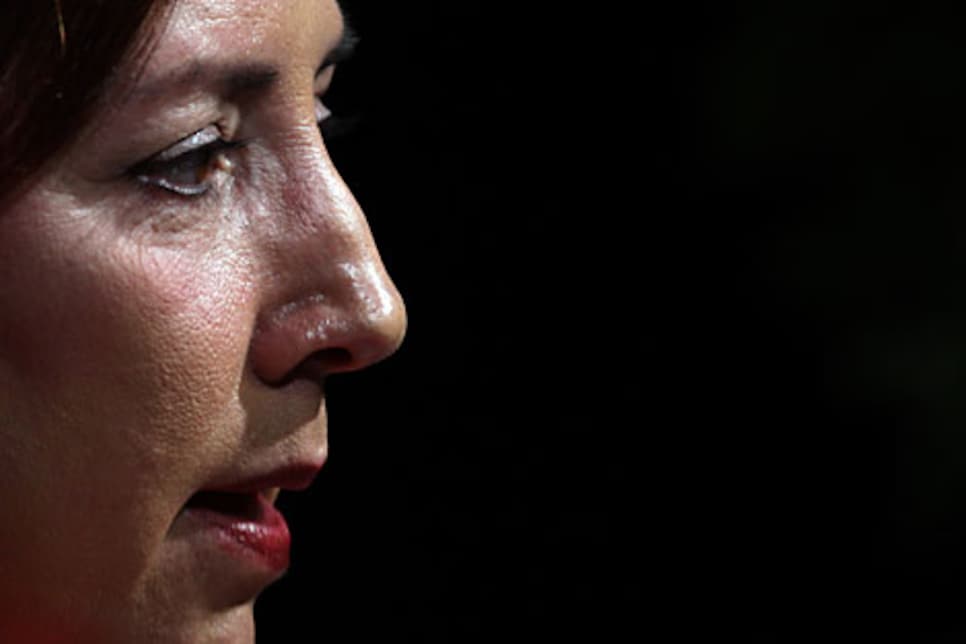 Silence from players this week at the U.S. Women's Open has done little to quell the swirling controversy around Carolyn Bivens.
BETHLEHEM, Pa. -- If there is such a thing as a good time for bad news, then this is it for LPGA commissioner Carolyn Bivens. With a letter signed by 15 prominent players calling for the commissioner's resignation freshly in the hands of Board chair Dawn Hudson the tour enters what amounts to a media black hole. Following the women's game's showcase event this week at the U.S. Women's Open, the tour won't be back in the U.S. until mid-August. And that raises the question: If a commissioner falls in the woods and no one is there to hear it, does it still make a noise?
The answer is almost certainly yes, but the timing of this stand by the players comes as the tour enters a crucial period in terms of putting together a schedule for 2010. With the Ginn Open, the Corning Classic and the Kapalua Classic already gone and events like LPGA Wegmans, Jamie Farr Owens Corning and the Michelob Ultra Open teetering, something needs to happen very soon to save them.
That something at the very least involves the rollback of hundreds of thousands of dollars in fee increases for each tournament championed by Bivens that are scheduled to go into effect next year. More dramatically, sponsors who have not had a warm and fuzzy business relationship with the commissioner may quietly support a change at the top in order to remain committed to the tour.
Bivens, who refused to talk to the media at the LPGA Championship in 2006 when three executives quit on the eve of the tour's flagship event and also avoided the media at this year's LPGA Championship rather than address questions about the dwindling schedule, has a perfect refuge for the next month-and-a-half as the tour disappears into off weeks and overseas events. Even if she is removed from office soon, it may well come out of the American media eye.
"This week we are focused on the U.S. Open and it's not an appropriate time to discuss internal LPGA matters," said David Higdon, the tour's chief of communications. "We all care deeply about the tour and are working hard for it's long-term success."
This week's U.S. Women's Open is run by the USGA, not the LPGA, and the tour has made it clear its stance is that it would be inappropriate to discuss internal matters during a USGA event. Next week is an off week for the LPGA, then it plays in France and England followed by two more off weeks before returning to Illinois for the Solheim Cup in mid-August. There is not another full-field U.S. event until the Safeway Classic in Oregon that last week of August. There are only five full-field American tournaments the rest of the year.
"I can't speak with you right now," Hudson, the LPGA Board chair, said when reached by Golf World. "I have so much to do of an internal nature I can't speak with you." Bivens has 18 months remaining on her contract and the cash-strapped LPGA would be hard-pressed to buy her out.
The players behind the resignation letter were low-keying things at Saucon Valley Country Club, site of this week's U.S. Women's Open, waiting to see how the Board responds. Paula Creamer, one of the 15 players who met over dinner last Friday at the Owens Corning event in Toledo and signed the letter calling for Bivens to resign said Tuesday that Hudson had yet to respond to the letter.
Cristie Kerr, the 2007 U.S. Women's Open champion and one of the signers of the letters, issued a statement at her pre-tournament news that did little to dampen news reports of a player mutiny.
"I want to take this opportunity to thank everyone for coming out to the 2009 Women's U.S. Open Championship. The USGA, as usual, has done a tremendous job preparing for this event and I speak for a lot of players when I say that we are very excited to be here this week. As a former champion of this prestigious event, I can honestly say that this course, this community and the field for this year's event should provide for a memorable week.
"I realize that many of the people in this room have questions and concerns about issues involving the LPGA. Out of respect for the USGA, I am asking that questions at this time be reserved for the U.S. Open or questions about myself and my golf. I cannot comment on matters pertaining to LPGA operations as I do not have an official capacity to do so.
"What I will say is that our player organization is very focused on how these difficult economic times affect our tour and we are actively working with our executive board and management to create the best product for our partners and fans. Let's talk about the US Open."
The Board consists of seven players and six independent directors with voting rights. According to multiple sources familiar with the situation, the seven players are 5-2 in favor of removing Bivens. That means only two of the six independent directors would need to support the insurgent group to remove the commissioner.
"I'd like to talk but I can't because I am on the Board,'" said Juli Inkster. "It would not be right to comment since it is an issue on which I have a vote." Inkster was one of those who attended the dinner in Toledo and signed the letter, according to sources.
Many of the players at Saucon Valley were just hearing of the news Tuesday. "I only know what I have read," said Carin Koch, a veteran player. Beth Daniel, a 30-year LPGA player and captain of this year's U.S. Solheim Cup team, summed up the prevailing mood: "All I can say is that it is sad," Daniel said at Saucon Valley. "We all love the LPGA and it is sad that it came to this."
What's not clear at this time is exactly what it has come to. One thing that is clear seems to be the difficult position sponsors or potential sponsors would be in if they are negotiating with a commissioner whose future is in doubt. While sources close to the situation say Bivens has no intention of resigning, that may become a decision that is not in her hands, but rather that of the Board.