News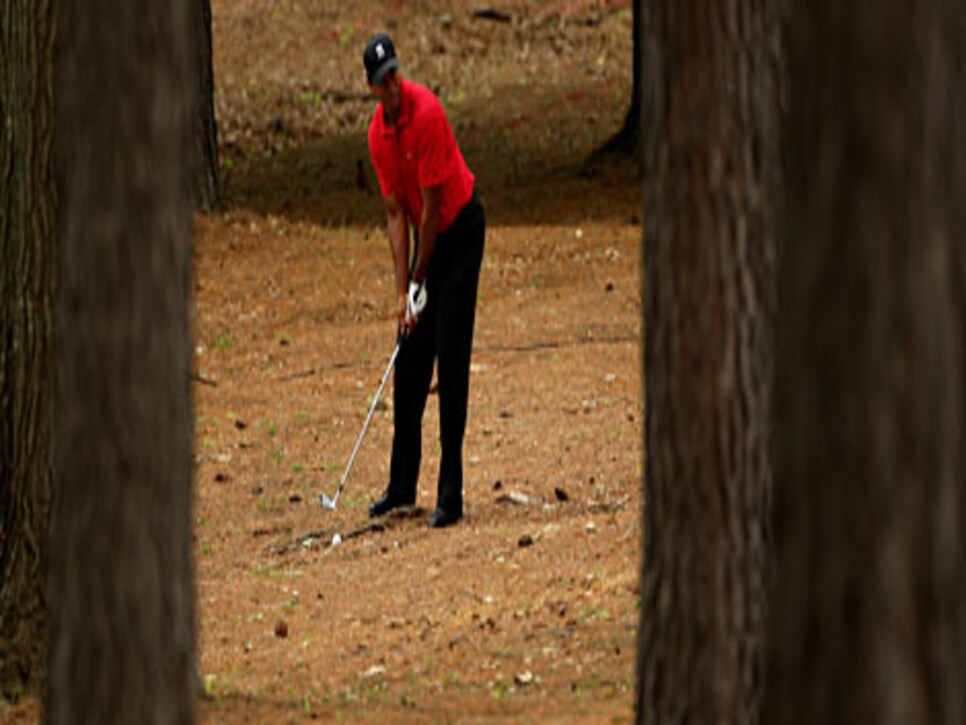 No matter how far off line he's hitting it, Tiger Woods has a knack for hanging around.
If it is true that you can learn a lot about a person by playing golf with him, you can learn a lot about a golfer when he doesn't have his best stuff. Tiger Woods has produced so many glossy moments through the years that the foundation for his greatness -- hanging in there when things aren't going well, keeping a mediocre day round from becoming a lousy one, overflowing with blue-collar grit even on the Sundays when red isn't working -- is often underestimated.
Woods isn't immune to messing up, but in cutting his losses so efficiently he paves the way for his victories, whether the salvage operation pays off with an immediate trophy or not. You might be able to win a U.S. Open on a broken leg -- as Woods did last year at Torrey Pines -- but the greatest champions believe that if their give-it-your-all, all-the-time mindset is ever fractured, there isn't a surgery to fix it.
As Ken Bowden, Jack Nicklaus' good friend and longtime literary collaborator, observed in his 2008 book Teeing Off, the Golden Bear did more than establish a numerical standard of major excellence for Woods to shoot for. There were the intangible qualities of perseverance, pride and attention to detail that underpinned the lofty record Nicklaus achieved. "If you want to be a great player, don't ever hit even one single shot sloppily or casually," Bowden writes. "In a near lifetime of studying the game's best, Jack is the only player I never saw do that. Whether in a short warm-up session before a casual round or finishing up the final holes of a major when out of contention, he appeared to give every shot his absolute best effort, both mentally and physically, all the way from the tee to a tap-in."
Woods may still trail Nicklaus in the majors count, but his dogged mentality and ability to minimize the damage is his equal. Because of Woods' more complete short game, it's probably even better.
Instead of gauging him at his best, consider Woods when his game is under the weather, as it was at the 2009 Players, when he clawed out a final-round 73 despite spraying the ball like a five-handicap not playing to his number. He was able to do it not only because of his extraordinary scrambling talent, but also his unwavering will. Woods finished eighth, earned $294,500 and was able to bank the round in his reservoir of resolve.
Woods played his first event as professional at the 1996 Greater Milwaukee Open. In 845 stroke-play rounds as a pro on the PGA Tour, only 39 times has he shot 75 or higher, just 15 of those at majors, where conditions are most difficult. (Only once has Woods shot in the 80s, a windblown 81 at Muirfield on the third day of the 2002 British Open.) Think, for a moment, how frequently you have a bad day at your job, whatever it might it be. Is it only 5 percent of the time, over your career, as it is for Woods, who has not scored 75 or higher since the first round of the 2007 Players and only eight times in the last five seasons? In a comparable span of 229 tournaments, Phil Mickelson, whose 36 victories are second only to Woods' in the Tiger era, has recorded 70 scores north of 74.
Assessing Woods' steadfastness another way, only 18 times in his pro career on the PGA Tour has he followed a round of 73 with a score of 73 or higher the next day. That has only occurred five times in majors, one of those the 2006 U.S. Open at Winged Foot not long after his father's death when Woods shot 76-76—152 and missed the cut, the only time he hasn't played the weekend in 47 major appearances as a pro.
When Woods won the 2002 U.S. Open the first time it was played at Bethpage Black, a three-stroke victory over Phil Mickelson, he did so with solid play from tee to green. Woods hit 41 of 54 fairways, ranking T-7 in driving accuracy, and he hit 53 greens in regulation, which topped the field. His ball-striking was so good, in fact, that his 123 total putts placed him T-53 for the week.
To pick off his 15th career professional major championship this month, Woods figures to require a similar display off the tee. While throughout his career Woods has found a way to hit a lot of greens even when he sprays his driver, a U.S. Open course is unforgiving, and Bethpage Black is no exception. In 2002 the top 10 finishers were ranked in the top 20 in driving accuracy for the championship except Scott Hoch and Sergio Garcia.
Given his tour de force off the tee at the recent Memorial Tournament and with his left knee now healthy enough for extensive practice sessions prior to his arrival at Bethpage, there is little reason to believe Woods won't be in full flight at the U.S. Open. But if things get a bit scratchy for him, expect nothing less than the grind-to-the-finish mentality he has displayed so many times. A bad shot is seldom followed by another, and a poor round almost always is succeeded by something better.
In many ways, Woods' path to his phenomenal success is best illuminated by what happens when the road gets bumpy. Detours don't often turn into dead ends, and even for someone as gifted as Woods, that is no easy thing.