News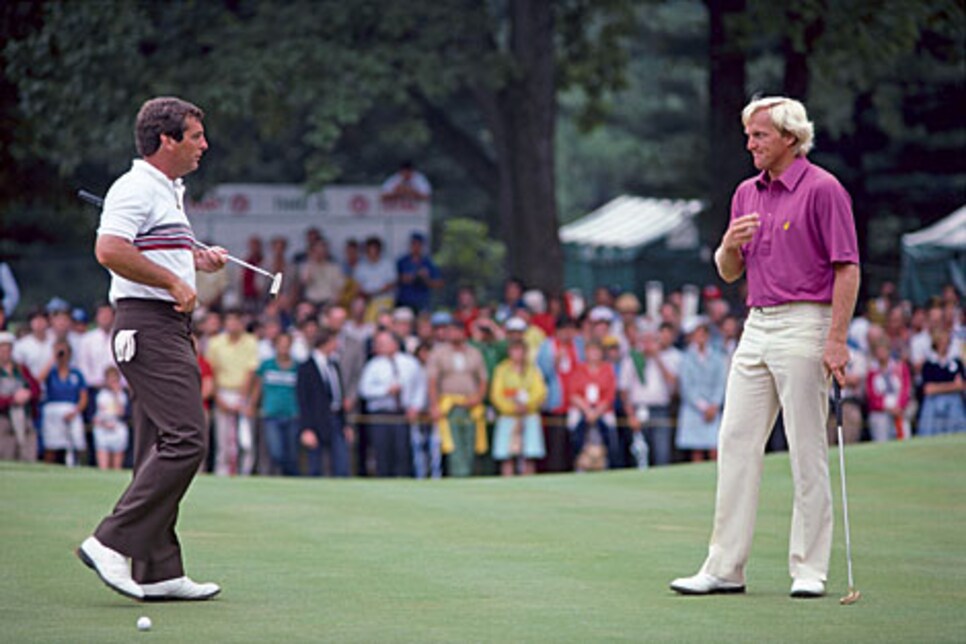 Those fascinated by the tradition of golf, the fact that amid so much change some things do remain the same, loved the Tiger Woods-Rocco Mediate playoff at the 2008 U.S. Open. It wasn't just because of the superstar-everyman dynamic, the ebb and flow of the play and the clutch shots by both men, or that Woods won despite a left leg more seriously injured than most people were aware. Golf's three other Grand Slam events break ties more swiftly, but after 72 holes Woods and Mediate had to (try to) sleep on it and come back the next day to settle things with another full round, the same way U.S. Open deadlocks have been broken since Willie Anderson defeated Alex Smith in 1901.
The Woods-Mediate playoff, which Woods won with a par on the 19th hole to end a dramatic day that riveted golf fans as few others have, was the 33rd in 108 U.S. Opens. By going to an extra day, eschewing sudden death or a few holes of aggregate overtime long since adopted by the other major championships, the U.S. Open's enduring format is a five-course meal in microwaveable burrito culture.
It is a stipulation that spans more than a century, linking the hickory, steel and graphite eras, icons from Bobby Jones to Ben Hogan to Jack Nicklaus, journeymen from Jacky Cupit to Lou Graham to Mike Donald. A full round (or more) was magical for Francis Ouimet in 1913, heartbreaking for Arnold Palmer (1962, 1963 and 1966), and overwhelming for Al Espinosa, who lost to Jones by 23 strokes in 1929 in one of the several years a 36-hole playoff was held at the U.S. Open.
The person with the best perspective on playoff formats may be Greg Norman, the only golfer to have lost major championships in every playoff style—18 holes, 1984 U.S. Open; sudden death, 1987 Masters and 1993 PGA Championship; multiple-hole aggregate, 1989 British Open—and he believes the U.S. Open has it right. "Any major championship should have an 18-hole playoff," says Norman. "Your whole tournament is based on 18-hole rounds. If you tie somebody, why not make the playoff 18 holes?"
U.S. Open playoffs have often been up-and-down affairs, going back to the first one at Myopia Hunt Club in 1901. Smith took the first lead and had a five-shot advantage through 13 holes but finished poorly and was overtaken by Anderson, whose 85 was good enough for the first of his four national titles after Smith missed a four-footer on No. 18 to force another 18 holes.
Of the nearly three dozen playoffs, the eventual winner assumed the lead first 16 times, meaning an early advantage is hardly a predictor of ultimate success. In four of the 10 best U.S. Open playoffs of all time (see ranking, page 42), Espinosa (1929), Sam Snead (1947), Palmer (1966) and Nicklaus (1971) all got out in front first but ended up losing. So did players ranging from Jones (1925) to Byron Nelson (1946) to Loren Roberts (1994). "My mind was free from care for defeat meant no loss of prestige," Ouimet later wrote of the 72 he shot to record a comfortable victory over British stars Harry Vardon and Ted Ray even though Vardon took an early lead.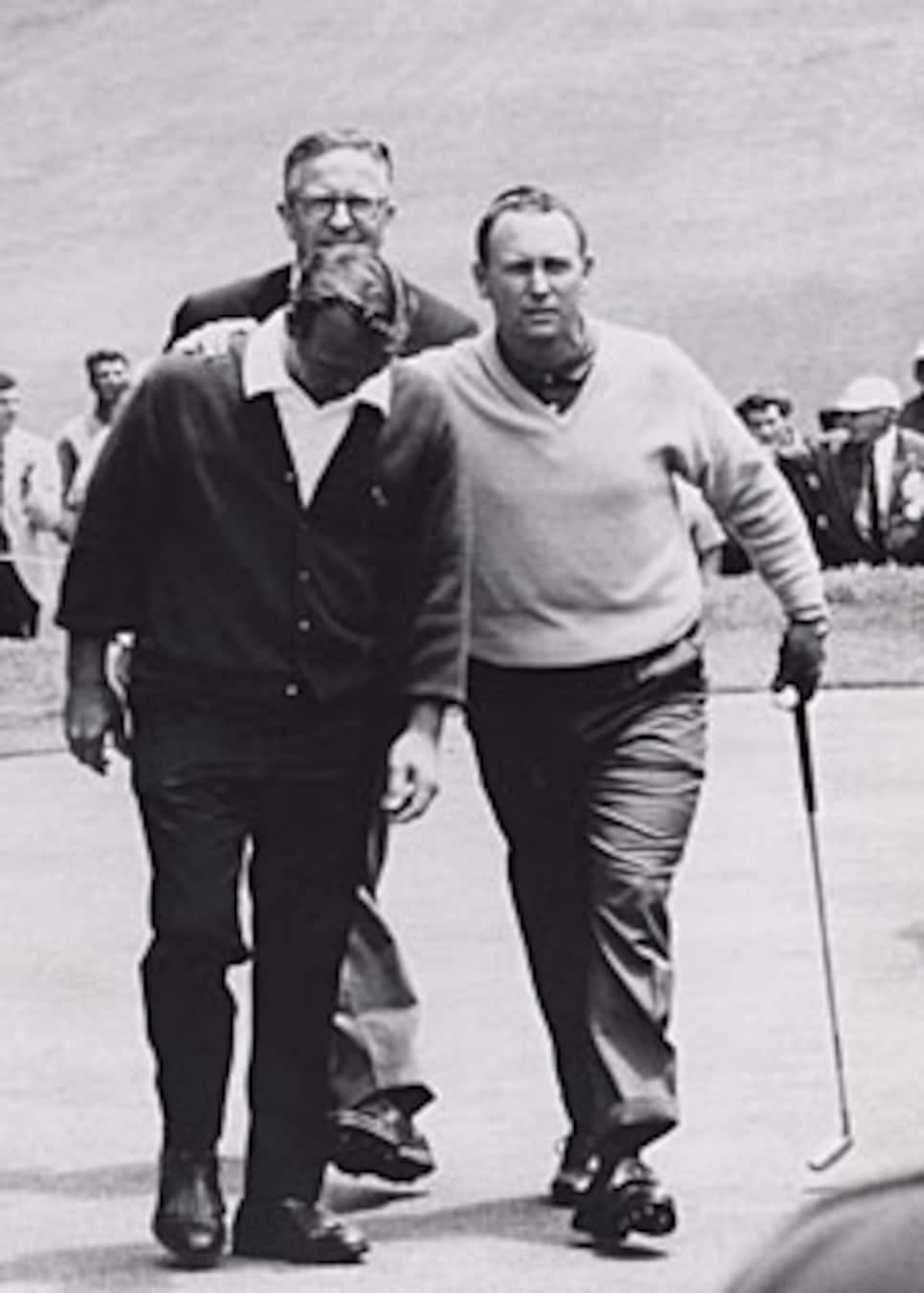 Ouimet's five-stroke triumph is the third-largest margin in 18-hole U.S. Open playoffs, after Fuzzy Zoeller's eight-shot bulge (67-75) over Norman in 1984 and Dick Mayer's seven-shot win over Dr. Cary Middlecoff in 1957. Starting with Hogan's victory over Lloyd Mangrum and George Fazio at Merion GC in 1950, playoff winners have averaged 70.75, the losers 74.10. "Don't write too much nasty stuff about us," winner Ernie Els told reporters after his 20-hole decision over Roberts and Colin Montgomerie at Oakmont in 1994, which he began by playing the first two holes four over.
The relatively wide margins and over-par scores by the losers have been influenced by several things, including courses that generally got tougher as the week went on, as the rough grew and greens got harder and faster. The 1991 U.S. Open at Hazeltine National, where Payne Stewart beat Scott Simpson, 75-77, was a prime example. "It got breezy, plus it just dried out so much more than it was in the first 72 holes," says Simpson. "Even Sunday, the ball was holding on the greens. It was a lot different. On the second playoff hole I remember hitting a 9-iron that landed by the pin and went 40 feet by. I was thinking, 'Oh my gosh, this is different.' "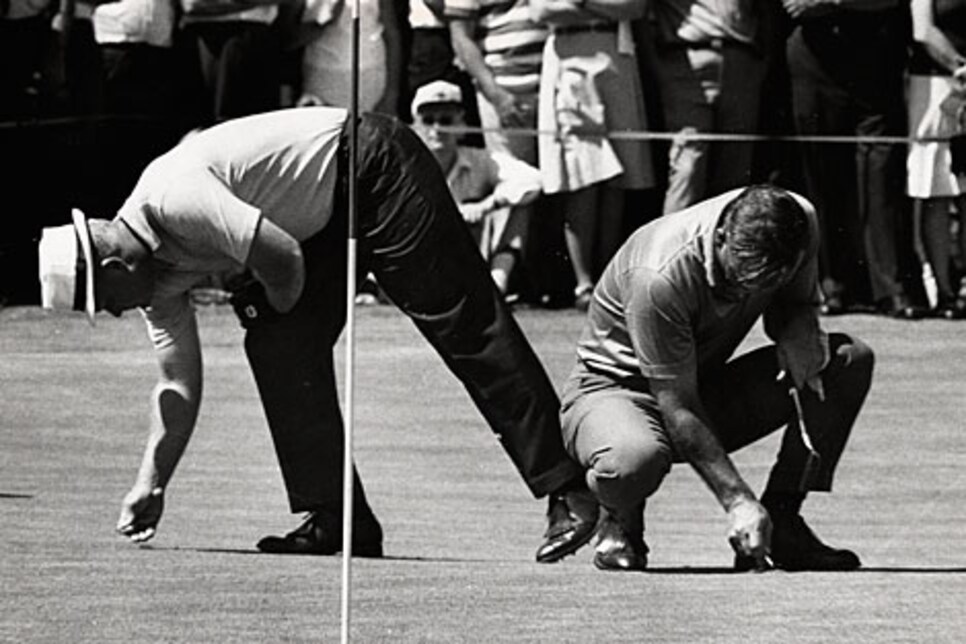 "Right, wrong or indifferent, that's the way we used to do course setup," says Mike Davis, who became the USGA's senior director of rules and competitions in late 2005. "We used to have a mentality that each day the course would get a little tougher. What you saw at Torrey Pines in 2008 that you haven't seen in the other playoffs was that the course did pretty much play how it had played the whole week."
Other factors have always affected playoff performances. Players are so keyed up after a tight finish, sleep doesn't come easily, even for seasoned campaigners. "You don't get to bed until 11 or 12 o'clock, and you don't sleep well," says Curtis Strange, who won the first of his two consecutive U.S. Opens in a playoff with Nick Faldo at The Country Club in 1988. "There is no way to sleep well. You're just anxious, and you want to go. It's a hard, long, drawn-out night." Adds Hale Irwin, who was 45 when he won his third U.S. Open in a playoff against Donald in 1990: "Who slept? I'm in the moment. I don't enjoy staying awake all night, but to suddenly turn off the switch and sleep eight hours? I'm not built that way."
If Craig Wood had a fitful night between his first 18-hole playoff and his second with Byron Nelson in 1939 at Philadelphia CC, it could have had something to do with seeing his 4-wood second shot bean a spectator, Bob Mossman, in the head on No. 18. Mossman was knocked unconscious and taken by an ambulance to a hospital, where Wood went to check on him that evening. The knockout blow for Wood came the following day at No. 4, where Nelson holed a 1-iron shot for an eagle en route to a three-stroke victory.
The mano-a-mano reality of a playoff creates a defensive mindset. "You don't often see a person shoot a real low score in that situation because you're so careful," says Strange, who shot a 71 to beat Faldo by four. "Ours was almost like a soccer match. Nobody wanted to make a mistake and we both played good, hard defense."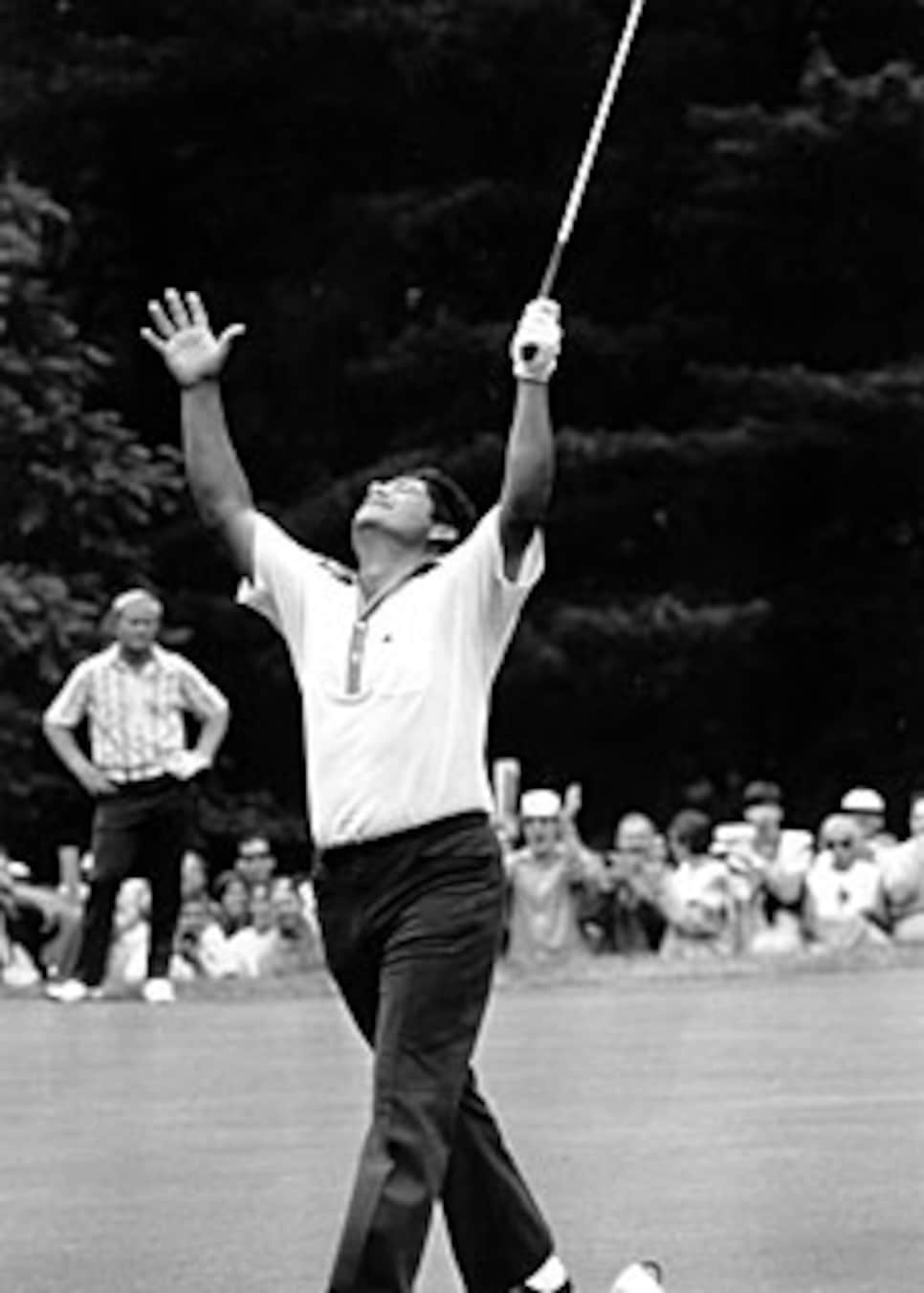 Augusta National GC decided prior to the 1976 Masters to go from 18 holes to sudden death, but the format wasn't needed until 1979 when Zoeller beat Ed Sneed and Tom Watson. The PGA of America abandoned the full round in 1977 and got to utilize the shorter playoff format that year with Lanny Wadkins defeating Gene Littler at Pebble Beach GL. A three-hole aggregate playoff was chosen beginning with the 2000 PGA, and again the new format was quickly tested, Woods defeating underdog Bob May at Valhalla GC. The RA had been the first of the majors to adopt a multi-hole, same-day method, beginning with the 1985 British Open, a format first used in Japan and by the Metropolitan (N.Y.) GA in the 1976 Met Open won by Martin Bohen.
The first 10 U.S. Open playoffs were scheduled 18-hole affairs, with another 18 holes mandated if the round ended in a tie, as it did in 1925 when Willie Macfarlane and Jones deadlocked at 75. Macfarlane claimed the title by one shot in the second 18. In 1928 the USGA stipulated the playoff to be 36 holes, and the extended format was needed when three of the next four championships ended in a tie. Johnny Farrell edged Jones by a shot in 1928, followed by Jones' rout of Espinosa in 1929. But in 1931 in steamy Toledo, Billy Burke and George Von Elm were deadlocked after 36 playoff holes and had to go another 36 (see Opinion, page 56). That marathon was enough to cause the USGA to vote the following January to revert to an 18-hole playoff. Not until 1953 did the USGA decide to go to sudden death in the event 18 holes hadn't determined a winner, but extra holes weren't required until the Irwin-Donald duel in 1990.
In 1999 an aggregate same-day playoff was adopted for the U.S. Senior Open and in 2007 for the U.S. Women's Open. "There is a difference between the U.S. Open and the Senior Open, there just is," says USGA executive director David Fay. "For the Women's Open, we take some satisfaction that it is at least a multiple-hole aggregate. Some of it has to do with finances. The Women's Open loses money."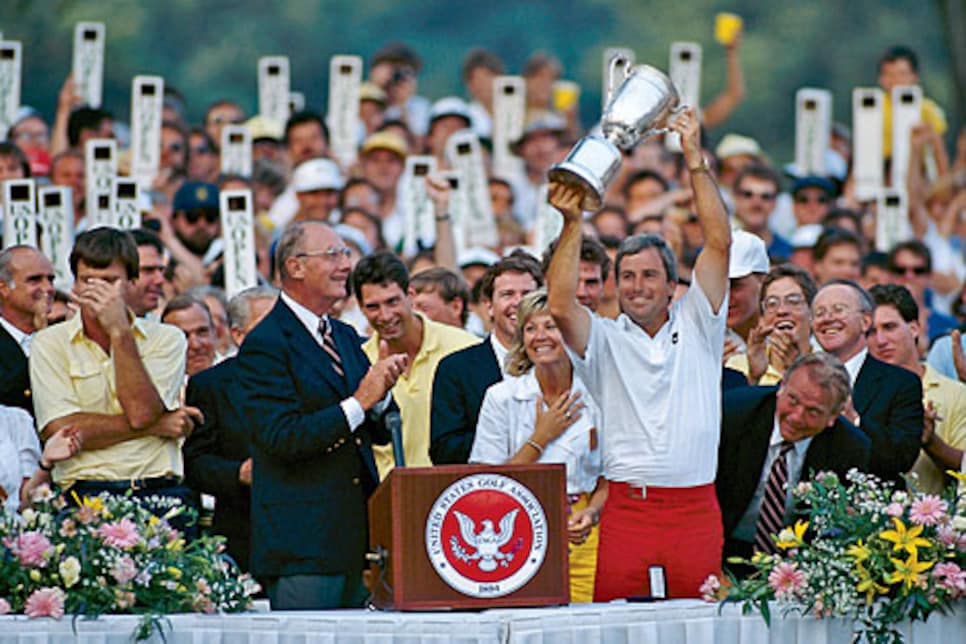 An 18-hole playoff costs the USGA about $500,000 in expenses, but last year's theater seemed to be a justification for whatever it would have cost. "It makes us feel better, let's face it," says Fay. "Think about the ones leading up to 2008. Retief Goosen played well against Mark Brooks [in 2001], but it wasn't exactly riveting. If you were to serve up playoffs for the next three years that weren't compelling, because of the players involved or the conditions—if it was a rainy mess on Monday—then you might reconsider. You never say never, but [a change] is not even actively discussed now."
"We're fine with it," NBC Sports executive vice president Jon Miller says. "It's a significant expense for us, but we understand what the USGA's desire is, what it wants to achieve with the playoff, and we are in lock step." The 2008 playoff was a ratings bonanza for NBC, drawing a 7.6 rating and 20 share, a 90-percent increase over 2001. NBCSports.com got its most traffic ever, for page views (9.14 million) and unique users (2.03 million). There were 1.5 million streams of video, each stream lasting 17 minutes according to NBC.
The hassles of an extra day have been lamented for decades. "I know it does not always work best for television, or for all the people involved—from officials to volunteers to media—but a tournament is a tournament," says Nicklaus. "It's not a television show, even though it is a television show, if you know what I mean. I think to win your national championship, the 18-hole playoff is a proper way to decide it."
Other former champions agree, citing the happenstance of an abbreviated playoff and the rewards of a longer one. "It shouldn't be something that is lost in one shot in sudden death," says Strange. Woods understands the convenience of a shorter method but likes the advantages of the current one. "I could totally understand [if the USGA abandoned the full round]," says Woods. "Then again, as a player who's playing well, you want to go more holes. The better player usually wins in more holes. [If] I'm playing well, I want more holes—not just one, or even three."
Nick Faldo, who won two Masters in sudden death, contends "if your pinning your whole career on it, you'd probably rather go the full distance." Mediate concurs, even though, like Faldo and Norman, he was a loser in the extended format. "It's just not right [to change]," Mediate says. "I would rather see the guy who plays another good 18 holes get the trophy. People say that it's on Monday, it's anticlimactic and all of that crap. But it's not when you have the trophy in your hand. I think it would have been horrible if Tiger and I went back out to the 18th hole."
Gary Player, a winner over Kel Nagle in a 1965 U.S. Open playoff, goes so far as to say, "To win a major championship in a sudden-death playoff is a tragedy." Since the USGA has gone to an aggregate style for its women's and senior championships, it would seem that if a change occurs, that's what would be in store for the U.S. Open.
"I would say it's 50-50," Davis says of the 18-hole format's long-term viability. "There is no momentum to change it. A part of me loves the history and really does believe the 18-hole format is correct. But I'm on the fence. I'd probably vote for no change, but if we did change, I'm not so passionate about it that it would upset me. I'm no different from the average fan—I don't like having to come back the next day. Last year was a rarity—we've had some playoffs where there isn't much suspense. But it's still a pretty neat thing. You can't lose sight of the fact that the U.S. Open and professional golf is entertainment. But the powers-that-be still believe 18 holes is the right thing to do."