News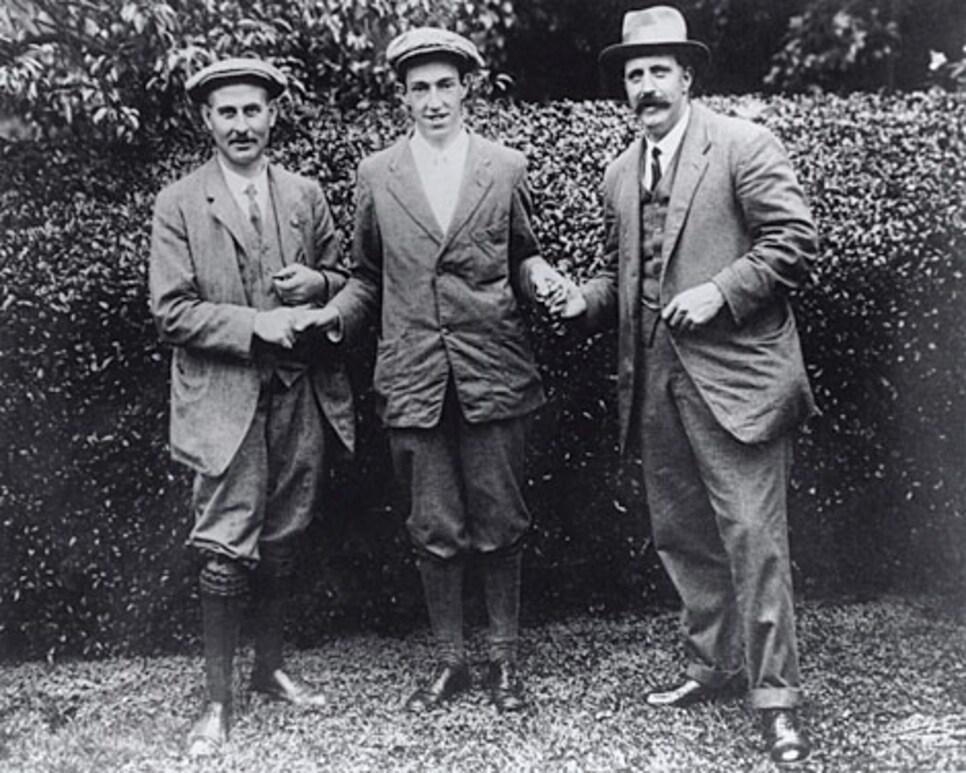 1. The shot heard 'round the world
__1913 Francis Ouimet (72) defeats Harry Vardon (77) and Ted Ray (78) at The Country Club, Brookline, Mass. __
Almost to a man our panel selected this monumental upset from nearly a century ago as the greatest playoff the U.S. Open has ever seen. The extra session was closer than the final score indicated, and the historical significance is too much to overlook. It's very likely the game would have eventually become popular in this country even if Ouimet had not pulled off the stunning victory, but the 20-year-old amateur's win over the British superstars truly ignited American golf. With an estimated 5,000 in attendance for the playoff, Ouimet held a one-stroke lead over Vardon on the 17th tee. Vardon drove into a bunker and made 5 while Ouimet hit his approach to 15 feet and made 3. The two-shot swing gave him a three-stroke lead and sealed the championship for the ultimate Cinderella. How much of a fairy tale was it? Think club team from England beating the Pittsburgh Steelers in the Super Bowl … in overtime.
2. Battle of wounded knee
__2008 Tiger Woods (71-4) defeats Rocco Mediate (71-5) at ­Torrey Pines GC (South), La Jolla, Calif. __
That a gimpy-kneed Woods needed 19 extra holes to dispose of the talkative, likable Mediate was among the most incredible golf of the television era. What was discovered later—that Woods played on a broken leg—is otherworldly.
3. The passing of the torch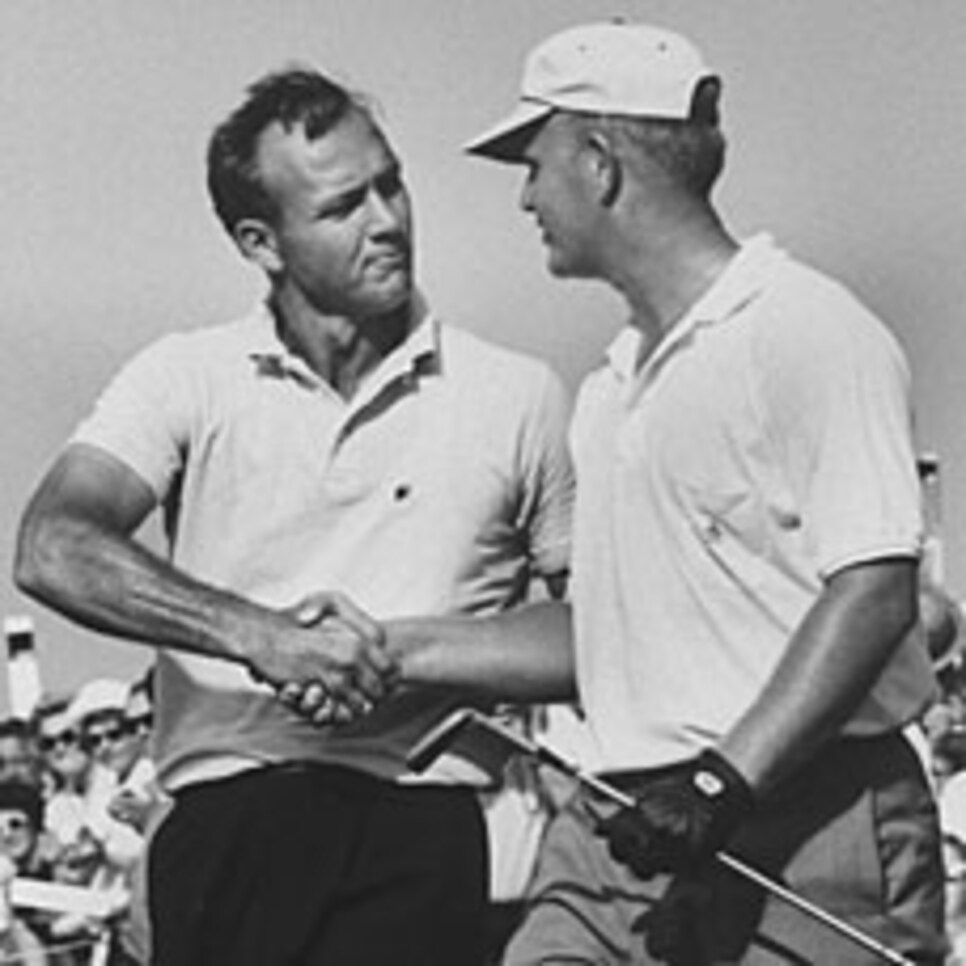 __1962 Jack Nicklaus (71) defeats Arnold Palmer (74) at Oakmont (Pa.) CC __
It was where the palace revolution began, but it wasn't so much a swan song for Palmer—he would win two of the next seven majors—but the emergence of Nicklaus, who beat Arnie on his own doorstep. The once-and-future kings tied at one-under 283. Nicklaus was up by as much as four strokes early in the playoff before Palmer cut the lead to one after 12 holes. The Bear, however, was resolute, taking the first of his record 18 professional majors and sending a message to Pennsylvania's No. 1 son and his loyal legions.
__1950 Ben Hogan (69) defeats Lloyd Mangrum (73) and George Fazio (75) at Merion GC, Ardmore, Pa. __
After playing 36 holes Saturday to force a tie in his first U.S. Open after the car/bus collision that, among other injuries, shattered his left leg, Hogan completed what writer Dan Jenkins called "the most incredible comeback in the history of sports." Hogan led Mangrum by one after 15 holes before a two-stroke penalty on Mangrum and a Hogan birdie on 17 sealed the outcome and enhanced the legend.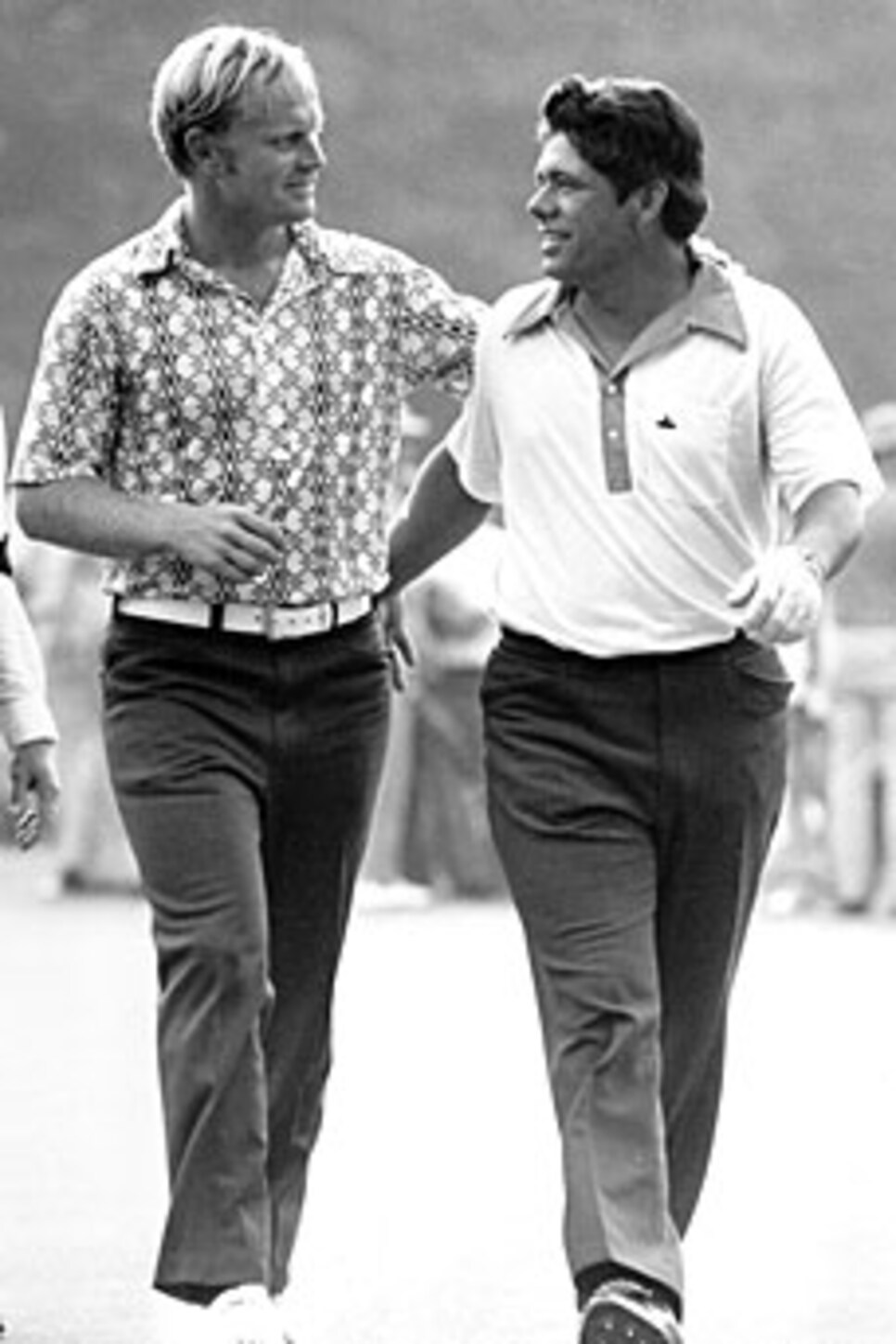 1971 Lee Trevino (68) defeats Jack Nicklaus (71) at Merion GC
Best remembered today because of the fake snake Trevino tossed at Nicklaus on the first tee—Lee's daughter is said to have left it in his golf bag—this Open proved to be the Merry Mex's finest hour. After making bogey on the first, Trevino played flawlessly thereafter, with birdies on Nos. 8, 12 and 15 to shoot two under and defeat Nicklaus by three. In three weeks' time Trevino would add the Canadian and British Opens to his portfolio, a trio of wins that has been matched only by Tiger Woods in his remarkable 2000 season.
1955 Jack Fleck (69) defeats Ben Hogan (72) at Olympic Club, San Francisco
Fleck, the unknown 33-year-old club pro from Bettendorf, Iowa, held a three-stroke lead after 12 holes of their extra session, when, despite advancing age—Hogan was nine years older than Fleck—and a putting stroke that was no longer magical, Bantam Ben began the comeback that everyone knew would result in his fifth Open title. Hogan cut the lead to one with one to play, but he slipped while hitting his tee shot on the last and hooked his drive into deep rough left of the fairway. Hogan made a double bogey to lose by three, and the Open had its most unheralded champion.
1947 Lew Worsham (69) defeats Sam Snead (70) at St. Louis GC, Clayton, Mo.
Symbolic of Snead's frustration in the U.S. Open, this was perhaps the cruelest loss in tournament history. Tied on the final green in the playoff, Snead was about to putt when Worsham interrupted, questioning whether Snead was away. He was, by an inch—30½ to 29½—but the measurement so unnerved Snead that he hit his downhill, left-to-right putt too softly. The ball didn't keep its line and turned away from the hole. Worsham made his putt for his only major victory.
8. Jones' major breakthrough
1923 Bobby Jones (76) defeats Bobby Cruickshank (78) at Inwood (N.Y.) CC
Although his final-round 76 had Jones completing regulation as if he were, in his words, "a yellow dog," he finished like a pit bull. Tied at the last extra hole, Jones hit his approach from the rough to eight feet. Two putts later he won the first of four U.S. Open titles.
1966 Billy Casper (69) defeats Arnold Palmer (73) at Olympic Club
As with Fleck-Hogan at the Olympic Club in 1955, the 1966 Open denied fans the chance to see one of the all-time greats provide one last memorable moment. Unlike Hogan, however, Palmer's meltdown was self-inflicted as the King not only collapsed in the final round, but also in the playoff. Two up at the turn, Palmer made three bogeys and a double on the back to lose in his last, best chance to win a second U.S. Open title.
10. Precursor to the slam
1929 Bobby Jones (141) defeats Al Espinosa (164) at Winged Foot GC, Mamaroneck, N.Y.
This Secretariat-like performance—that began late because the participants went to Sunday religious services—inspired the greatest single season in major championship history. Espinosa, as it turned out, didn't have a prayer. Jones shot 72 in the morning and was 12 strokes ahead after the first 18. After a 69 in the afternoon, Jones won the playoff by a staggering 23 strokes. One year later Jones would win the U.S and British Opens and the U.S. and British Amateurs, the only player to win all four majors in a calendar year.