News
Has The Black Lightened Up?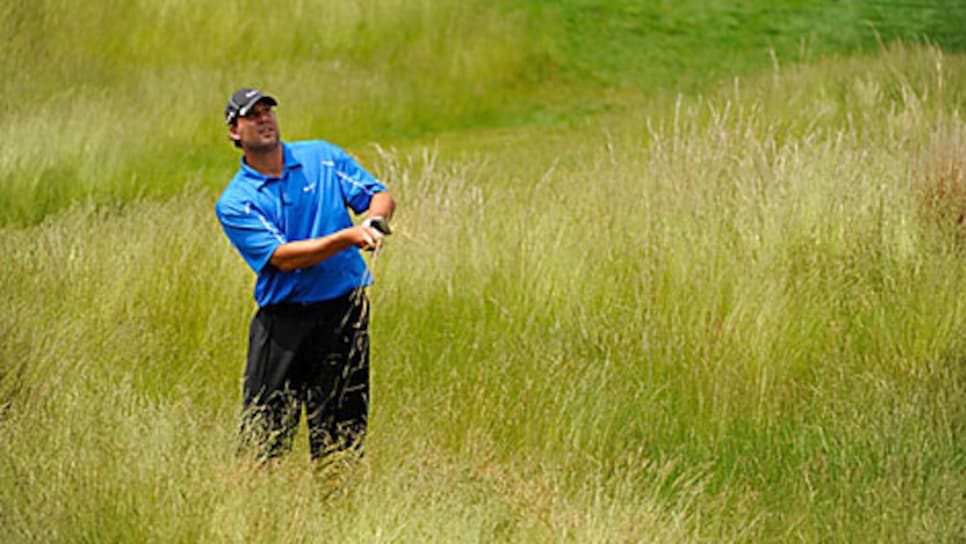 Pittsburgh Steelers quarterback Ben Roethlisberger's 81 in the Golf Digest U.S. Open Challenge may have proved the Black can be had.
Pardon the interpretation, but is it possible that what happened at the fifth major -- last week's Golf Digest U.S. Open Challenge -- provides a hint of coming events during this week's U.S. Open? Which is to say, might Bethpage Black play easier than it's name and reputation would indicate? Bethpage Gray, maybe? In case you missed it, all three celebrity participants in Friday's affair broke 90, a possibility that never crossed my mind after watching celebrities grunt and groan during the first Challenge one June ago at Torrey Pines. Tony Romo, a rather accomplished player whose real job is quarterbacking for the Dallas Cowboys, had 84 there. Not bad. But Justin Timberlake, my favorite entertainer, put up a 98 and Matt Lauer, star of the Today Show, rolled in with 100. I figured this year's group would be lucky to finish at Bethpage, let alone finish better, and I was wrong.
Ben Roethlisberger, the Pittsburgh Steelers' championship quarterback, carded 81, Michael Jordan, retired basketball god, had 86 and Timberlake 88. That's a ten-shot improvement for Timberlake. I know he's working with Butch Harmon, but this is worth investigating. Even the amateur fourth who won the contest, Larry Giebelhausen, signed for 101, or 13 swings better than John Atkinson (more about him later.) If I'm Mike Davis, the U.S.G.A. senior director of rules and competitions, I'm scratching my head. Except Davis already proved in San Diego that he is amenable to allowing the world's best golfers a chance to navigate four rounds without having to regrip their ball retrievers. There's every indication that Bethpage Black, starting Thursday, will be a happier place than in 2002, when the set-up was maniacal.
Still, I wonder whether Big Ben -- who birdied No. 15, not an easy task--might have left some clues out there. For answers, I went directly to Sam Weinman, Senior Editor of Golf Digest Digital, the same frequency to which you are now tuned. He made the brief 6 hour, 20 minute tour with Friday's glittering gathering and lived to write about it. "There were some good shots, yeah," said Weinman, "although it was inevitable (because you can read a novel in 6 hours and 20 minutes) that you got the idea they were struggling. Then you looked up, saw Timberlake was 15-over with only a few holes to go, and realized he had a chance to put up a decent number. I think if you hit the ball in the fairways, which are reasonably wide, you can play the course and on these greens, which are fairly flat, you can make putts. That said, if I had played last Friday, I'd still be playing. And what's today? Tuesday?"
Bethpage Black was soft for the Friday fun, and it's getting softer by the minute. June gloom, a California phenomenon, has attacked Long Island, where it rains every day, sometimes twice. This might favor the long hitters, and probably will eliminate a spate of short hitters, but it's still about a ball and a stick, nothing more. Alas, a lot of the laughter from Friday turned to sorrow with the news that John Atkinson, who lived a dream one year ago at Torrey Pines, passed away at age 40. He was fighting lung cancer last June, and he knew he was on the clock. Remember that the next time you make double bogey and think it matters.