News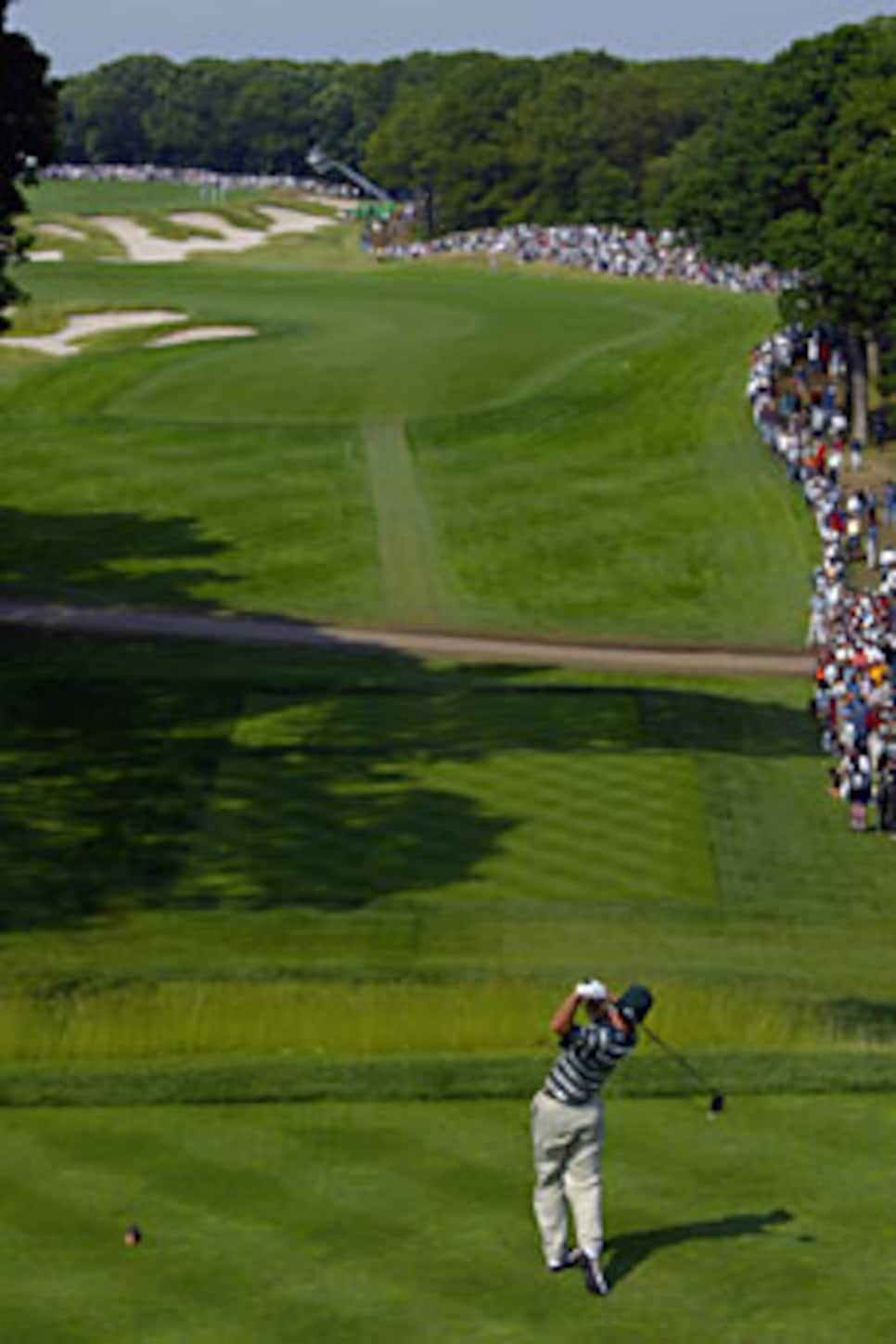 The sheer length of certain holes at Bethpage Black may not be as overwhelming this time around.
The last time the U.S. Open was played at Bethpage State Park's Black Course, the first Blackberry smartphone had just been introduced. This year, golf writers will be Twittering from the fairways.
But that won't be the only technological change making the 2009 U.S. Open a somewhat different scenario than the version at the same venue seven years earlier. Whether it's improvements to clubs, balls and shafts or even the mowers being used, Bethpage's U.S. Open this year vs. 2002 will be like comparing a touch screen to a rotary dial.
Players could be hitting the tee shots as much as 25 yards farther than they did this same week seven years ago, with better designed equipment more precisely tuned to their individual specifications. Moreover, even the improvements in the superintendent's technological capabilities seem destined to make the possibility for more uniform scoring conditions even more likely. In other words, the beast that is Bethpage Black could be belittled by the behemoth that is modern technology.
The first thing to consider is distance. "I wouldn't begin to attempt to predict what might happen at one event. There are just so many variables," says USGA Senior Technical Director Dick Rugge. "The statistics say they should be about 6-7 yards longer than they were in 2002. But if anything, I guess I wouldn't expect it would follow the statistics." Rugge has good reason for that line of reasoning. Driving distance average for the week at Bethpage Black in 2002 was a soggy 265.5, some 14 yards behind the 2002 driving distance average on the PGA Tour. Still, it seems fairly logical to assume that without horrific weather, the driving distance average will be much longer in 2009, probably in the mid- to high 280s, or similar to last year's near 290-yard average.
What's different? Well, first of all there will be more players using drivers that have a large area of the face that has a high spring-like effect. In 2002, that area of high ballspeed was a few square millimeters smaller. What's more, club designers today actually have to slow down the center of the face because it's so easy to engineer a single point on the face that produces the maximum allowed springiness.
But there's more to it than that. Players are better matched to the golf ball than they were seven years ago. To be sure, the majority of the field in 2002 had already switched to multilayer urethane-covered balls, but there were still a handful of balls in play that year with windings.
Moreover, players now routinely utilize state of the art radar-based ballflight monitors to get precise readings on launch angles and spin rates to optimize their driver and ball combination. The TrackMan launch monitor, which has become the industry standard, didn't even exist as a product in 2002.
What's also changed, though, is the players and the designers' approach to the tee ball, particularly in the area of the shaft. Leading up to the early part of this decade the shaft's main mission was about control through a stiffer tip section. Now, says Jamie Pipes, director of product development for shaftmaker UST Mamiya, the mission is all about speed.
"Almost everything we've done since then has been to optimize the idea of high launch and low spin," he says. "The trend has been to do everything to hit it as far as you can. What we've been able to do is to make the tip more flexible but more torsionally stable to help increase speed."
And just like golf balls, today there are more options at a player's disposal to optimize launch conditions. Most shaft manufacturers might have had one or two shafts that would work for elite players back in 2002, now they have half a dozen or more.
"Graphite can always be made lighter and stronger," says Pipes. "I think we're a lot closer to the ideal than we were in 2002. And we can make it lighter and just as stable and that means a player can really lean on it and trust that the ball's going to go where they're aimed."
What's also been better engineered in 2009 than it was in 2002 is the long iron, or more exactly the long-iron replacement otherwise known as the hybrid. At Bethpage in 2002, 70 players carried either a 2- or 1-iron. Today on a typical week on the PGA Tour you won't find a single one of those, while the number of hybrids in play is well over 100. Given that Bethpage will feature more 500-yard-plus par 4s (three) than any other major championship in history, expect even tour players to be hitting a lot of low-lofted clubs into Bethpage's elevated greens. Hybrids may make that task a little easier.
"With all of our testing with tour players, the hybrids of today get a little bit more spin and a higher launch angle than a long iron," says Tim Reed, vice president of research and development at Adams Golf. "So they typical hybrid of today is going to carry farther and stop a little sooner."
The approach to wedges is different, too. Seven years ago only five players carried more than two wedges with lofts above 50 degrees. Now, it is not unusual for a player to put in a 64-degree wedge in certain conditions. Phil Mickelson has done it in the past, and Kenny Perry had one in play for this year's Masters.
One other obvious area that's changed is the grooves on wedges, which are more aggressive today than they were in 2002. Clubs with specially CNC milled grooves like the Titleist Vokey Design Spin Milled, the Cleveland's CG 12 Zip grooves, Callaway's Mac Daddy Grooves, TaylorMade's Z TP all are a dramatic improvement in channeling debris and imparting spin on shots from the rough and short greenside pitches and chips, compared to the standard groove being used on tour seven years ago.
The improved grooves could mean that the U.S. Open's most prized statistic, "cost of rough," might not be as high. In 2002, a shot in the rough meant more than half a stroke penalty (actually 0.535). But with the improved wedge grooves in recent years, players have been more adept at scrambling. For example, at last year's U.S. Open, the cost of the rough was just 0.396.
Of course, this year will mark the last year that such grooves will be allowed in the U.S. Open. The new groove standard could reduce spin by as much as 60 percent on these shots, according to testing done by Golf Digest in 2007.
Two rule changes that won't take something away from players and may make for more success can be found in drivers and putters. The USGA opened up the rules allowing for the use of adjustable clubs, and a large percentage of the field will be using adjustable drivers like TaylorMade's R9 and Nike's Dymo Str8-Fit that allow for better matching of a player's flight preferences to his clubface angle, loft angle and lie angle. Several years ago, the USGA also removed the plain-in-shape stipulation for putters, allowing for more extreme mallet putters that are designed with ultra-high moment of inertia for improved stability and distance control. Still not the most popular styles on tour, you will most likely see more unusually shaped putters at Bethpage in 2009 than you saw in 2002.
But we had graphite shafts, mallet putters, high-lofted wedges, multilayer golf balls and titanium drivers back in 2002. The biggest change from seven years ago might be a few things you can't see. All of them have to do with maintaining the course at championship conditions.
Much has been made of the graduated cutting of the rough that has been employed at the U.S. Open since 2006, but former USGA director of rules and competitions Tom Meeks adopted a two-tiered approach to the rough at Bethpage Black seven years ago, saying at the time, "The day of sand wedge pitch-out rough is a thing of the past."
Instead what will really be different from 2002 will be the idea of consistency. That starts with a device the USGA began testing four years ago and has instituted at the last three U.S. Opens. Called the True Firm, the vacuum cleaner-sized contraption known internally as "the Thumper," literally tests the level of rebound of the turf. A superintendent can check the levels throughout the course to ensure that every green and every fairway are displaying the ideal level of firmness. It's not quite like playing the U.S. Open indoors on carpet, but it's getting close.
Closer still to perfection are the greens mowers that Bethpage superintendent Craig Currier will have at his employ this year. The Jacobsen Eclipse doesn't quite cut the grass unassisted, but almost.
"They let you set all the mowers to have exactly the same reel speed so every mower is cutting exactly the same," Currier says. "You can set the frequency of clip so that all the greens are getting cut in theory the same way."
Currier worries that this level of perfection and consistency sets an unreasonable expectation for everyday play at golf courses across the country. The U.S. Open is one week, not a lifestyle. But for one week, this year's U.S. Open could be a quantum leap forward from where it was just seven years ago. Even the yardage books provided to players with have lasered measurements and green contours mapped seemingly to the millimeter. Players will be stronger and better equipped to meet a course that has been teased to the ultimate degree.
"The conditions were perfect in 2002, but we are a lot more precise with everything today than we were back then," says Currier. "But you know, if it rains all that goes out the window." Which, of course, is exactly the thing that happened in 2002. All the technology in the world, whether it's in the superintendent's hands or the player's bag, can't overcome Mother Nature.