News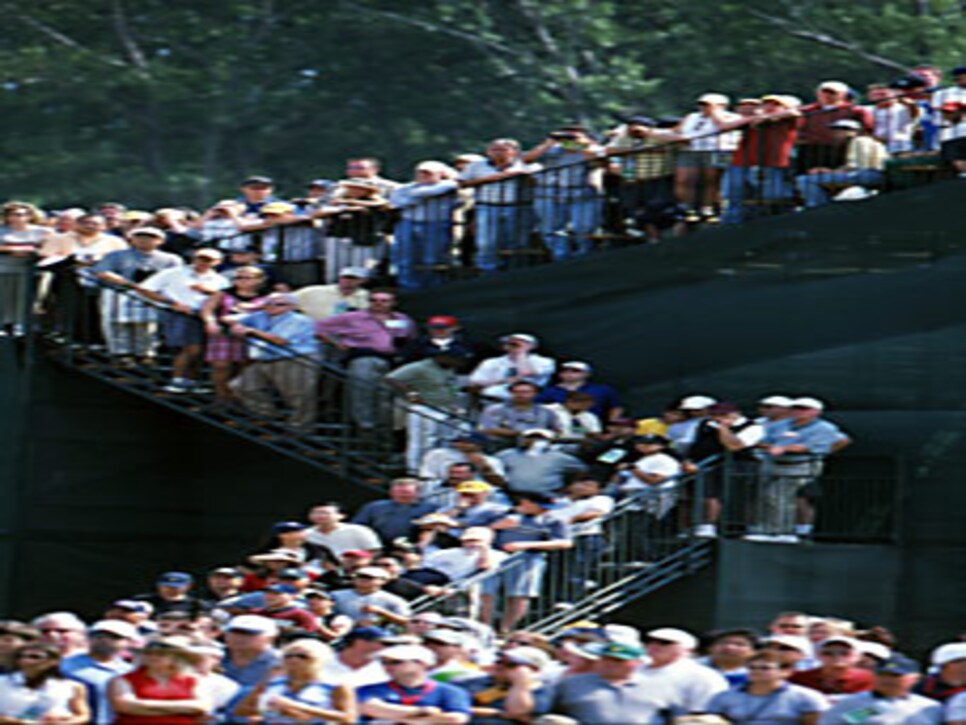 The atmosphere at Bethpage Black in 2002 at times felt more like Yankee Stadium than the U.S. Open.
Many remember it from the U.S. Open in 2002. The sign is as famous as the course, or at least pretty close. What other golf course comes complete with its own warning sign like the Black Course at Bethpage State Park?
An Extremely Difficult Course
For Highly Skilled Golfers
Actually, the sign could probably end after "Warning."
The U.S. Open makes what is probably going to be an extremely loud return to the 7,426-yard, par-70 public track on Long Island that hosted the 2002 national championship.
Seven years ago, the U.S. Open was made famous by a victory by Tiger Woods, a 10th hole where some players couldn't even drive it to the fairway and an atmosphere that can only be described as well, shall we say, exuberant?
To say the fans got into it the last time the Open was at Bethpage Black is an understatement, said Robert Allenby, who was not surprised.
"Well, they're New Yorkers, aren't they?" said Allenby, who tied for 12th in the 2002 Open. "Coming from Australia, living over here the last 11 years, most New Yorkers I know are pretty loud. I haven't met a quiet one yet. But it's all good. I think it was one of the best Opens we've ever had. The crowds, they were awesome.
"Nowhere else compares to it. It was loud, probably one of the loudest U.S. Opens I've ever been to. You could hear a lot of people voice their opinions. Bethpage brought them all out."
And the chances are the same chatty fans will be back. Such a quality didn't always go over so great in 2002, especially if your name was Sergio Garcia. At that point in his career, Garcia was in the midst of a re-gripping phase. He couldn't seem to find a grip that satisfied him, so he gripped and re-gripped as he stood in the fairway, with his gallery becoming increasingly annoyed to the point they counted his re-grips. Out loud.
Billy Mayfair, who tied for fifth in 2002 at Bethpage Black, said he wasn't surprised by what happened.
"Sergio was getting ripped a little bit, but it's tough back there," he said. "Ask any other professional sports [team] in New York. They're not going to give golfers a break."
Geoff Ogilvy, who did not play the 2002 Open, said he understood what went wrong for Garcia.
"Sergio definitely would have got it from any fan at that point, but with a New York crowd, he definitely picked a bad week to go through a re-gripping process," he said.
If Garcia and Colin Montgomerie had their critics, then the most popular players were Woods, and especially Phil Mickelson, who used the 2002 Open at Bethpage Black to emerge as the unofficial People's Choice.
It is a common scene now, but at that point, Mickelson's interaction with the gallery was something new. He smiled, he acknowledged cheers, he slapped hands with fans and he became hugely popular as a result. Woods has always been popular, but Mickelson seemed to endear himself to fans as the approachable underdog.
"Obviously you get a lot of crowds that are always for Tiger, but I truly remember they were all for Phil, big-time," Allenby said. "I definitely would say that New Yorkers are a Phil Mickelson crowd. It's a one-and-only."
Said Steve Flesch, who tied for 18th in the 2002 Open: "Phil is already going to be the home run king up there because of how he was the last time, not only because of what's going on with his family. But he interacts with fans. He's not afraid to look people in the eye and say, 'Thank you,' when they congratulate him on a good shot. A lot of players have their hats down. They're looking at the ground."
Stewart Cink said comparing the experience the players shared at Bethpage Black to other events isn't easy, but did mention the crowd at the 16th hole at the FBR Open in Phoenix.
"If we're going to be out here playing for the big bucks, at the highest level of our sport, it's like the FBR, you've got to be willing to take some heat from the crowd," said Cink, who missed the cut in the 2002 Open.
Mayfair said finding too many similarities between the fans at Bethpage Black and the fans at the FBR tournament doesn't work.
"People at the FBR are just loud," he said. "They're partying and loud, they're not paying so much attention to golf. In New York, they're paying attention to what you're doing."
There may be a common thread between the fans at Phoenix and at Bethpage Black -- the consumption of adult beverages. Being noisy is fine with Stuart Appleby, just show some respect at the proper time . . . and some restraint in the partying at Bethpage Black. Appleby, who tied for 37th in 2002 at Bethpage Black, said the New Yorkers aren't really as bad as in some other tournament venues.
"I think they become a little noisy with a little less alcohol than in some other parts of the country," he said. "Maybe that's because some of that is running through their veins without any alcohol.
"Any tournament, I don't care if it was Augusta, if you had spectators not showing some social respect or golf etiquette, yelling out stupid obnoxious statements, they're not appreciated anywhere in the world. Be as noisy as you want, but be quiet when you need to be. Sometimes, it's a big deal to hear yourself yell 'You're the Man' or 'In the hole.''' Some people like to hear their voice. I do think alcohol makes their hearing get a lot weaker, so they have to yell louder."
Ogilvy said the Bethpage Black crowd in 2002 was boisterous enough, even without alcohol. They're as knowledgeable as anywhere in the world, and they'll give as much as they get back from the players.
There is no question about why the fans were in such a carefree mood, according to Tiger Woods. It was all about the timing.
"Remember, they were all just coming off the experience of 9/11, and all that meant to them, which was so complicated and difficult," Woods said. "Everyone was looking for some kind of reason to get out of town, find something different. That's why it was so loud. I'm not sure it's going to be quite as loud this time, but I could be wrong."
So the players are expecting to get an ear-full at Bethpage Black, where the fans are probably going to be almost as much of the U.S. Open story as the players. That's what happened in 2002 and if it's a repeat performance, few will be surprised. In fact, many will actually welcome it.
"There's a buzz about the place and I love it," said Padraig Harrington, who tied for 8th at the 2002 Open. "It just makes the tournament bigger. Would you want to play with no spectators? I don't think anybody wants to play in front of nobody. If you don't embrace it, how are you ever going to lead a tournament?
"I think in some ways that's the future of golf -- to embrace a variety of different atmospheres."
And as Jerry Kelly said, the players who can embrace the atmosphere are the ones who can expect to flourish.
"Bethpage, it's going to be tough to play, but if you understand it, they can be so much of a benefit to you. I mean, when you get that crowd behind you, boy, that's an extra caddie."
Besides, even if a player doesn't appreciate the atmosphere, there's nothing they can do about it.
"If you don't like the way people are in certain places, don't go," said Rocco Mediate, who tied for 37th place in '02. "Someone will take your spot, believe me."
That's probably true … it is the U.S. Open, after all. And as the players and everyone else discovered in 2002, Bethpage Black is a special place, even if it is a loud one. That doesn't make it bad, does it? Not to Harrington, winner of three major championships.
"I can only say it's one of the best events I've ever played."