News
Lickliter Powers To Top Spot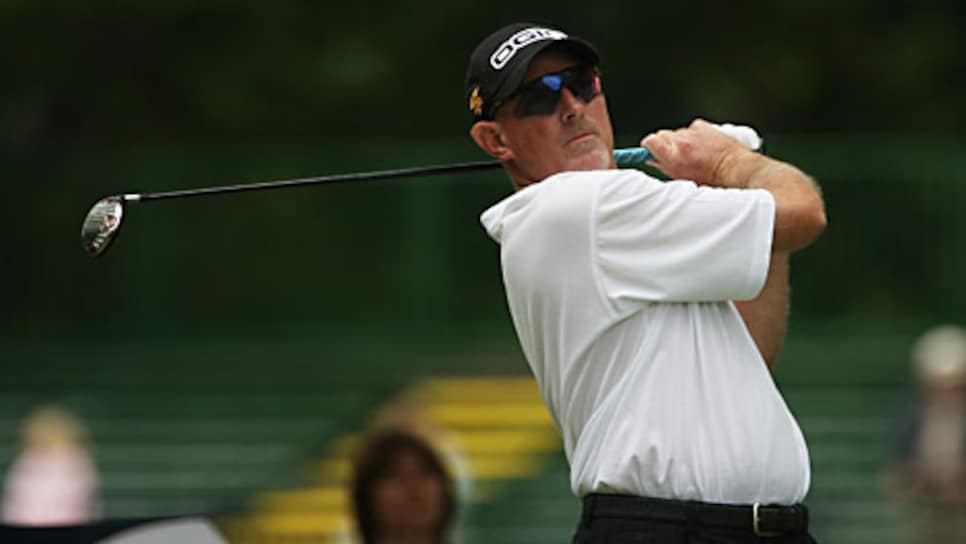 With a total of eight birdies and one bogey, Lickliter was nearly perfect.
MILWAUKEE (AP) -- Frank Lickliter shot his best round in nearly three years, posting a 63 to surge to the top of the leaderboard at 11-under 199 after the third round of the U.S. Bank Championship on Saturday.
Greg Chalmers, who led by two strokes after Friday's second round, was one behind Lickliter after shooting a 69. Jeff Maggert and Chris Riley finished two back at 9-under 201.
Lickliter, who last won on tour in 2003, started the day 4 under, but birdied six out of seven holes at one point, making his only mistake in the middle of that stretch with a bogey on No. 7.
He had two more birdies on the back nine with a chance for even more on No. 18, but he missed an eagle putt that would've set a personal best for him and settled for a par.
Lickliter, a two-time tour winner who had the 54-hole lead heading into the final day in each, enjoys his time in Milwaukee, and he's the type of guy this blue collar town can relate to.
He loves just about every type of hunting, a cold Guinness beer and chows on two orders of fried calamari every night at a seafood joint that's near the course.
"It's little things like that," Lickliter said. "Russell Moccasin is just up the road. They make hunting boots, my favorite hunting boots. We went up there Thursday after I got done playing. Just really cool things to do."
Lickliter's family is traveling with him, including is 1½-year-old fraternal twin boys -- Steele and Storm -- and he's played well at Brown Deer Park Golf Course in the past, including a fourth-place finish in 2006.
"Most cities have beer," Lickliter joked. "This place is like coming home. The people are so great and they love golf. It's just a great place to be."
The best of Lickliter's birdies came on the front nine. He hit a flop shot on the par-3 5th from about 16 feet out that rolled in and sank a 21-footer from the fringe on No. 6. He also hit a 28-footer on No. 13 to move to 10 under.
"That's one of the best putts I've made," Lickliter said. "About three different breaks in it, and (I) actually read it right."
Meanwhile, Chalmers, the left-handed Australian, said his putting showed a bit of his nerves on Saturday. He had only led after 36 holes once before and fell apart in that tournament in 2000 by stepping on his ball and drawing a penalty on the first hole of that third round.
This time, he lost his two-shot cushion, but stayed close after a rocky front nine with consecutive birdies at Nos. 14 and 15. He also ran into trouble on the par-5 18th with three shots in the rough, but saved par.
"I didn't have a great idea of where the ball was going to go early until the mid-parts of my round," Chalmers said. "I felt much better probably about 12, 13 onwards."
Less than a month after shooting a 62 at the Funai Classic in 2006, Lickliter went overseas for a USO/Armed Forces Tour. He said he broke his right arm near the elbow while in Iraq and spent seven weeks only doing rest and rehabilitation.
Lickliter, who works extensively with the Wounded Warrior Project that helps injured soldiers, declined to elaborate on how the accident occurred, beyond saying he "fell," which drew a laugh from his fiancee sitting in the back of the room. He later said he didn't want his injury to cast a negative light on his visit with the troops.
"I didn't get to touch a club and when I got back out, I'd only been hitting driver for two days," Lickliter said. "I probably came back a little early."
He also struggled with his swing and tried to work around the injury with little initial success. Now, he's feeling good and having fun again and his recent scores show it.
"I know I'm doing a lot of good things," Lickliter said. "I made a bunch of birdies last week and made some birdies this week. And I'm going to try to keep making birdies tomorrow."