News
Chalmers, Klauk Beat The Wind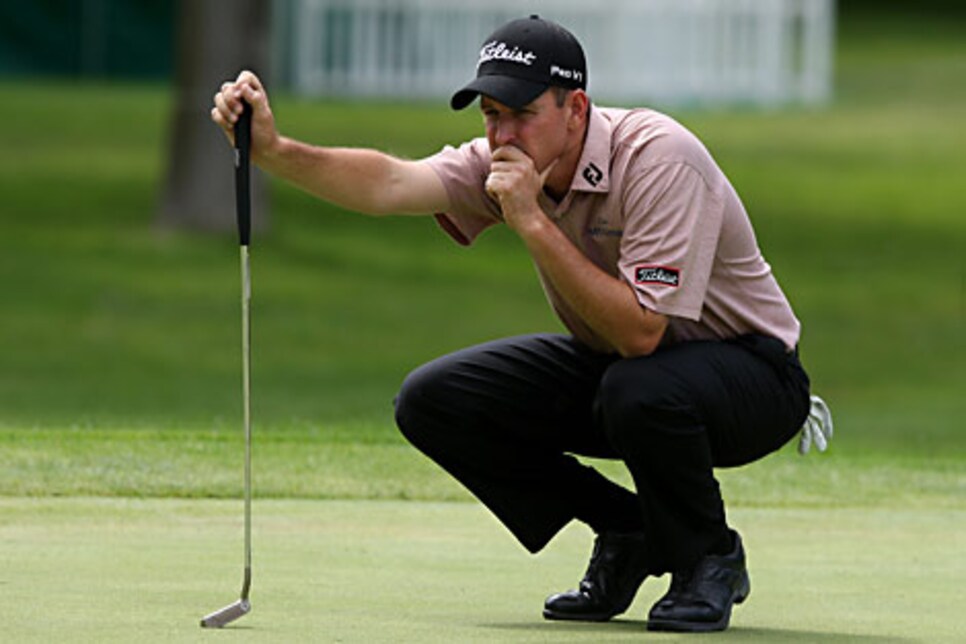 Klauk needed only nine putts to get around the front and totaled 23 for the day.
MILWAUKEE (AP) -- Greg Chalmers had success with his new putting grip and Jeff Klauk only needed nine putts in his first nine holes for each to shoot 6-under 64s during a blustery first round of the U.S. Bank Championship on Thursday.
Chalmers started his day with two bogeys before making birdies on five of his final six holes on the front nine, including a 55-foot putt on No. 4 followed by a 26-footer on No. 5. He also birdied the final three holes.
Klauk shot 5 under on the front nine and made his only mistake with a bogey at No. 12. He rebounded with back-to-back birdies and finished the round with four straight pars, including a save from the rough on the 18th.
Frank Lickliter II, Tag Ridings, Jason Gore and Skip Kendall all finished at 4-under 66.
The tournament, which is opposite the British Open and needs a new title sponsor, gives many players a realistic shot at winning. Like Chalmers, who was eighth on the Nationwide tour money list last season and has only one second-place finish on the PGA tour in 2000. Still, a bogey-bogey start for the left-handed Chalmers could have buried him early.
"I'm 35 years old, I'm not 19 years old, I've got an idea of what it takes to stay competitive and ultimately if it was going to be a good day, certainly, getting down on it wasn't going to help," Chalmers said. "I got intrigued when I holed a 60 footer and a 30 footer two holes in a row. That sort of got my attention."
Klauk, the son of the longtime superintendent at the TPC Sawgrass in Ponte Vedra Beach, Fla., finished fourth at The Honda Classic in March.
But the 31-year-old PGA tour rookie has struggled in his last four events, finishing well out of contention at the Memorial and being cut three other times including at the John Deere Classic last week.
"These tournaments are definitely an opportunity, but you still have to play well," Klauk said. "I think if you play well any week, you're going to have a chance on Sunday. Just because, yeah, you might not have a lot of the guys here but the depth of the PGA tour -- it's very deep, everybody's good."
Joe Ogilvie, who won this tournament in 2007, shot a 3-under 67 and is the most recent champion to play here after last year's winner, Richard S. Johnson, skipped the event to play at the British Open.
Ogilvie said Johnson told him to win in Milwaukee.
"It would be nice to sort of repeat, I guess," Ogilvie said. "I do have the first parking space up there. I don't feel like I'm the defending champion, but I feel very comfortable having won and being the last winner here."
Brown Deer Park Golf Course is the shortest PGA tour event on the schedule -- a 6,759-yard par 70 -- and generally players shoot low when conditions are calm, but a swirling wind kept scores in check on the first day.
"It felt like the wind blew from five or six different directions," Chalmers said.
Ridings discovered that first hand, when his ball started right and ended up hitting a tree on No. 6.
"I hit a draw up the right side that didn't turnover," Ridings said. "Caught the breeze and rode about 50 yards right of my target, which was 30 yards right of the fairway."
Ridings still saved par despite the rough, which is thick in places and not nearly so tough in others.
"I had some success from there today," he joked.