News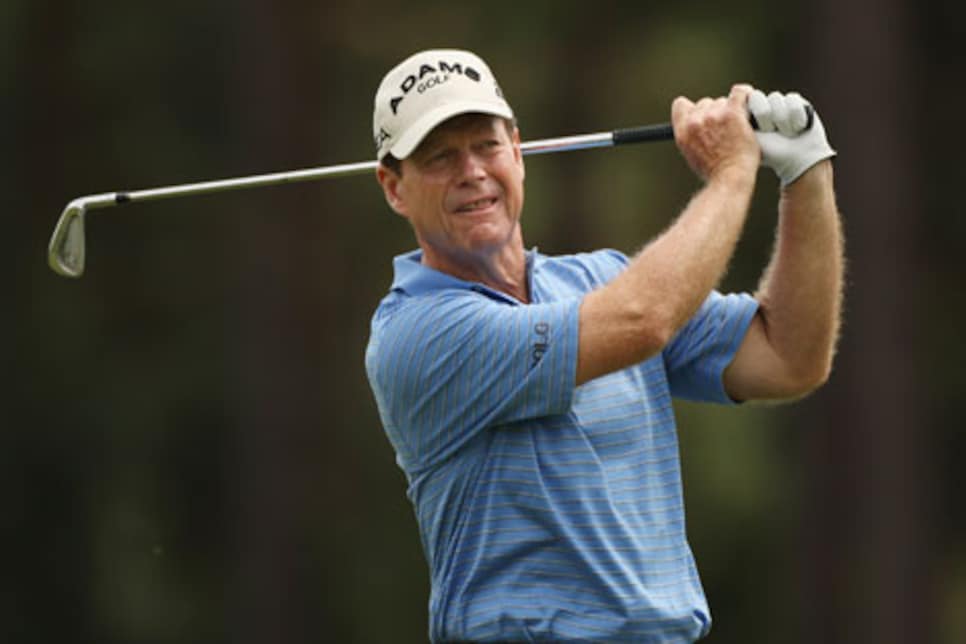 As with his recent run at Turnberry, Tom Watson has routinely come up short in the U.S. Senior Open.
If the golf gods are in a good mood this week, with an eye toward rewarding someone who is due -- and has paid his dues -- Tom Watson might finally win the U.S. Senior Open.
The 59-year-old Hall of Famer, who came so close to a monumental victory two weeks ago in the British Open at Turnberry, comes into this week's championship at Crooked Stick GC in Carmel, Ind., having done everything in the Senior Open except win one to bookend his 1982 U.S. Open title.
In nine appearances, Watson has been runner-up three times, has two other top fives and has never finished out of the top 25. He lost a dramatic playoff to Don Pooley in 2002 at Caves Valley, came up two shots short to Bruce Lietzke at Inverness in 2003 and again lost by two to Allen Doyle at Prairie Dunes in 2006. Watson seemed poised to win in 2007 at Whistling Straits but had a horrible 43 on the final nine that sent him from the lead to fourth place behind winner Brad Bryant.
"This U.S. Senior Open is the one I want to win the most," Watson said Tuesday at Crooked Stick, where he didn't play a practice round because he was still suffering the effects of Chinese food that didn't' agree with him in Great Britain. "I've been pretty close a couple times. Couple times I've been right there, and sure would like to have this one."
Watson started to recover from the crushing disappointment of Turnberry -- "You know, golf is a cruel game," he said. "It can lift you up to the highest highs and take you to the lowest lows" -- by finishing T-8 in the Senior British Open last Sunday at Sunningdale. But Watson has always been a buoyant golfer. "Mentally and emotionally, I'm fine," Watson said. "I've always been able to take a defeat or a disappointment and make lemonade out of it. Bobby Jones said it right, said it very simply: You never learn in victory, you only learn in defeat. I learned it wasn't over until it was over. I hit two perfect shots at 18 and I still had to finish. I didn't do a very good job of finishing."
Loren Roberts said he and his wife cried as Watson's sixth claret jug slipped away from him. A week later, Roberts finished strong to win his second Senior British crown, shooting a final-nine 31 and beating Fred Funk and Mark McNulty in a playoff. As for the possibility of a British-U.S. double, following his victory Sunday at Sunningdale Roberts noted that he will be properly prepared for the layout a portion of the field competed on in the 1991 PGA Championship. "It would be nice," Roberts said of sweeping the two Opens. "Hopefully I can ride a little wave of momentum. I've done my homework. I went up to Crooked Stick and spent many days there practicing about three weeks ago. So I have done my homework already. Pete [Dye] has put some new bunkers in. I don't think John [Daly] will be hitting 9-iron into the par 5s anymore."
Daly's shocking victory at Crooked Stick in 1991 -- when driver heads were less than half the size of current models and most players still used a wound golf ball -- was marked by his ability to overpower Dye's layout. The course measured 7,289 yards 18 years ago but will be slightly longer than that for the seniors this week. At 7,316 yards, Crooked Stick will be the longest venue in U.S. Senior Open history, surpassing the 7,254 yards at The Broadmoor's East course last year in the thin air of Colorado. If the weather cooperates, the USGA hopes the fairways will be firm and fast, which will mitigate the length to some degree. Averaging approximately 35 yards wide, the fairways are generous.
"It's absolutely immaculate," Fuzzy Zoeller said Tuesday of Crooked Stick. "The last couple days have played entirely different. Yesterday morning it played very, very long, and this morning, for some crazy reason, it played a little shorter. I can't explain why that is but it was a little warmer this morning so the ball was going just a little bit further. It should make for a very good championship. I think the USGA, they don't get a lot of credit, and probably don't deserve a lot of credit, but I'll give 'em a little credit this week. They set this golf course up very, very fair for the players."
Unless a lot of moisture makes it a game of darts, even par probably will be a good 72-hole score this week. That's exactly what Roberts shot to finish T-27 in the 1991 PGA. Of the players entered this week, Bruce Lietzke has the fondest memories of that championship since he finished second, three strokes behind Daly. Other current seniors finishing in the top 10 that week were Kenny Knox (fourth), Bob Gilder (fifth) and Craig Stadler and Hal Sutton (T-7). Watson didn't have a good week nearly two decades ago, missing the cut by two shots, as did Scott Simpson and Mark O'Meara.
Watson clearly is playing well now if not feeling so hot. "The biggest concern I have is preparedness," Watson said. "It's gonna be difficult for me to be properly prepared for this tournament. I'm sick today and not going to play. (Wednesday) I hope to play a practice round. So I will only have one practice round, and I don't like to have just one practice round going into a golf tournament. Puts me on the defensive -- I will not have formulated much of a game plan."
No one else at Crooked Stick will be able to draw on the exact kind of memories Watson can, though. "It's a shame that Tom will probably be remembered for that putt on the 18th hole [at Turnberry]," Zoeller said. "But think of all the putts that he made before he got to that 18th hole and the shots he played. A man that is 59 years old and still nerves of steel except for a little shake at the last hole -- how many people would love to been in his shoes? I'm one of them."