News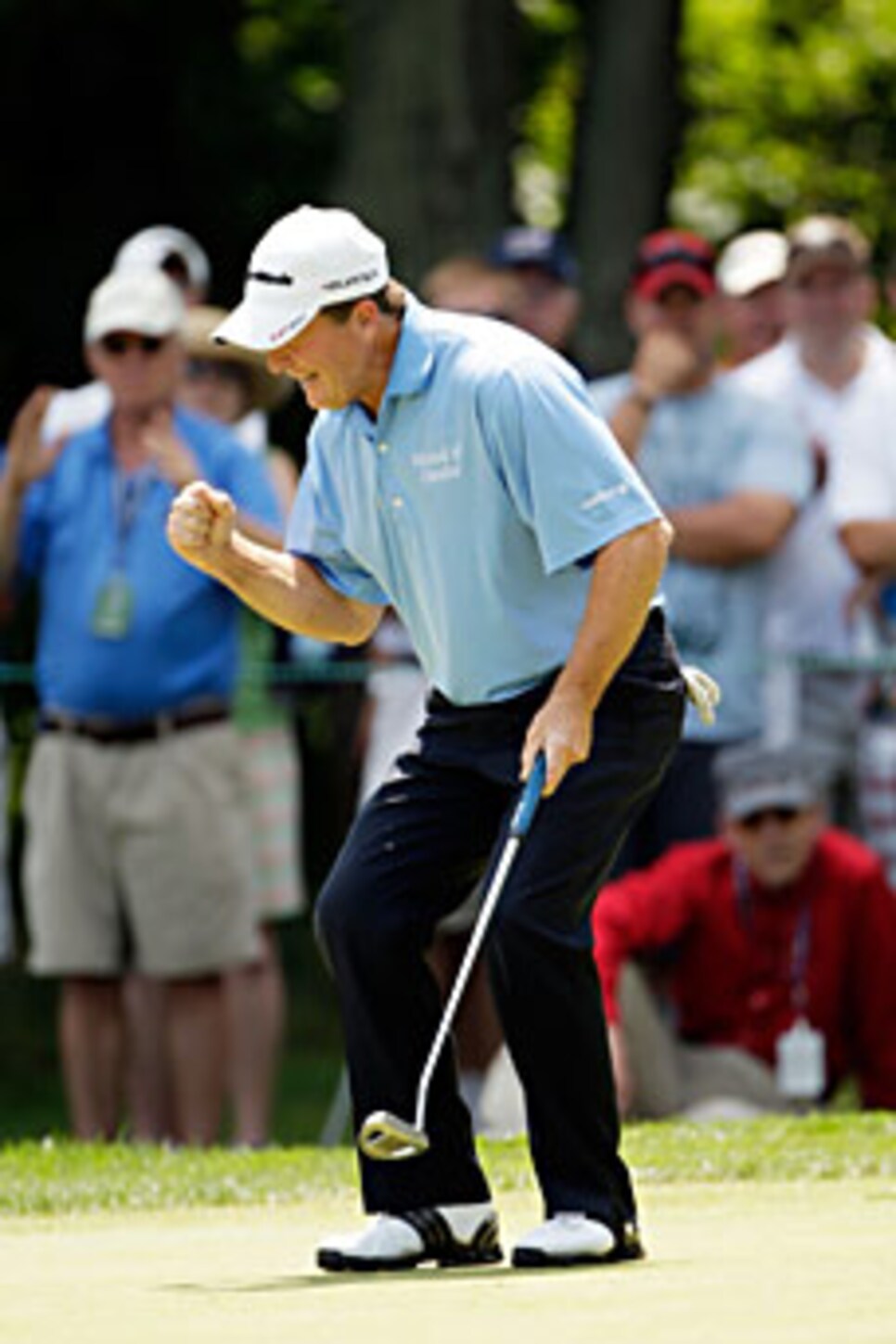 After losing a playoff for the Senior British Open last week Funk rebounded to grab his second senior major title.
CARMEL, Ind. (AP) -- Fred Funk took a back-nine victory lap in the U.S. Senior Open.
"It's something I really didn't fathom happening, but the biggest thing is just getting my name on that trophy," the 53-year-old Funk said.
Coming off a playoff loss to Loren Roberts last week in the Senior British Open, Funk broke the event mark of 17 under set by Hale Irwin in 2000 at Saucon Valley.
Funk, an eight-time winner on the PGA Tour, won his second senior major, following the 2008 JELD-WEN Tradition. He has five Champions Tour victories.
Funk was 13 under the first three days to take the lead. He birdied Nos. 2, 5 and 9 on Sunday for a 33 on the front nine and was on his way to routing the field.
The crowd knew what was happening, but Funk didn't check the scoreboard until he got to the 17th green.
"I had a feeling I had a little bit of a lead," he said.
Once he figured out where he stood, he simply had fun.
"It was a big relief to kind of freewheel it on 18," he said.
Joey Sindelar (70) finished second at 14 under, Russ Cochran (68) was 12 under, and Roberts (64) and Greg Norman (73) followed at 11 under.
Funk felt he could have won the previous week if he hadn't tried so hard to steer the ball. A week later, he let it rip with record-breaking results.
"Unless you win, you can always look back and find shots in four days that you wish you had back," he said. "And I didn't want to look back this week and say would have, should have, could have."
The swing always has been a key part of Funk's game.
"He hits as straight as any man on the planet," said Roberts, who matched the course record with his 64. "That's what you've got to do at an Open Championship because the rough is so tough. When he does that and gets the putter going -- you see what he is doing -- going lights out."
Sindelar said he knew he wasn't going to catch Funk. He entered Sunday thinking he could compete if he played the longer holes better, but it didn't matter.
"I played the par 5s better, and I didn't shank, and Fred still whooped me bad," Sindelar said. "It was awesome."
Sindelar said he wished the final day had been more competitive, but he said Funk is tough once he gets ahead. In the five events Funk has led on the Champions Tour heading into the final round, he has won four.
Norman started the day one stroke behind Funk, but never threatened. His tee shot hit a tree and went into the water on No. 6 and he double bogeyed. On the next hole, he shot out of a bunker and landed on the green, but he two-putted and bogeyed.
Funk saw Norman's confidence slipping on No. 6.
"He just didn't have control of the golf ball like he did yesterday," Funk said. "He didn't drive or putt as good, and got himself in a little trouble. A couple of his good shots didn't turn out good, and I think it started eating at him a little bit."
Tom Watson, the runner-up at the British Open, shot even on Sunday to finish at 2 over, tied for 43rd.
Last year's winner, Eduardo Romero, shot an even-par 72 on Sunday to tied for 19th at 3 under.
The course record was altered three times during the week. Norman, Sindelar, Dan Forsman and amateur Tim Jackson all tied for mark Thursday with 66s.
That record was bettered Saturday when Cochran had a 64. Roberts then tied Cochran's mark.
Jackson, who led after the first two days, shot a 4-over 76 on Sunday to tie for 11th. His 72-hole score of 282 was the lowest by an amateur in U.S. Senior Open history, shattering the record of 288 set by Greg Reynolds and George Zahringer in 2005. Jackson also shot the lowest round for an amateur in a U.S. Senior Open, a 66 on Thursday.
Jackson's score of 133 over the first two days matched the tourney's best 36-hole mark.
"This was a great experience and a great week," the 50-year-old said. "Even as old as I am, I learned a lot."