News
Funk Leads At Crooked Stick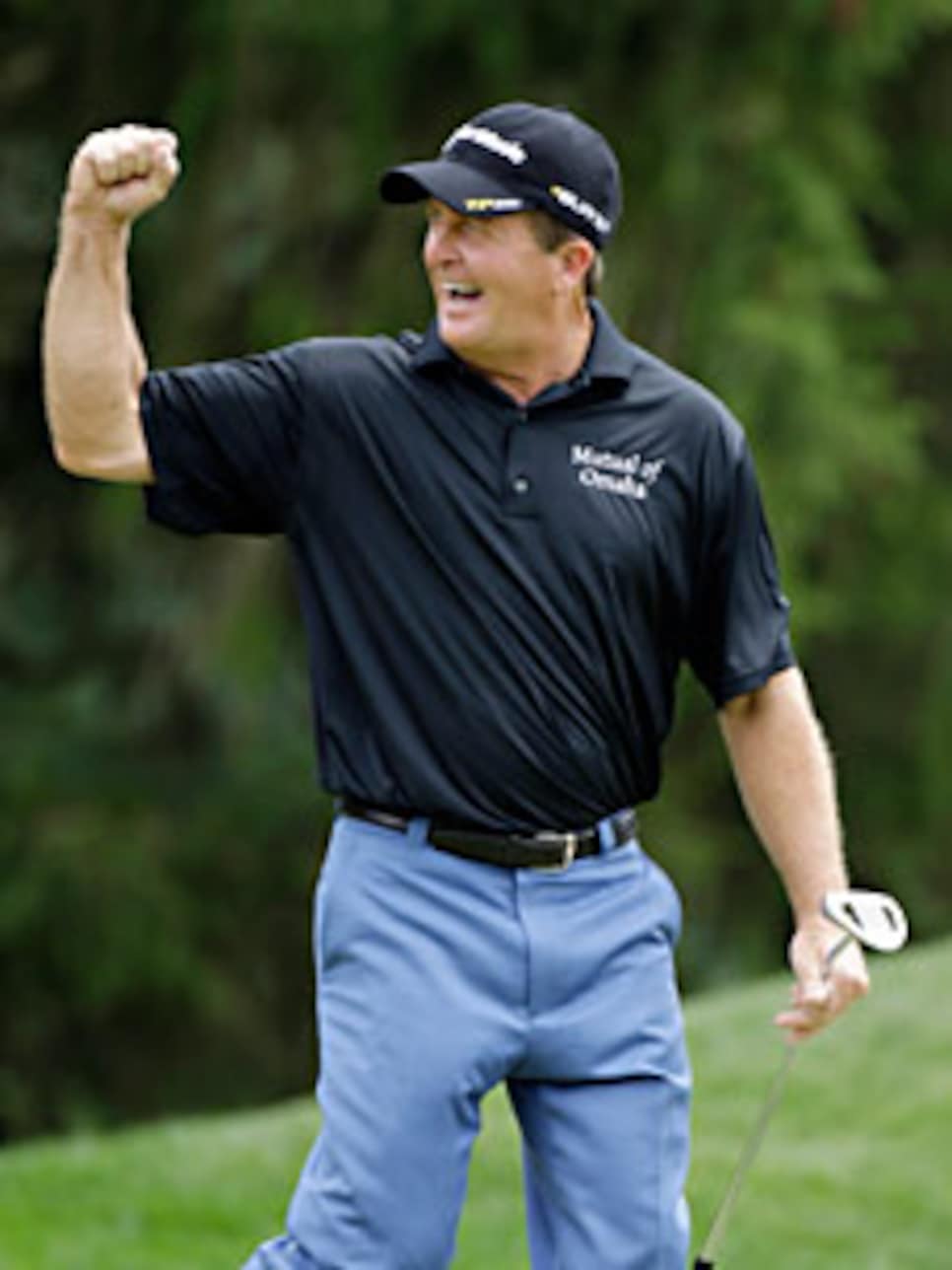 Funk's scrambling on the back nine gave him the edge he needed to take the lead.
CARMEL, Ind. (AP) -- Fred Funk brought some fire to the U.S. Senior Open.
He pumped his fist, raised his arms, kicked his leg and smiled throughout the third round, showing no signs of the painful knee and shoulder injuries that have hindered him much of this season. And he gave no indication Saturday that he's about to let the injuries derail another quest for a major title.
Funk felt fantastic after shooting a 4-under 68 to take a one-stroke lead over Greg Norman and Joey Sindelar. Funk was at 13 under at Crooked Stick
"One thing I can't do is take a practice swing," Funk said. "As long as I turn the whole way, it takes the stress off the shoulder. So I don't hit too many punch shots any more. That shot is basically out of my game."
Judging by Saturday's numbers, he doesn't need it.
Funk birdied three holes on the front nine to get to 12 under, then birdied No. 13 to take the lead. After a bogey on 14, he retook the lead on the par-4 16th when he made a 20-foot birdie putt and Norman bogeyed after missing the fairway and pushing an 18-foot par putt to the right.
Funk has a chance to make amends for last week's frustrating playoff loss at the Senior British Open -- if his body and play hold up.
"I'm just trying to, really, to enjoy it, really let myself go," he said. "I was really disappointed last Sunday when I missed a couple of putts. I don't want to play defensive, so you've got to go out there and play your game."
That's what most of the field did on a cool, overcast day that helped the scores stay low.
The wild round saw four players -- Funk, Norman, Sindelar and 50-year-old amateur Tim Jackson -- all take the lead and all surrender it after first reaching 13 under.
At the end, though, it was the three low pros atop the leaderboard.
Norman continued his resurgence with a steady round. He completed the front nine at 2 under, picking up a birdie on the par-5 11th and an eagle on the par-5 15th to go to 13 under. After the bogey, the two-time British Open champ finished with back-to-back pars for a 68. He was 12 under after 54 holes.
"I'm driving the ball long and straight, and Freddy made the comment that I'm driving the ball like I used to do it," said Norman, who will be paired with Funk again Sunday. "It's a good feeling when you get up on any tee and hit it the way you feel you can hit it."
Sindelar wished he could say the same thing.
The seven-time PGA Tour winner continually got himself into and out of trouble, seemingly hitting every possible obstacle on the 7,316-yard course. He went into the water at No. 6, repeatedly found the rough on the back side, played out of the sand several times and even used a tree limb to help one shot land on the green.
Yet Sindelar, one of four players tied for the first-round lead, shot a 70 and was still within one of the lead.
Jackson didn't make many errors. He just didn't make enough putts.
After birdies at No. 5 and No. 7 got him to 13 under, Jackson nearly went into the water on the 435-yard, par-4 eighth and had to take a drop. He bogeyed the hole and two more on the back side for a 73 that dealt a blow to his hopes of becoming the first male amateur to win a major since Johnny Goodman at the 1933 U.S. Open. Jackson was fourth at 10 under.
"You're going to have a day where you struggle. Hopefully, that was today," said Jackson, the second-round leader after matching the lowest 36-hole score with a 133 total.
Russ Cochran turned in the best round of the day, making four birdies on each side and gaining eight shots on the leaders. His 64 broke the course record (66) set Thursday by Norman, Sindelar, Jackson and Dan Forsman. Cochran was tied for sixth with Forsman and Scott Simpson at 8 under.
But it was Funk's inspired play that carried the day.
He raised his right arm in triumph after taking the lead. When he surprisingly made a par-saving putt off the second cut of grass, Funk looked pleasantly surprised. He's 9 under on the par 5s.
All he has to do now is duplicate that performance Sunday and all those aches and pains will go away.
"There are birdies out there and the theme is to keep the ball in play and keep hitting fairways and that just makes it so much easier to go after the golf course and set up birdie opportunities," he said. "If I can do that tomorrow, it should be a lot of fun."