News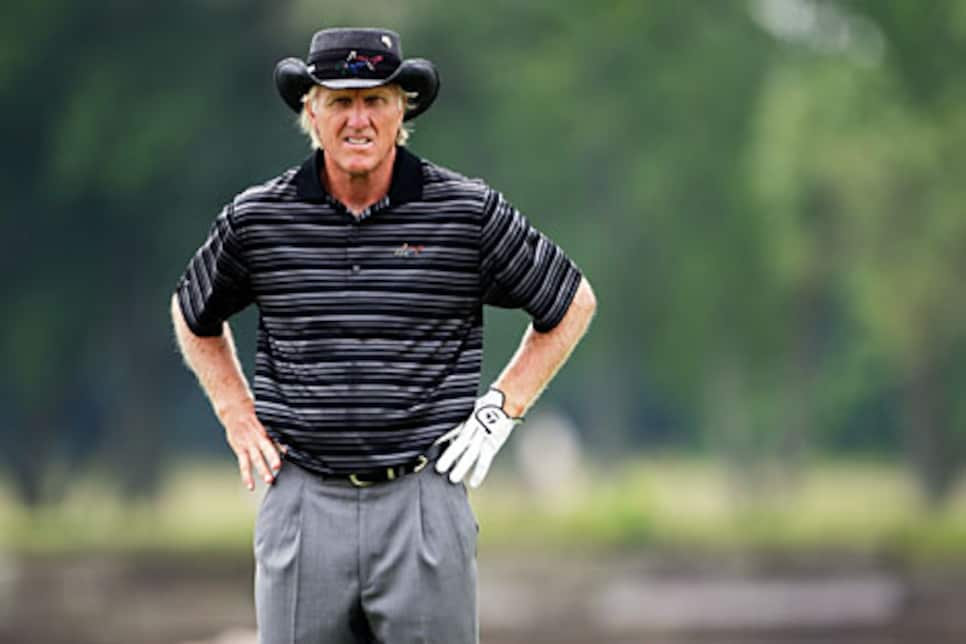 Coming off a disappointing finish in the Senior British Open, Greg Norman has a chance to make up for it this week at Crooked Stick.
CARMEL, Ind. (AP) -- Greg Norman looked like his old self Thursday.
There were the trademark drives, the string of birdies and those customary big crowds following his every move. He even rekindled an image he'd rather forget: A last-hole struggle.
Norman birdied four straight holes on the front nine, but a bogey on the final hole left him in a four-way tie with Joey Sindelar, Dan Forsman and amateur Tim Jackson at 6-under 66. Andy Bean and Fulton Allem are both one shot back at 67.
Jackson broke the record for low score by an amateur at this tournament, and he did it in his Senior Tour debut.
For Norman, it was a chance to show everyone that the man once dubbed the world's best golfer hadn't lost his touch.
"I played well today and the golf course was ready to be had. It was perfect conditions," the 54-year-old Aussie said. "The greens were just receptive enough to be aggressive with the shots if you want to play 'em."
Norman and his senior tour colleagues had no problems playing on a cool, relatively calm day. Those atop the leaderboard made it look easy on the 7,316-yard course, the longest in Senior Open history.
Norman and Bean briefly flirted with 7 under but each bogeyed their next hole to lose sole possession of the lead. Bean finished with two bogeys on his last three holes to finish at 67.
Others played cleaner golf.
Sindelar posted three birdies on each side. Forsman, who started at No. 10, was 4 under at the turn. Neither had a bogey.
And the unknown Jackson, a real estate developer from Tennessee, charged back with five birdies on the final nine holes. A sixth would have broken the tie at the top, but his 10-foot birdie putt on the last hole stopped on the lip of the cup.
Still, Jackson broke the tournament record for low score by an amateur by two shots. Amateurs shot 68 four times in the Senior Open, the last being Rick Cloninger in 2008 on Broadmoor's east course in Colorado Springs, Colo.
"This will be something we'll talk about for a long time, I'm sure," Jackson said.
Norman, Jackson and the other two low scorers already created a buzz at Crooked Stick Golf Club during the first round.
The course's head pro, Tony Pancake, said the 66s were a competitive course record. In the 1991 PGA Championship, won by the then-unknown John Daly, the low round was 67.
Norman might have shot 65, too, had he not been surprised when he walked to the 18th tee and found the hole playing 42 yards shorter than in the practice rounds. He hit into the left rough as a result, leaving him a treacherous uphill second shot. The ball landed in the front bunker, and Norman's blast out of the sand wound up on the back corner of the green for a 40-foot par putt. He left it 6 feet short.
"There is such a severe upslope, and the grain was going straight into me," the two-time British Open champion said. "When you're on a keen angle on an upslope, it's difficult to keep that accelerating through because your body wants to fall back. So you're not getting a full rotation."
No, it didn't resemble Norman's 1996 Masters collapse but it was a deflating end to an otherwise meticulous round.
Bean and Jackson were just as good in slightly worse conditions during the afternoon, and Bean was 7 under through 15 holes until failing to close it out.
Jackson continued to make shots after starting his round on the back nine. He made the turn at 1 under and then birdied four straight holes to match Norman, one short of the tourney record for most consecutive birdies (five). He moved into a tie for the lead with a birdie putt at No. 7.
"If you're going to shoot a low round at the U.S. Senior Open, this is the day," Forsman said. "This course will show its teeth before it's over."
The Shark just hopes those teeth don't get him. Again.
"I feel like I'm getting close," Norman said. "Even though I played very, very well today, I feel like I'm getting close to getting it all together."
Seven players, led by Senior British Open champion Loren Roberts and 1996 British Open champion Tom Lehman, were two back at 68.
Last year's winner, Eduardo Romero of Argentina, shot a 73.
The suddenly rejuvenated Tom Watson delivered on his promise of playing conservatively because of an illness that limited him to just one practice round. Watson, who lost the British Open in a playoff two weeks ago, finished Thursday with a 1-under 71.