News
Kuchar Shares Lead With Piercy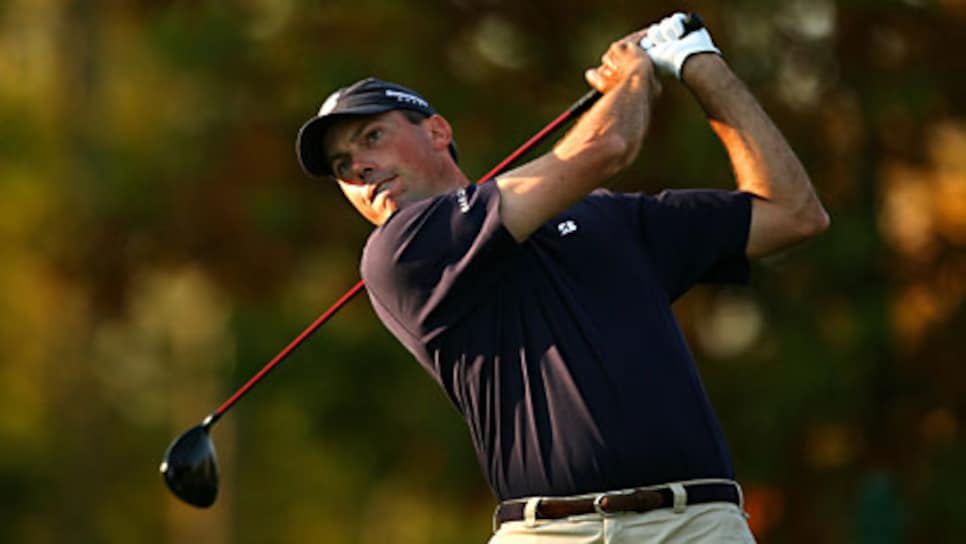 Kuchar, who is not long off the tee, has made up the gap with driving accuracy of 76%
VERONA, N.Y. (AP) -- Scott Piercy wants to be the first rookie to win on the PGA Tour this year, and he's confident he can if he continues to do the things that helped him take a share of the third-round lead in the Turning Stone Resort Championship.
"I feel like my game's where it needs to be to win," said Piercy, who shot a 6-under 66 on Saturday to share the top spot with Matt Kuchar.
"I'm making a few putts, hitting it real solid, hitting lots of greens, which takes bogeys out of play," Piercy said. "If I can hit 17 greens tomorrow, I like my chances for winning."
Kuchar shot a 67 to match Piercy at 14-under 202 on the Atunyote Golf Club course.
With the sun shinning after two days of heavy rain, Kuchar took advantage of the soft greens to string together four birdies over a seven-hole stretch. Piercy had even better run, making four birdies in a five-hole span in the Fall Series opener.
"If you look at conditions like these, you'd be really disappointed to make bogeys out there," Kuchar said. "I feel like you can fire at most greens."
Rod Pampling (65) and Leif Olson (68) were a stroke back.
Nicholas Thompson (69) was two strokes behind.
Second-round leader Vaughn Taylor struggled Saturday, shooting a 71 to drop into a tie for sixth at 11 under with Fredrik Jacobson (69), Tim Petrovic (68) and Jonathan Byrd (67).
Mathias Gronberg tied the course record with a 64. He was 10 under. He matched the record set by Jarrod Lyle and Jeff Maggert during the 2007 tournament.
"When you start rolling in eagle putts, everything seems a lot easier," said Gronberg, who lamented that he missed a 2½-foot birdie putt on No. 14. "Obviously it was great weather today, and I took full advantage of it."
Kuchar is seeking his first PGA Tour victory since 2002 Honda Classic. His best finish this year was a fifth-place tie at the Memorial in June.
"It'll certainly depend on the weather. I know there's a lot of good players up there close to the top, and this course, if it plays anything like it did today, it's going to take another 5 or 6-under par to win. So you just have to keep the gas pedal down, just go after some birdies," Kuchar said.
Piercy, a 30-year-old Las Vegas native, has two top-10 finishes this year.
This week, he's had only one bogey, and he's missed the greens only a handful of times.
"I've put myself in position to win at least ... I mean I've driven it awesome this week," Piercy said. "You know, the last group on Sunday, there's pressures that go with that ... I think the more that you put yourself there, the better you're able to deal with it."
Piercy birdied the 550-yard, par-5 fifth hole and followed with three consecutive birdies on holes Nos 8, 9 and 10 and added another on 12.
Trailing Kuchar through most of the round, Piercy finally snared a share of the lead with a birdie on the 15th hole. Piercy had a chance to take the lead for himself, but missed a 36-foot putt for eagle on the final hole and ended up settling for par after missing a short birdie putt.
Kuchar birdied No. 2 to start his scoring. He added another birdie on the sixth hole to tie Taylor for the lead and then birdied No. 8 to briefly claim the top of the leaderboard for himself. Kuchar added two more quick birdies after making the turn, but could only manage par on his final six holes.
Kuchar, too, was confident about his chances.
"I'm not much of a number guy. There so much adjusting that has to be done with the game of golf," Kuchar said. "I imagine tomorrow if it gets late in the round and there's a battle going on, it'll be a little more nerves, but that's the fun part about the game, to see how you can handle it.
"It's another round of golf. It counts the same as round one counts. That's just the way I look at it."