News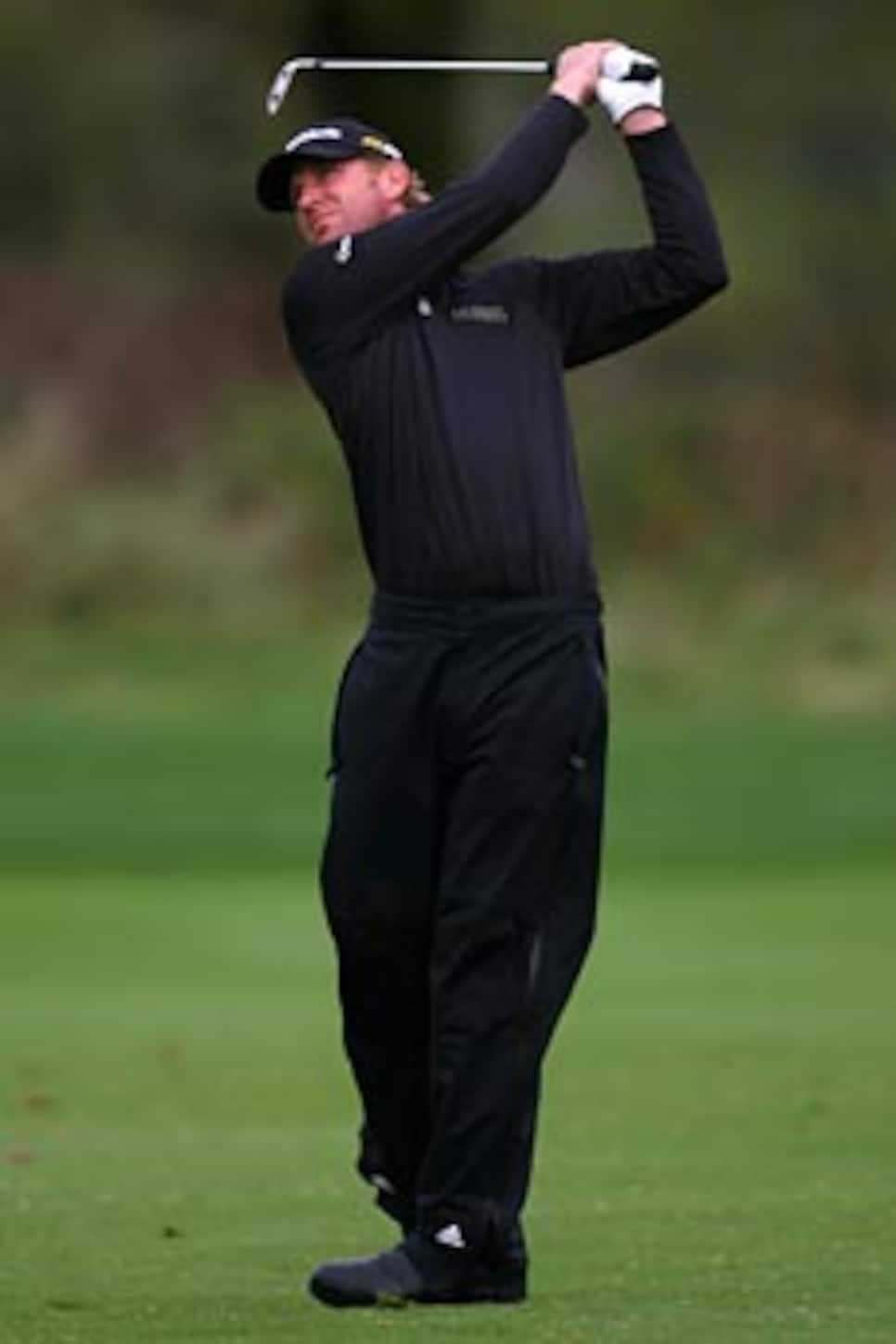 Taylor has made just one bogey through 36 holes.
VERONA, N.Y. (AP) -- Vaughn Taylor managed to keep his tunnel vision. A brief patch of good weather helped immensely.
Taylor shot his second straight 67 on Friday to take a one-shot lead after two rounds in the Turning Stone Resort Championship. He was at 10-under 134 after another cold, wet and somewhat windy day at Atunyote (uh-DUNE'-yote) Golf Club.
Tied for second were Matt Kuchar (68), rookie Leif Olson (69), and Nicholas Thompson (67), whose 14-year-old sister, Alexis, was tied for the second-round lead at the Navistar LPGA Classic in Alabama.
Rookie Scott Piercy (66), Fredrik Jacobson (67), and Bo Van Pelt (66) were 8 under. Van Pelt moved into contention with seven birdies on the back nine, six of them in a row despite a steady late-afternoon drizzle that intensified toward dusk. Tim Petrovic (71), who shared the first-round lead with Olson, was at 7 under, tied with Australian rookie Aron Price (65), Jimmy Walker (69) and Troy Matteson (67).
Turning Stone is the first tournament of the Fall Series, which is comprised of five events. Players are vying to finish the year in the top 125 on the money list to retain full exemption for 2010, and the 33-year-old Taylor is right on the cusp at No. 131 ($519,282).
"I try not to think about it. Whatever is meant to be is meant to be," Taylor said after his best back-to-back rounds since he notched his lone top 10 of the season, a tie for eighth at the Buick Open in August.
In two trips around the 7,482-yard Atunyote course, Taylor hit 13 of 14 fairways and 16 of 18 greens in regulation. On Friday, he birdied three of the four par 5s, rolled in a 28-foot birdie putt at No. 9 to reach 9 under, and sandwiched a pair of birdies around a bogey at No. 11 to take the lead.
"It keeps the momentum going when you birdie the par 5s," Taylor said. "It just makes it easier on you."
So, too, did that brief dose of decent weather.
"It was pretty pleasant for a while there," Taylor said. "It was drier, but still awfully wet, and then the last few holes the wind started picking up."
"It wasn't like brutal, and actually the sun attempted to peak through," Thompson said. "My caddie was like, hey, we haven't seen that in a while. It was like, it kind of looks more like the moon."
Because there was so much standing water on the course Thursday, rules officials allowed the players a rarity -- to lift and drop on all areas except teeing grounds, greens and hazards.
Although the course dried somewhat overnight, the same ruling applied on Friday, and Piercy really benefited. He made birdies out of the rough on Nos. 1, 7, 8, and 13
"Maybe one out of five times you catch a good lie, and now you got five out of five good lies," Piercy said. "It is definitely an advantage. I hit it real close today, so I didn't really need to make a lot of putts."
Playing in the morning didn't hurt, either.
"I feel fortunate to be done already. It's definitely an advantage," Piercy said. "When we went out this morning, the sun was shining. There was no wind."
Intermittent showers and a steady 12 mph wind hampered play in the afternoon, though at least, unlike Thursday, the temperature did make it past 50.
Olson, who had never held or shared the lead after any round on the PGA Tour, stayed steady while finishing in a driving rain. He finished the round with seven pars and two birdies on the front nine, splashing water with every fairway shot.
Van Pelt started the day six shots behind the leaders and was at even par for the day at the turn. After a par at the 10th hole, Van Pelt began to make a move. An 18-foot putt at the par-3 11th hole, statistically the second-most-difficult on the course, gave him the first of six straight birdies. And after hitting into intermediate rough from a fairway bunker led to a bogey at 17, Van Pelt finished the day by sinking a 13-foot birdie putt at No. 18.
"There's a lot to play for in the fall," said Van Pelt, 44th in money with more than $1.7 million. "I wasn't even going to play this week, but my wife encouraged me to come."
Kuchar, also in one of the final groups, hit a 3-wood from 252 yards out to within 15 feet of the pin and made eagle at No. 12 to reach 8 under. Birdies at Nos. 14 and 15 moved him into a tie for the lead, but when his chip shot from the rough hydroplaned 9 feet past the water-drenched hole at No. 17 he two-putted for bogey.
Brushing raindrops off his nose as he left the course after a par at 18, Kuchar simply was happy to complete the round.
"It was nasty at the start and nasty at the end," he said. "It's amazing we've gotten this in."
DIVOTS: Tom Pernice Jr., fresh from a victory in his first appearance on the Champions Tour, failed to make the cut, finishing at 144 along with David Duval and John Rollins. ... Davis Love III needs to finish the year on a strong note to qualify for the 2010 Masters. Love, who is ranked 52nd in the world and needs to get into the top 50 at the end of the year, just made the cut at 3-under 141.