News
Rookie Olson Gets A Chance To Win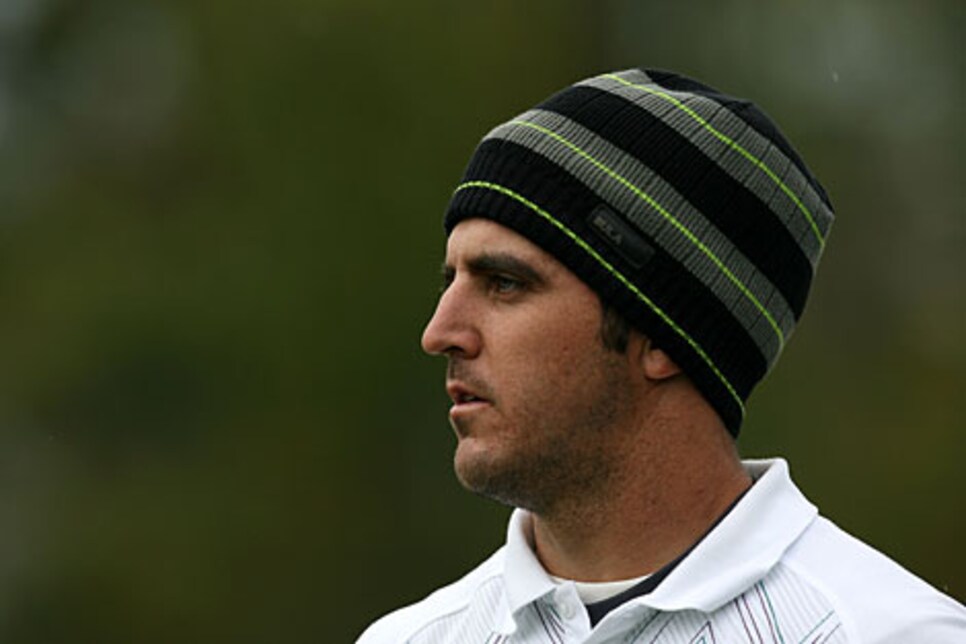 After making only four cuts in 17 events this year, Olson went 33-33 with seven birdies and a bogey
VERONA, N.Y. (AP) -- Leif Olson decided to give golf another shot after a lengthy layoff. He's showing signs he might have made a good choice.
Overcoming adverse conditions on a blustery day, Olson shot a 6-under 66 on Thursday to tie Tim Petrovic for the first-round lead at the Turning Stone Resort Championship.
Olson, a 28-year-old rookie from Denver, had to advance through all three stages of Qualifying School to earn his 2009 card on the cut line.
"I consider it really my first main year playing as a professional," said Olson, the former Duke player who but played only the 2004 U.S. Open on the PGA Tour prior to this year. "I played pro just for like a summer and then I stopped. I just kind of started up last summer."
Petrovic chipped in twice during his round, posting seven birdies and one bogey. It's the third time this season he's opened with a 66.
"It would be nice to get a victory at the end of the year," said Petrovic, whose lone victory was the 2005 Zurich Classic of New Orleans. "I've been close a few times."
One shot behind were Matt Kuchar, John Senden, and Vaughn Taylor.
Adam Scott, Scott Gutschewski, Kevin Stadler, Ken Duke, Jimmy Walker, Nicholas Thompson and Matt Jones shot 68s. Defending champ Dustin Johnson birdied his last two holes to finish at 69.
The round was halted because of darkness with a handful of players still on the course.
With seagulls replacing fans along a fairway or two and Canada geese squawking loudly overhead on their long journey south, intermittent and sometimes heavy rain and temperatures that never reached 50 made the first day of the Fall Series tailor-made for water fowl over the soggy Atunyote Golf Club course.
"I was expecting worse," Justin Rose said after a 69. "I pretty much put on half my suitcase today, so I didn't feel the cold. I think we got a little bit of a break because the wind didn't blow. It made it playable."
A year ago, wind, rain and a brief shower of hail forced two weather delays on the second round. There were no delays on Thursday, but because there was so much standing water on the course players were allowed a rarity -- to lift and drop on all areas except teeing grounds, greens and hazards.
"In the rough you can tee it up. That's a big thing," said Olson, best-known for a hole-in-one at the Canadian Open when his ball caromed off playing partner Kris Blanks' ball and rolled into the hole.
So-called preferred lies "through the green" also will be in effect Friday. The last time that happened on the PGA Tour was at the 2005 BellSouth Classic, which was also the last time it snowed during a tournament.
Petrovic and Olson teed off in the morning and had to weather a steady rain and temperatures in the 30s. Olson, sporting a striped knit cap pulled tightly over his ears, matched his previous round on tour, a 66 at the Wyndham Championship in August that wasn't low enough to make that cut.
Olson, who has only made four cuts in 17 events, sits atop the leaderboard because he averaged nearly 280 yards off the tee and birdied four of the most difficult holes on the course. He hit to within 10 feet or closer of each of the pins at Nos. 2, 7, 11 and 13, finishing the day with seven birdies and one bogey.
"It's a long ball hitting course," said Olson, 814th in the world ranking. "Hopefully, we'll see, just take it day by day. Guys are going to tear it up tomorrow. You just want to get off to a good start."
The 43-year-old Petrovic carded five birdies on the back nine. He hit inside 8 feet from 203 yards at the par-4 17th hole and made birdie, then followed that by hitting inside 6 feet at No. 18 from 146 yards to make the turn at 31.
The lone blemish on Petrovic's round was a bogey at the par-5 eighth hole. His third shot found a greenside bunker and he failed to convert a 15-foot par putt.
"I was just trying to keep my hands warm. That was the key," Petrovic said. "I didn't care if I got wet. It was a battle out there. We didn't have the trifecta -- the wind was down. You just had to suck it up, I guess."
Stadler, also among the early finishers, had a birdie and eagle on the front side and two more birdies on the back to go with a bogey at No. 13.
"It's one of those days where I was not really thinking about score," said Stadler, who holed out from 117 yards for eagle at the par-5 eighth. "I knew it was going pretty well, but without really playing too well. I'm very happy to be done with it and kind of in the back of my mind I'm hoping it's going to be miserable for the rest of them this afternoon."
It was. The wind picked up to nearly 15 mph at times, and Johnson, whose two victories on tour have come in inclement weather, never managed to get something going.
At least the greens ran true. Senden narrowly missed a chance for a share of the lead when his 47-foot birdie putt at 18 barely lipped out.
The conditions exacted a toll on David Duval (75) and Robert Allenby, who lost to Johnson last year by one shot. Allenby had three bogeys, one double bogey, and no birdies in a 5-over 77 that matched his worst round of the year.
DIVOTS: Mathew Goggin withdrew after a first-round 79. Tommy Armour III withdrew after nine holes because of a back injury.