News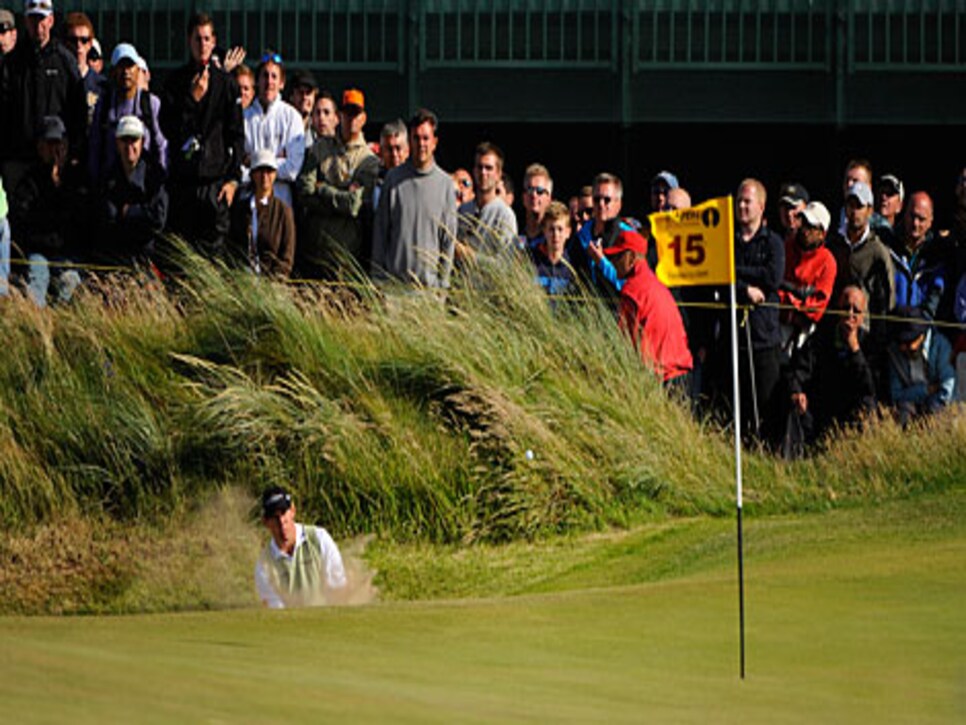 a dream begins to unravel: Westwood's 4 from the sand on the par-3 15th hole was the first of three late bogeys that continued his frustration in the majors.
In one of those torturous scenes that typify a final-hole loss at a major, Lee Westwood was silently cleaning out his locker at Turnberry Sunday night, checking text messages as they came in. Pete Cowen, his swing coach, sent one from the range at his golf school. "I know you're gutted at the moment," Cowen wrote. "You played great. You'll have your chances." But at that moment, nothing could dull the pain being felt by the broad-shouldered Englishman from Worksop.
On a nearby plasma TV, Americans Stewart Cink and Tom Watson were in a playoff to determine the Champion Golfer of the Year, and Westwood knew he should have been out there with them. Sympathetic to Westwood's plight, Tom Lehman and some of the caddies packing for the airport were being quiet, too.
"It's the double whammy," Westwood's caddie, Billy Foster, said of his man's three-putt at the 72nd hole that didn't seem so catastrophic until Watson bogeyed the 18th later, leaving Westwood one behind. That's when Westwood felt for the first time in his career what it was like to blow a major. "He played fantastic golf," said Foster. "He just didn't get the breaks. Stuff happens."
One year earlier at Torrey Pines, Westwood missed a birdie putt on the 72nd hole that would have sent him into a U.S. Open playoff with Tiger Woods and Rocco Mediate. But at Turnberry he had already outplayed Woods, shooting two under in the circus atmosphere of the first 36 holes at Turnberry while paired with Tiger and Japanese phenom Ryo Ishikawa, who took all the cameras with them after missing the cut. "Both [losses] are pretty sickening," Westwood said. "But obviously this is the Open Championship, and it's the one that means the most to me."
This is also the tournament that means the most to Great Britain and in particular England, which hasn't produced a British Open champ since Nick Faldo last won in 1992 at Muirfield. Westwood was his country's best chance to break its 13-year winless run in major championships—a streak that goes back to Faldo's victory at the 1996 Masters.
"It's a sad day for Lee and a sad day for Europe," said former European Tour executive director Ken Schofield. "He'll be hurting."
Westwood (T-3) was one of three Englishmen to appear in the top five on the Open scoring console (Chris Wood was T-3; Luke Donald was T-5), and two more countrymen placed in the top 15 (Ross Fisher and Justin Rose were T-13). Although this demonstrates overall depth—not to mention the fact that Paul Casey entered the Open ranked third in the world—the shadow of Faldo still hangs over what is now the second generation after Sir Nick's glory days.
Westwood was a one-time heir, with Faldo taking him under his wing at the 1997 Ryder Cup before Lee moved on to snap Colin Montgomerie's streak of seven European Tour money titles, in 2000. Westwood also did something Monty never managed—win in the United States, at New Orleans in 1998.
But over time Westwood put on weight, got married and became a dad. He also drifted more than 200 places down the World Ranking. In 2003 he shot 81 in Portugal and said it could have been a 90. Two years ago, with a 40-inch waist in part from too many late dinners with friend Darren Clarke and manager Andrew (Chubby) Chandler, Westwood enlisted a strength coach recommended to him by the manager of the Aston Villa soccer club. As his waistline dropped to 34 inches, his ranking climbed. But despite his new build, and a swing Cowen revamped to make Westwood perhaps the best driver in the world, he seems to have lost the ability to close. Since Westwood's last win at the 2007 British Masters, he has five runner-up finishes and a score of close calls. "Right now he's the best player in the world, no doubt the longest and straightest driver," Chandler said. "As long as I can convince him of that, he'll be fine."
Tee to green, this looked to be Westwood's tournament, particularly as the leaders turned for home Sunday. But on the last four holes he was two over par, with bogeys on 15, 16 and 18. Thinking he needed to birdie the last, and with the miss at Torrey Pines still in his head, Westwood jammed his first putt from 60 feet 10 feet past the hole and missed coming back to go from "frustration to sickness."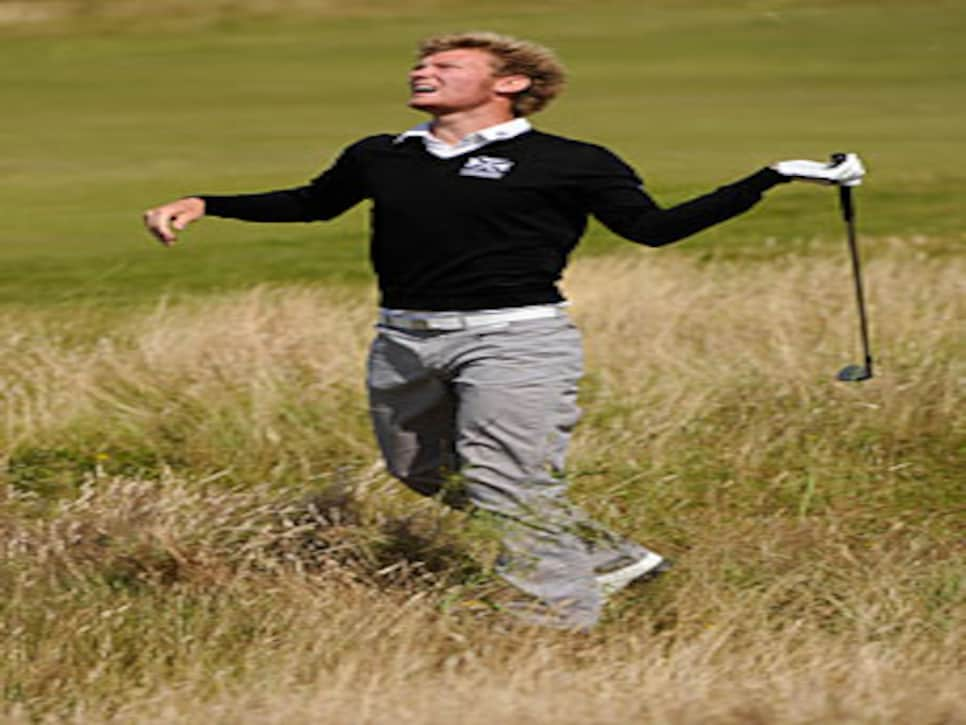 "I thought I'd have to hole it, to be honest," Westwood said after executing a miraculous 168-yard 9-iron from a fairway bunker. "I didn't [expect] Tom to bogey the last, since he's such an experienced player."
Inexperience seemed to hamper Fisher, who was paired with Westwood, early on the front nine. Discovered by former Ryder Cup captain Bernard Gallacher and the recipient of a scholarship from the Wentworth Club when Gallacher was working there, Fisher was a teen picking the range when Mark O'Meara beat Woods in the 1998 World Match Play. Now 28, Fisher has evolved from a promising European Tour player to a threat on the global stage, advancing to the semifinals of the WGC-Accenture Match Play (where he lost to Cink in the consolation match), finishing fifth at the U.S. Open and taking the early lead Sunday at Turnberry, with a birdie-birdie start. But Fisher let one bad swing lead to a series of slashes from the hay on his way to a quadruple-bogey 8 at No. 5.
Perhaps it was the thought of his wife, Joanne, back home in the London suburbs, due with their first child any moment. But while Westwood walked away crushed, Fisher struck a positive note. "Anytime you can put yourself in contention, that is what every golfer dreams of doing," he said. "We want to perform in the biggest and the best tournaments, and I'm no different."
While Fisher lost his traction in the fescue, a 6-foot-5, wild-haired, scruffy-bearded young man began a familiar Sunday charge up the leader board—familiar only if you remember 21-year-old Chris Wood from last year at Royal Birkdale. Then an amateur, Wood finished fifth. He turned pro immediately afterward and has been quietly appearing on European Tour leader boards since. "He's been under the radar because of Rory McIlroy, but he's an unbelievable prospect who is totally fearless," said Chandler, who also represents Wood.
A bogey at the last prevented Wood from joining Cink and Watson in the playoff, but he wasn't upset. "To follow it up as a professional is about as good as I could have hoped for, I guess," Wood said. "To finish fifth as an amateur on a links course, people might have said, 'Well, let's see what he does in the future.' "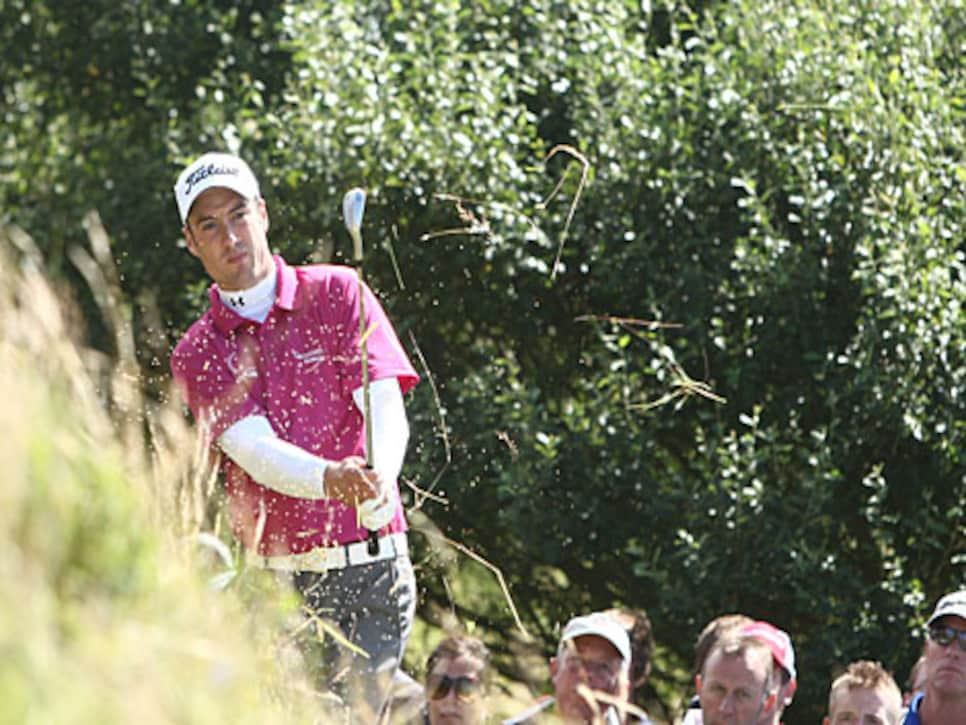 Donald, the other Englishman in the top five, wasn't much of a factor until his final-round 67, which matched the day's low score. Critics will undoubtedly frame this as a back-door finish, but Donald looks at it as his best in an Open—by far. "My record was pretty miserable up until now," Donald said. "So it's nice to figure it out."
Westwood has yet to figure it out, but he was already talking about the PGA Championship at Hazeltine National GC in Chaska, Minn., where England's Tony Jacklin won the 1970 U.S. Open (and where Donald won the NCAA title in 1999). No Englishman has won the PGA since Jim Barnes in 1919. Although it's not the British Open, a win at the year's last major is something that could alleviate the pain of Turnberry.
"All you need is a bit of luck sometimes, and you don't always get that luck in links golf," Cowen said. "It's a real kick in the stomach. But the great players come back and do it again. It's going to hurt, but if you don't like that hurt, you'll never be a great player. If you don't like it, get out of it. Lee has said, 'I want to put myself in that situation where it hurts. That's what I want.' "
At Turnberry last week, that's what he got.